In Good Company is an agreeable comedy that might have been overlooked altogether if not for Topher Grace's pitch-perfect performance as a 26-year-old corporate upstart who winds up realizing life isn't strictly about blind ambition and corporate bottom-lines. Sometimes the career ladder is best climbed slowly, one rung at a time.
Matching Grace step-for-step is Dennis Quaid, who has aged surprisingly well, like a big hunk of prime rib. Quaid is no longer the stud of his Breaking Away years, but he remains in possession of a mischievous sexiness, and is without peer at conveying a sense of bedeviled exasperation.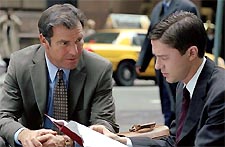 Quaid plays Dan Forman, an advertising exec at a major sports magazine. When the magazine is acquired by Globecom, a corporate giant run by a Rupert Murdoch-like figure whose motto is "synergy," the 51-year-old Forman, much to his chagrin, is demoted. Forman's new boss, Carter Duryea (Grace), anoints him as his "wing man" while laying off most of Forman's loyal, hard-working staff. To complicate matters further, Forman's wife (Marg Helgenberger) is newly pregnant, and his eldest daughter Alex (Scarlett Johansson) has embarked on an expensive education at NYU. As if that weren't enough, Duryea, lonely and a little desperate after a recent (and abrupt) divorce, falls hard for Alex. When Forman learns of the liaison, the meltdown is as entertaining as it is inevitable.
Duryea runs the sales department with one eye fixed on the numbers, all to win the approval of his detached, self-absorbed jackass of a boss (Clark Gregg), who in turn slavishly worships Globecom's cultish CEO Teddy K (Malcolm McDowell). But through his association with Forman, Duryea learns a lesson or two that not only informs his humanity, but helps him realize that sometimes experience counts for everything. While feel-good in nature, the movie avoids the slushy mush normally found in films of this genre.
Written and directed by Paul Weitz, In Good Company has a breezy, easygoing tenor. It's nowhere near as enchanting as Weitz's About A Boy, but in terms of scope, wit and maturity, it's light years ahead of the teen-trash American Pie, the hit that ultimately gave Weitz carte blanche to make the kinds of comedies adults can enjoy.
---
Pedro Almodovar has only ever made films that adults can enjoy. And Bad Education, the latest Spanish-language masterpiece from the director — whose visual flamboyance is matched by his extraordinary gift for intricate and delirious storytelling — is so adult, it earned itself an NC-17 from the MPAA.
To put it another way: There's a lot of fucking. And sucking. And it's all gay, all the way. In fact, Bad Education is perhaps the most brazenly gay film Almodovar has ever made.
The garish, searing Saul Bass-inspired opening credits (underscored by music that evokes Bernard Herrmann at his most pulse-pounding) set the stage for what appears to be an over-the-top homage to Hitchcock. But Bad Education is a singular creation unto itself. No doubt Hitchcock would have been impressed by Almodovar's gift for letting a narrative run completely wild, only to have it completely tamed by the final few moments.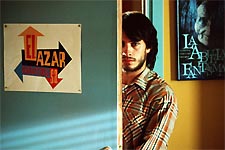 To be perfectly honest, even Hitchcock couldn't have dreamed up a tale so extravagantly audacious, so thrillingly alert and complex, so rooted in sensationalism and yet so mired in profoundly disturbing realism. The plot weaves madly in and out of flashback, with some portions lifted from a short story being perused by a movie director who's considering it for his next project. Fact and fiction are blurred throughout. And just when you think you've figured everything out, Almodovar throws a curve ball that makes you gasp twice — first in surprise, and next in appreciation for the kind of skill it takes to pull off this level of deception.
Most of the biggest surprises surround the character of Ignacio (Gael Garcia Bernal, giving a fearless, sexually-charged performance), an actor who purports to be the childhood chum of Enrique Goded (Fele Martinez), a popular filmmaker. But there's something not quite right about the adult Ignacio, and it's up to Enrique to discover the mystery behind this handsome young man who claims to be his long-lost first love.
What audiences are likely to remember most about Bad Education is its savage attack on pedophilic priests. Almodovar shows no mercy. The scenes between the young Ignacio and the too-attentive and adoring Father Manolo (Daniel Giménez Cacho) are informed by an unconscionable horror. Still, the molestation is what Hitchcock used to call a MacGuffin — it's a cinematic means to an end, a momentary distraction. As Bad Education delves into the hearts, minds and motivations of its principals, it evolves into a story about the deep, resounding ache that frequently accompanies the passion of great love. Ultimately, it seems, Almodovar isn't out to shock us; he's out to break our hearts.