One cold and drizzly afternoon, roughly a year ago, hundreds of leather aficionados gathered inside Almas Temple downtown for more than three hours of pageantry and competition. Jim "Tug" Taylor was one of the competitors. Already serving as Mr. Connecticut Leather 2004, Taylor was gunning for Mr. Mid-Atlantic Leather 2004.
He may have won over the crowd and judges when contestants were put on the spot, asked to answer how they might respond to their parents' knock on the door in the middle of a leather "play party."
Taylor recalls his answer along these lines: "Mom, come on in! Food's in the kitchen. Stop in and say 'hello' to the guys."
The punch line was in the response he imagined for her: "Oh, that's great,…but you'd better see a boot black."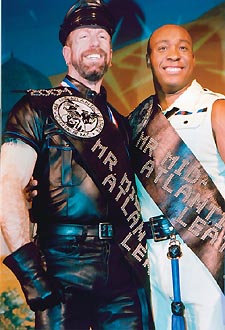 Mr. MAL 2004 Tug Taylor (left) with 2003 winner Alvin York
(Photo by Michael Wichita)
Taylor's answer had everyone rolling. Apparently, that sort of charm and quick wit was what the judges were looking for, as Taylor indeed won the Mr. MAL 2004 title. Luckily, Taylor insists, the play party question didn't pose much of a challenge, as he reckons that his mother really would take a look at his boots and recommend a shine.
While the answer may have come easily, Taylor says he was less sure of himself when he was announced the winner.
"I was caught by surprise when I won. I was not expecting that," Taylor admits. "I went in with a frame of mind, because of my history, that I was just proud to be there. This is my 25th year of being HIV-positive. I've been near death in the past. [MAL] was an opportunity for me to re-engage. The experience, the bonding with the other contestants, the whole experience for me was the real prize.
"With different people, a different set of circumstances, it could've been someone else," Taylor grants. "I was genuine. I think that's something that the judges really look for."
Ask a few people in the leather community, and Taylor's self-assessment seems right on the money. In his year as Mr. MAL titleholder, he's made an impression on many.
"I met Tug at the MAL contest last year," says D.C. local Jason Hendrix, the current International Mr. Leather. "I was there as Mr. D.C. Eagle. I remember meeting him at Leather Cocktails. He introduced himself as Mr. Connecticut [Leather]. He was very friendly. I turned to my boyfriend at the time and said, 'Oh, no. He can't win. He's good. He would be stiff competition [at IML]!"
The competitive leather arena couldn't keep Hendrix and Taylor from becoming friends, though. While Taylor made it into the top 20 at IML, Hendrix took the title.
"He was one of the first people after I won IML to congratulate me," Hendrix says. "He started calling me 'little bro' and I call him 'big bro.' We just got this great pattern, this feeling like this is an old friend. It is just that very relaxed feeling that this is someone who will be in my life for the rest of my life. Tug is truly one of the nicest people I ever met."
Pandora — Ms. Philadelphia Leather 2004 and Ms. World Leather 2004 — shares the sentiment.
"He's just a very spirited person, a very kind-hearted person," says Pandora. "He'd give you the shirt off his back, even if he didn't have a shirt on.
"We first conversed online via a leather titleholder's list. He wrote me 'off-list' when I won Ms. Philadelphia Leather," Pandora says, recalling that her particular outreach platform as a candidate grabbed Taylor's attention. "My platform of organ-donor awareness was very interesting to him."
At the time, Pandora did not know just how interesting it was to Taylor. Over the course of the past year, during his reign as Mr. MAL, Taylor's health began to register on the leather community's radar.
"The last event before the health crisis was International Ms. Leather in Omaha [Neb.] in July," Taylor says, explaining that medication-related scarring on his kidneys was catching up to him. But in the dead of summer, he was playing his cards close to his chest.
"That was something I didn't know," Hendrix says, adding that he knew something was amiss with Taylor's health, but was otherwise in the dark. "One day I said, 'Tell me, I want to know. I need to know what's going on.'"
Taylor told Hendrix that his kidney problems were getting serious, but the admission came with a caveat, as Hendrix remembers: "He said, 'Look, you've got this busy year ahead of you. Focus on your job."
Taylor gave the same advice to Pandora, albeit indirectly.
"It was when I was running for Ms. World Leather in Dallas that things got mush worse," recalls Pandora. "I was competing that weekend and Tug was supposed to be there. One of the other titleholders, I believe it was Storm, said, 'Honey, I need to tell you something. Tug's in the hospital and he's in renal failure. And he's not doing well.'
"I think at that point, there were two things going on in my mind. One, I wanted to talk to him. I wanted to curl up into a ball and go cry. But I'm in the middle of my competition. I can't do that, and Tug wouldn't stand for that. My platform of organ-donor awareness became so evident. I can't just go hide. I have to do this. Now this is personal."
Says Taylor of that mid-summer turn, "My kidneys failed. It's something I've never really made a part of my platform, but I'm a longtime HIV survivor. This was a chronic problem that came on from a problem with some medication. I received kidney damage. I knew this was eventually going to happen, but I didn't know it would happen this year. It came on very suddenly.
"I was hospitalized for about three weeks in July. I've kind of picked back up. I had to use my [MAL] first and second runners-up to fill in for me, but Jerel [Cooper] and Dennis [McMahon] were great about that.
"I'm still feeling pretty good. The only thing different for me is I'm on dialysis. I do it myself. I have my machine with me. I don't think I'll be dragging it around with me, though a lot of people said I should for dramatic effect," Taylor wryly says, explaining that the dialysis process takes nine hours, usually while he sleeps.
"At MAL, it will be difficult to get those nine hours in, because our schedule is so full," he jokes.
At the Mr. MAL contest on Jan. 16, it will be time for Taylor to hand his title to his 2005 successor. It's a good thing, as Taylor has plenty lined up for the future. And it's not all about his kidneys. There is a matter of his heart as well.
"[The year] was definitely a challenge to balance, and I couldn't have done it without Brian," says Taylor.
Brian, aka Cub, has been by Taylor's side as his partner, helping Taylor meet the demands of his title and his illness. "He has been extremely supportive. It's very, very difficult for the partner, because he's in the shadow. The community sees you together, but they don't recognize he's with you. They just want to talk to you, even though he's standing right there. They'd be talking about marriage and couples, and he's standing right there."
Brian, however, refused to let the MAL fanfare tarnish the relationship. Instead, he proposed to Taylor during IML, in the middle of the crowded lobby of the host hotel. But did Taylor accept? "Yes, immediately! How could I not? …It's been an incredible ride. He's been my rock. I'm extremely fortunate."
Taylor says that Brian's proposal means that once he steps down the couple will begin planning a commitment ceremony. A leather affair, Taylor guesses.
There will be, however, only so much time for Taylor and Brian to plan their ceremony. Taylor — and so many well-wishers — are focused on the urgent possibility of a kidney transplant.
"Some doctors will view HIV as a death sentence," says Pandora, who works daily with families, hospitals and doctors to assess the suitability of organ donations and transplants. "Like with cancer, they get this, 'Why are we going to give an organ to someone who is going to die anyway?'"
With her knowledge of the organ-transplant system, Pandora has been able to help guide Taylor, closer to a healthy outcome.
"HIV patients are living. Or dying of things other than AIDS: renal failure, heart failure," says Pandora. "It was disappointing to me that [Taylor] went through [transplant] centers that were unsupportive and said, basically, he had no chance of getting a transplant. Fortunately, we have physicians in the community — few and far between — who will do HIV-positive transplants.
"The first step is finding a transplant center that will do it. He's had a lot of support from the community. From that titleholder's list of about 360 people, folks started asking what they could do. The leather community is a very giving community. They give their blood, sweat and tears. In this case, it might be more than just blood."
According to the United Network for Organ Sharing, there are nearly 60,500 people in the United States on the waiting list for a kidney transplant. Pandora says that the demand relies on a pool of 1,500 to 2,000 kidneys donated by the deceased annually.
"There is this huge disparity in the number of people who need a kidney, versus the number of people who donate kidneys when they die," Pandora explains. "That's one of the reasons why the transplant community has gone to the living community."
Taylor seems to have mixed emotions about the idea of a living donor offering him a kidney.
"It's something I'm still not really sure about," Taylor admits. "It's a tremendous sacrifice. Yet if affirms for me the belief I've had in this community. There have been several people who have come forward to be living donors. That's pretty amazing.
"I don't know whether it's the common bond that keeps us on the fringe of things that makes us want to support each other. It's not a big love fest all the time, but the core people in my leather family, they're really that — extended family. They come together when things are at their worst to do their best. There are some incredibly strong bonds formed, besides the ones you tie up!"
Both Hendrix and Pandora say that Taylor, during his year as Mr. MAL has embodied the spirit that he touts in the leatherfolk around him.
"Tug brought this great masculinity and great joviality, effervescence [to the title]," Hendrix offers. "He was always smiling, always happy. He's someone who understands the caring. He really embodies that. The proof of that is everyone who wants to give back to him in any way they can, because he was always there."
Reading from the same page, Pandora continues: "He taught all of us a lot. He could've very easily laid down and said, 'I'm sick. I can't do this.' But he didn't…. He really reminded us that the caring and the brotherhood, being there for one another, is at the root of what we do. It's nothing that he said — he's just inspired that."
Mr. Mid-Atlantic Leather Contest will be held at Almas Temple, 1315 K Street NW, on Sunday, Jan. 16, from 1 to 5 p.m., featuring a special performance by Sandra Bernhard. Remaining tickets are available at the MAL registration area at the Washington Plaza Hotel, 10 Thomas Circle NW. For more details on this and other weekend events, visit www.leatherweekend.com.
Mid-Atlantic Leather Weekend 2005 Features