Erasure created a classic pop song almost the minute the duo launched. "Oh L'Amour " was the third single from the pioneering synth-pop duo's 1985 debut Wonderland, and it set the pace for the unexpectedly perfect marrying of Vince Clarke's cold, synth-pop sonics and Andy Bell's warm, choir-boy vocals. You both laughed and cried along with the song's juxtaposition of Bell getting emotional over clever, devastating lyrics ("Broke my heart and now I'm aching for you ") and Clarke's unabashed celebratory revelry. It was like a wedding party taking place at a funeral home.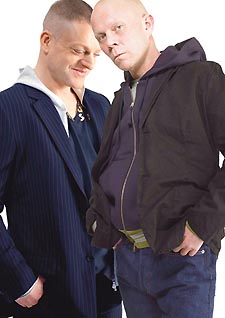 Together again: Erasure's Bell and Clarke
Now, 20 years into making theatrical pop music together, the duo doesn't party like it used to, and it doesn't cry so much, either. After a decade or so of denying the obvious, Bell (who recently revealed he's been HIV-positive for years) and Clarke have finally realized that their music should age along with them. So while Nightbird, the duo's first original album in five years, is steeped in the sophisticated songcraft and inspired emotional lyricism of "Oh L'Amour " and other similar past hits, it doesn't try to dress its tracks up to be dramatic and all-in-your-face. And that's welcome news. The output on each album starting with 1994's I Say I Say I Say through 2003's album of covers, Other People's Songs, has been widely uneven, tunefully adrift and often truly embarrassing. Mostly, it was better left ignored.
Nightbird doesn't suggest it will be any different as it opens, and its ultimate success is so subtle that it takes at least three listens to uncover. Its strength rests on the weight of just a handful of tracks, and the way in which they're grouped: doubled up, padding out the album's midsection. So it starts and ends weak, but reaches several peaks, none greater than that of the just-released first single, "Breathe," which takes instant standing as an Erasure classic. The song is beautiful and defiantly optimistic, and its chorus simulates actual breathing: Bell effectively inhales for the first two measures of it, and then he exhales as the music cascades down the scale. "It's bitter without you, I can't live without you, " he sings.
By the time you've grown to appreciate it, Nightbird shows itself to be one of Erasure's very best albums.
Emma Bunton's Free Me succeeds in winning you over too, though all at once and completely by surprise. Bunton, after all, was last decade's Baby Spice. Even if, like me, you took guilty — and secret — pleasure in the Spice Girls phenomenon, the manufactured pop princesses' tunes were so thoroughly tied to that specific time and place that you've almost forgotten all about them. Certainly you haven't missed them. So when you hear of a new artist album from Baby Spice, your first instinct may be to avoid it.
But instincts can be a real bitch. From the first spin of Free Me, Emma — who as a solo artist has chosen to go the first-name-only route — as it turns out, shows no sign of being a faddish marketing scheme. Her album seduces you from the beginning with its winning and cohesive set of breezy, timeless and utterly stylish pop, sparkling like a Motown-era sequined dress, with rock, jazz and bossa nova touches adding additional luster. AllMusic.com gets it right when it calls the album the best mainstream British pop release since early Robbie Williams – another singer, of course, who was hampered at first by his inauspicious start as part of a '90s manufactured-pop band. Emma sounds a bit like the older sister of fellow Brit R&B sensation Joss Stone, though without Stone's rich, churchy voice or her interest in hip-hop.
Emma's second single, "Maybe, " is a giddy delight, mirroring the lyrical jubilance detailing the rush from a crush. But it's the strange, wildly original "Crickets Sing for Anamaria " that is the album's true gem. A fast-paced samba rhythm fuels a tale about a young girl's fleeting, forbidden love one summer, told in such a quick pace that it acts out its title: "When anyone's in love, The crickets sing a happy song/But they didn't do their repertoire for long. " Like first love and childhood summers, the song doesn't last for long. But you'll relive it for years to come.