Fans who tend to go on and on about what a great horror director Wes Craven is conveniently tend to forget about Deadly Friend, a 1986 dud featuring a killer robot named B.B. Is Friend Craven's worst film ever? Probably. But his latest, Cursed, a bloody poem to werewolves everywhere, comes awfully close to toppling it from its flushable throne.
It's a little astonishing, actually, that the director of Nightmare on Elm Street and the Scream series could produce a movie so bland, dull, uninteresting and entirely bereft of scares. But somehow he's managed it. (Or, to put it another way, mangled it.) And he's done it with the help of writer Kevin Williamson, who penned the invigorating and entertaining Scream films.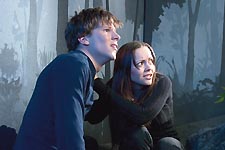 Mr. and Miss Howl, I presume? Eisenberg and Ricci
The pair attempt to do for werewolves what they did for masked serial killers with loudly pinging knives, but Cursed never quite commits itself to the state of ironic self-awareness necessary for success. It remains mired in the moors of the mundane.
There's nothing even remotely inventive about the story, which regurgitates the werewolf legend with an almost sober earnestness — everything from a character waking up naked in the bushes with no memory of the night before to a carnival gypsy who prophesizes to anyone within earshot that they are in grave danger. "Beware the moon," she says, her eyes as wide as silver dollars. "It feeds in the moon." Yeah, well, so does my Aunt Tillie, but that doesn't make her a werewolf.
Late in the game, Craven and Williamson try to get tricky a la Scream, revealing the man — or woman — behind the beast who, late one night on Mulholland Drive, took a bite out of orphaned siblings Jimmy and Ellie (Jesse Eisenberg and Christina Ricci) and may have passed along to them the werewolf's curse. But the identity of the main werewolf is less a surprise than it is a letdown.
 Both John Landis's An American Werewolf in London and Joe Dante's The Howling remain sterling silver examples of how the lycanthrope tale can be updated to suit modern sensibilities while still maintaining classic horror roots. With its ingenious, witty and moderately dramatic take on the subject, American Werewolf in particular redefined the genre. Cursed, a troubled production from the first day of shooting (if you're to believe the Hollywood trades), exhibits none of American Werewolf's traits. It's not even from the same litter, even though it shares makeup artist Rick Baker, whose work here is embarrassingly bad. The monster resembles a soiled bathroom rug with teeth.
The cast is one giant snooze button. Ricci does little more than get all snarly and barky toward her colleagues at The Late Late Show starring Craig Kilborn, one of the movie's two nods to the real world. (The other is Scott Baio, in a self-mocking cameo meant to pluck him from has-been obscurity. "Hello, casting directors? I'm still here!") Even worse is Joshua Jackson, as the owner of a movie-themed nightclub and Ricci's love interest. Jackson's delivery is so stone-cold, you feel like shouting, "I'm not paying for this pizza!" Jackson gave a more lively, interesting performance as a comatose youth in The Safety of Objects.
Mya, Shannon Elizabeth, Portia de Rossi (as that carnival gypsy) and Smallville's Michael Rosenbaum (who, truth be told, looks odd with hair) all get turns to show that, if pressed, they too can act as though they're in a coma.
The movie's brightest spot is Jesse Eisenberg as the nerdy, jittery Jimmy, who becomes convinced that his suddenly heightened senses and desire for wolfing down raw meat mean that he's Michael "Teen Wolf" Fox's hair apparent. Eisenberg, a wonderful actor, turns in a performance that is charming, engaging, and completely genuine. He's the one and only thing keeping Cursed from turning into a full-blown howler.