Remember those black packets filled with the sugary-sweet concoction of tiny stone-like candies that you pop in your mouth and they sizzle, fizzle, crackle and explode all over your tongue? Believe it or not, that's exactly what the ladies of BETTY deliver: a delicious and naughty little treat to satisfy your musical sweet tooth. Not that the three musicians rocking BETTY's world — Alyson Palmer, Amy Ziff, and Elizabeth Ziff — are docile enough to leave you aching with a cavity. On the contrary, Palmer and the Sisters Ziff are real women with real stories of tragedy and tribulation. The group is much more than the sum of its parts, more than a cabaret or novelty act, more than just another girl group gone wild. The women of BETTY are bona fide rock babes. And BETTY RULES: The Exception to the Musical is more than just another concert.
On the heels of a seven-month run Off-Broadway and a subsequent production in Chicago, BETTY returns home to the D.C. area to share the story and glory of the group's roots. In 90 intermission-less minutes, the members of BETTY reveal their history together through colorful montages, music and memories ripe for theatrical retelling. From group therapy sessions to a stint at the ultra-liberal Womyn's Music Festival, BETTY's life has always nurtured its fair share of drama.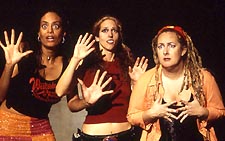 BETTY
It was 1985 when sisters Amy and Elizabeth met rocker Alyson after reaching out to a local radio station for a talented bass player. Born in the Ziff family's Fairfax basement, BETTY would soon learn the ins and outs, ups and downs, and highs and lows of the music business, from playing local venues to avoiding the brands of high-end record execs who couldn't land a finger on the pulse of BETTY's core.
A fickle blend of lovely ballads and catchy rock hooks, the music of BETTY is not easily defined. From soft punk rock numbers to bubbly pop with bite, you get the sense that no matter how you categorize their style of music, the women of BETTY will react with disapproval and find ways to defy any label affixed to their sound. But beyond such dexterous music, what is most surprising about BETTY is not their unlikely mature image or even the fact that they've lasted nearly twenty years. The most surprising element of BETTY is how polished they are, particularly for such animated characters.
The women of BETTY might have been described during their early years as a real-life Josie and the Pussycats, only with brains and brattitude. Now their act feels more solidified and stable, blowing away any notions of cobwebs clinging to the strings of their electric guitars. What anchors the three is an evident sense of respect and genuine concern for each other. There's Alyson, the statuesque guitar goddess; Amy, the quirky comedienne whose unexpected instrument of choice is the violin; and younger sister Elizabeth, a solid force of sound and fury, the active advocate in the threesome.
BETTY RULES
To 4/3
Theater J
1529 16th St. NW
$10-$36
1-800-494-8497
theaterj.org

They're not actresses, but the members of BETTY perform their own material with comfortable ease under the guidance of Sarah Bittenbender. Originally directed by Michael Grief (who also helmed the original Broadway production of Rent), Bittenbender's version is a breezy affair bathed in hot club-scene lighting by Lisa Ogonowski. The stage recycles Dan Conway's staircase from a recent Theater J production, and a large platform at the top features BETTY's band — Tony Salvatore blazing his guitar, and Mino Gori on drums.
It's obvious that Palmer and the Ziffs love what they do, and consequently, the audience does, too. BETTY RULES is a fun night of organic music led by three thoroughly entertaining muses.
BETTY rules, alright. But more importantly, BETTY knows how to rock.
While BETTY is busy rocking and rolling on stage, the folks at the United States Theatre Project — writers Stephen Karam, Sean McNall, and PJ Paparelli and dramaturg Patricia Hersch — have been corroborating materials collected from interviews, eye-witness reports, survivor testimony, and other research based on the 1999 Columbine High School tragedy for a dramatic transformation that is every bit as intense as the story it explores.
---
The result is columbinus, a rumbling production and emotional heavyweight that drops small, sad bombs on the heart. You want to intervene, but you are only a spectator witnessing the tragic story of two seemingly typical American high school misfits whose ignored angst led to inconceivable acts of violence toward their fellow classmates and ultimately, themselves. "From a fictional high school in suburban America to Littleton, Colorado, " columbinus details the shocking and uncomfortable chain of events of April 20, 1999, when fifteen lives were taken by two teenagers spinning desperately out of control.
Eric Harris and Dylan Klebold, the duo that opened fire on their school library, are brought to terrifying life through off-the-charts performances from Karl Miller and Will Rogers. Miller's enormous instincts fuel his massive boulder of a role, while Rogers' strength manifests in a realistic portrayal of a sad loner longing to connect with his peers. The physical resemblances, as evident by two yearbook photos of the real Harris and Klebold, is at once unsettling, while the remaining cast of eight delivers authentic, powerful interpretations of high school personas, from Daniel Frith's closeted "party guy " to Gene Gillette's smug jock.
columbinus
To 4/3
Round House Theatre
Silver Spring
$25-$35
240-644-1100
roundhousetheatre.org

columbinus, the Latin phrase for "dove-like " or "peace-like, " closely examines the rampant stereotypes and personal identities that form in American high school society, where hormones rage and teenagers, as miniature adults without the experience, are bred among a national culture of apathy and ignorance. The authors do not assert reasons why the events that took place in Colorado were inevitable, but rather how they were inevitable. Director Paparelli, who makes consistently excellent choices in staging and music, avoids the didactic road of blame and ultimate responsibility. His drama never attempts to excuse the actions of the guilty, but instead offers glimpses into their disconnected realities.
While columbinus is proof that some of the best true stories make the best staged dramas, its choking narrative and riveting performances leave the audience grappling with exhausting questions of liability and ethics, fate and destiny. Though the story demonstrates teen angst at its most extreme, parents and teachers and friends continue to ignore warning signs of aggression and intolerance. Told through an artistic medium, columbinus is a tasteful, accurate, and effective review of life in the locker rooms, cafeterias, and courtyards across America. Its most troubling question still remains: How many isolated and lonely Dylans and Erics are out there, struggling right now?