There are albums that you like, and bands you at least want to like. But finding both at once? Well, U2 continues to do it, but for the most part it's become increasingly rare. Too often, the correlation works inversely. In most cases, you come upon an album you hate by a band you don't — or at least, didn't used to.
But Fischerspooner's Odyssey is the inverse of that inverse: it's an album to love by a band you want to hate. Maybe not hate exactly. But there is much to dislike about two pretentious, elite art-school grads who only turned to making music in the first place as a supplement to their edgy, experimental performance art shows. Assuming you'd even want to see such a show but couldn't, would you still want to listen to the cold, ironic music anyway? Well, you shouldn't, as Warren Fischer and Casey Spooner proved with their messy 2003 debut, #1.
But here's the thing: the two realized their mistake. Two years later, they've returned as Fischerspooner with Odyssey, and it couldn't be more different. Even worse, it couldn't be much better. It's bad enough you have to give the guys credit for learning from their mistakes. How? By setting out to make a cohesive record, one with a compelling, uncommon premise: to make a dance album inspired by classic rock. Their second time out they also decided to focus at least as much on melody and human emotion as on sophisticated sound technology, and to work with some of the most respected pop producers and musicians around, from Mirwais Ahmadzai (Madonna) to David Byrne (Talking Heads) to, most notably, Linda Perry (Gwen Stefani, Pink).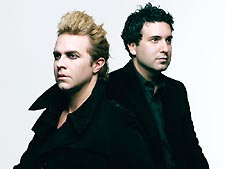 Fischerspooner
And dammit if Odyssey isn't flat-out great. It's one of the best albums from any of the many bands currently mining and combining the nearly three-decades-old pop fields of post-punk, new-wave, art-rock and disco. Better than New Order's recent outputs, on par with the best Depeche Mode, and at least as good as the album from fellow gay-populated band Scissor Sisters. Odyssey is the critical sleeper of the year so far, bar none.
It's still riddled by the duo's grandiose "we are artists, respect us " approach, a special weakness of vocalist and main lyricist Casey Spooner. He creates lyrical themes that you just know he thinks could serve as a week's worth of rigorous study in a graduate-level sociology course, especially one studying post-modernism. Spooner describes one song ("Cloud ") in press notes as being inspired by the Romantic Era: "The Romantic Hero led directly to the modern idea of a rock star. " Two other songs were inspired by spam e-mail, which Spooner offers is "definitely a link to the new collective unconscious. " Add in the fact that Spooner enlisted noted high-brow intellectual Susan Sontag to pen, before she died last year, twisted anti-war lyrics ("We Need A War "), and it's enough to make you cry out for a simple I'm-in-love-with-a-new-boy throwaway pop tune.
You won't find that here, of course. What you will find throughout is a dazzling, intricate electronic rock music foundation. We saw flashes of it on #1 (the rising first single "Emerge "), but only now does Warren Fischer prove he is a superb songwriter. By incorporating non-digital sound equipment and playing more live instruments this time out, Fischer gives his music a huge confidence boost. It's as if he's only now convinced he's actually a true musician, not just a tech-savvy video director fiddling with a keyboard.
Among the album's standouts, "A Kick in the Teeth " especially bristles with accomplishment. The track draws influence from Pink Floyd, featuring multi-layered, gently sung vocals and a danceable, spacey chorus. It's just one of three songs co-written by Linda Perry, the one-time 4-Non-Blondes lead singer who makes a rare "vocal cameo " on "Happy, " the drunk-with-drums, anthemic ode to New York. Hers is the strong voice you hear humming toward song's end.
Spooner has a lovely singing voice, and his lyrics are often so benign — and admittedly sometimes quite good — as to be of no real bother. His advice on the duo's first single, "Just Let Go, " is instructive if you still harbor hate for the band. "All is determination, to make it make sense/All is determination, you can find it if you…just let go, just let go, just let go. "
Let it go, and your newfound appreciation of Fischerspooner just might make sense. Something has to give.