Hector Zarate's first job as a teenager new to the U.S. from Peru was painting houses. Half a lifetime later, he spends his days importing Peruvian handicrafts. But it's his night job that has given D.C.'s gay Latino community its most lasting souvenir. From salsa and merengue to cumbia and reggaeton, to his more-universally popular Latin pop base, Zarate plays a mixture of upbeat Latin music rhythms to match Fuego's diverse crowd.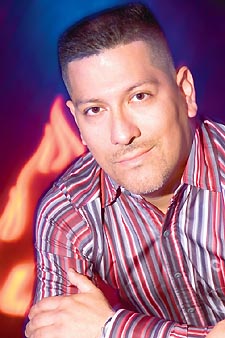 DJ Hector Zarate
Zarate says it isn't easy to please the diverse gay Latino community. "We're all Latin, but we all have our own styles of music," he says, relaxing on a leather sofa at U Street's Cada Vez, spacious new home to the Saturday night Latin dance party.
Zarate co-promotes Fuego with Philip Doyle, who started it in 2003 at a downtown hotel. Last month the party moved to Cada Vez, a trendy nightspot with a capacious dance floor.
It was an instant hit.
"The crowd was just waiting for it," says Zarate. "People are thanking us for giving them a better place that they can enjoy with their friends and family."
Zarate and Doyle have even grander plans in store. "We want to grow here to the point that we can bring in live events," Zarate says. "Not just drag shows. We want to keep every Saturday night different." Possibilities include gay-friendly Latin singers and salsa bands.
Says Zarate, "When we call [Fuego] Latin, we mean that it's the best possible representation of all rhythms, cultures and ages of the crowd. It feels like every customer is home, Latin or not."
Fuego happens every Saturday at Cada Vez, 1438 U Street NW. Doors open at 10pm. $8 cover.