For the first time in its history, Whitman-Walker Clinic has been unable to meet its payroll due to financial strains within the organization. Adding to those strains is the recent discovery that the clinic over-billed its government contracts for laboratory services by up to $2 million over a five-year period.
According to interim executive director Roberta Geidner-Antoniotti, cash flow problems left the clinic without sufficient funds to cover the bi-monthly payroll of $475,000. On Friday, May 13, employees received only half of their pay. The clinic says employees will receive the remainder of their pay for the period on May 27, along with sixteen senior managers who elected not to receive any pay for that period. Staff were notified of the change on Wednesday, May 12.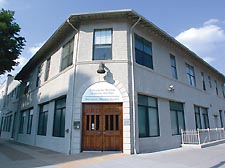 Whitman-Walker\'s Elizabeth Taylor Medical Center
The clinic will also switch from a twice-monthly to bi-weekly pay schedule, according to Geidner-Antoniotti. By making 26 pay periods per year instead of 24, the clinic will lower the payroll liability by 8 to 10 percent per pay period. She stressed that the more frequent pay periods would not change the level of staff salaries. With the new system, the next pay period for employees will be June 3.
The employee's union was informed of the delayed payroll "a little later than we wanted," she said, "but we were trying to make sure this situation didn't happen." Prior to the payroll decision, employees were briefed about the growing fiscal crisis at the clinic during an all-staff meeting on April 29.
Union representatives contacted by Metro Weekly declined to comment.
Geidner-Antoniotti said that the clinic's cash flow difficulties stem from delays in reimbursement for services provided under grants and contracts — primarily, the contracts that are reimbursed through D.C.'s HIV/AIDS Agency (HAA). She also noted that United Way had changed from a monthly distribution of grant funds to a quarterly schedule.
When the clinic provides services under contract, she said, it is essentially paying for the services with its own funds. It then waits to be reimbursed for those funds from contractors and grantors. She said that delays in those reimbursements have forced the clinic to exhaust its reserve funds, which were already battered by continuing downturns in fundraising.
"Because of [the] 9/11 [terrorist attacks], the economic downturn, the loss of AIDS Ride, we've lost a little over $3 million in fundraising," she said. "It doesn't give us the same kind of cushion we used to have."
The clinic has also accessed its credit lines to meet financial obligations to payroll, vendors and other expenses that would covered by contract reimbursement.
Geidner-Antoniotti said that the clinic is committed to finding solutions to its financial problems.
"We are in the process of analyzing every aspect of our agency," she said, noting that the clinic has received flat funding from the federal government for at least five years. While funding for the services has remained the same, the cost of the services and the staff to provide them has risen, leaving what she estimates as a 16 percent actual loss in funding over that time period.
"Fundraising is doing well," she said. "But it's not keeping pace with the impact of flat funding."
Lydia Watts, senior deputy director of D.C.'s HIV/AIDS Agency (HAA), confirmed that there was a delay in reimbursement of Whitman-Walker for services, but attributed a large part of that delay to the clinic's recently discovered over-billing for laboratory services.
In March, Whitman-Walker notified HAA that an audit of its programs had found over-billing of more than $2 million over five years in the clinic's laboratory which provides HIV test processing, as well as processing of HIV/AIDS related medical testing. The laboratory provided services under seven contracts, including the federal Ryan White CARE Act and local D.C. funding. Because of that notification, Watts said, reimbursements were delayed as the agency determined how to handle the situation.
Geidner-Antoniotti said that the over-billing was discovered in 2004 as part of the clinic's preparation to move to a sliding-scale fee structure for its services. When irregularities were found, the clinic brought in an outside consulting firm to conduct an audit. Because of the problems that were found during that research, in January 2005 the clinic stopped billing for laboratory services until the situation could be resolved.
Not billing for laboratory services that are still provided by the clinic's medical services has only served to exacerbate the organization's financial strains, said Geidner-Antoniotti. She also said the amount of over-billing is not a solid number, because a fuller accounting of the program still needs to be conducted. Before suspending billing, the clinic had been billing for about $75,000 per month in laboratory services. The clinic said it has incurred $480,000 in laboratory services since January, all of which has yet to be billed.
"I think that [$2 million number] is probably a little overstated for the district," she said. "You have to look at that as a preliminary number, not a confirmed number. We're doing additional audits, and also looking at under-billing in other areas."
The clinic will be looking closely at its programs to determine if there were areas in which they under-billed or provided services without submitting for billing, she said.
While Geidner-Antoniotti said the situation needs further investigation, the preliminary findings indicate that the over-billing problem may have resulted from an error made when determining billing charges in 1999, when the clinic began billing for laboratory services at the market rate — basically, the price that a private laboratory would charge for services. However, under their contracts, Geidner-Antoniotti said it appears the clinic should have been billing the tests at actual cost.
Geidner-Antoniotti said that all evidence from the independent audit has shown that the mistake was unintentional. Once the billing procedure became part of the clinic's process, she said, it became "invisible" to staff. She said that the high rate of management and staff turnover in the past few years also contributed to the delayed discovery of the over-billing problem.
Still, because further audits and research remain to be done, Geidner-Antoniotti stressed that those findings and numbers are preliminary.
"We were the ones that identified this, investigated this and came forward with it," she said. "Everyone wants to find a solution that will not cripple the care that we provide to the community."
Watts said that although the over-billing contributed to the delay in reimbursement, it was important that the clinic reported the problems.
"[You have to] give them a tremendous amount of credit on acknowledging the over-billing," said Watts. "[But] you have to see how they will proceed. As a result, they find themselves in a more precarious situation."
According to Watts, the agency responded to the Whitman-Walker report on May 10 with a letter that requested a payment plan for repaying the overages, a corrective action plan, and a request to see the results of the clinic's own audit. HAA also requested that both agencies auditors cooperate in reviewing the clinic's other fee-for-service programs. Copies of the correspondence were not made available by HAA by Metro Weekly press time.
Watts said that there were other problems contributing to the delay in reimbursements. Like many other community-based organizations that received funding for HIV/AIDS services, the clinic is often late submitting invoices to HAA for reimbursement, Watts said.
Contractors are required to submit invoices for reimbursement within five days of the end of the billing period. According to HAA, 99 percent of all its contractors since August 2004 are at least one day late in submitting invoices, while 61 percent are 10 to 15 days late.
All Whitman-Walker invoices since August were submitted at least one day late, according to HAA.
Geidner-Antoniotti said that to her knowledge the clinic's invoices have been submitted to HAA on time. "It is my understanding that we meet the five days," she said, adding that she had no reason to believe that the invoices currently in question were submitted late.
"Managing those receivables is extremely important, and getting the invoices in on time is important to meeting our payroll and obligations," she said.
Also contributing to the lengthy wait for reimbursement is the bureaucratic structure, Watts said, a leftover from the days of the D.C. Control Board. Unlike a state health department that would reimburse Ryan White funding through its own systems, D.C.'s Department of Public Health must submit reimbursement requests to the Health Resources and Services Administration (HRSA), the federal agency that oversees Ryan White funding.
"Because there are so many people involved, [the process] can be interrupted," Watts said, noting that something as simple as a key employee going on vacation can lead to delays. "Once it leaves HAA, it's beyond HAA's control."
The health department is trying to regain the ability to cut reimbursement checks through its own systems, said Sumita Thaudhuri, administrative services manager for HAA. She said such a change would reduce the reimbursement processing time by up to two weeks.
Watts said that the invoices Whitman-Walker needs reimbursed to meet its payroll are with the city's chief financial officer, and they expect the funds to be released soon.
Geidner-Antoniotti said that the clinic has been assured that the payments on invoices would be ready by early in the week of May 16.
"There's always uncertainty when you're promised [something] and those promises don't come through," she said. "I'm fairly sure, at this point about 95 percent [sure], that we will have the money available to meet the payroll that we need."
If not, she said, the clinic will be in the same position with payroll on Wednesday.
The clinic is currently operating under a spending freeze on all non-essential expenses, and she said they will be working with vendors on payment plans because, "We've always made good on our commitments."