Skott Freedman's new self-released album, Judge A Book, is a collection of his covers of other people's songs. But the bisexual indie rocker's cover of The Cranberries' "Zombie " isn't so much a cover as it is an exposure. Freedman adds power to a song you couldn't imagine getting any more powerful. And he does so in a manner that would make it weaker in another artist's hands. He strips it of its guitars-and-drums hard-rock edge, and replaces it with, of all things, a pipe organ.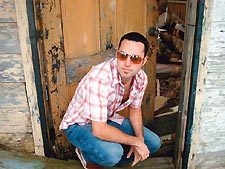 Uncovered: Freedman
But that organ is haunted, and so are the lyrics, and Freedman's tentative delivery betrays more rage than Dolores O'Riordan's forceful Irish Catholic wail ever could. He puts his mouth right up against the mike in the first verse, to ensure you're paying attention. And then he ends with his voice floating off into space repeating the phrase, a cappella: "What's in your head, in your head, Zombie? "
As the last track on Judge A Book — and also a secret, bonus track, though it couldn't stay secret for long — there's no chance the song will stray from your head after you listen to it. It's just one of 12 covers the 25-year-old Freedman has included on this, his fifth album in as many years. For his first all-covers album, Freedman asked his fans to vote for what they'd like to hear. Last year they picked from a list of 25 choices on his eponymous Web site.
Freedman would never create a cover that's little but a narcissistic note-for-note rendering of the original. That's why a Freedman covers album sounds so appealing. It doesn't quite work out to be as appealing though. Maybe he didn't offer the best selection to choose from, but it's hard to imagine that most of the songs here were the best he could do. Other than "Zombie, " he offers two appealing songs, both duets, one with Edie Carey on the sweet, gorgeous "Good Morning Baby, " the other with Jill Sobule. But it's because of Sobule, and her intentionally naive delivery, that his cover of her song, the barbed anti-hymnal "Soldiers of Christ, " works.
Did he think to do a cover of Aerosmith's "Dream On "? That seems a natural for Freedman to tackle with his three-octave vocal range and his flair for savoring a song's drama. Instead, he too often tries to be playful. So we get a flaccid "jazz " version of Green Day's "Basket Case, " and a stunted cover of "Papa Was A Rodeo. " Freedman and his duet partner, gay country singer Mark Weigle, are too earnest to tackle this trademarked sardonically silly song from The Magnetic Fields.
---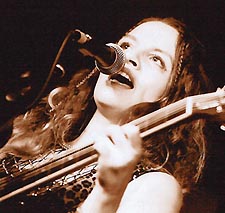 Tartalia
Freedman shares much in common with fellow indie singer-songwriter Allison Tartalia. Both have won awards for their music from Out Music in the past couple years, and both are audacious piano-playing singers who draw influence from pop as much as folk and jazz and rock. Both also have a similar manner to singing and songwriting: they care more about feeling the lyrics of their songs than ensuring they are technically precise, and they like creating free and adventurous music to match.
It's an approach that generally suits Tartalia, whose self-released debut album Ready is a boisterous affair. Count on the same from her performance at the Velvet Lounge this Monday, May 9, when she should also have new songs to perform, since a follow-up to Ready is overdue.
Tartalia is a savvy, playful lyricist with a love for language. One of her strongest songs is "Out of Sight, " which features a repeated shifty, cold-then-hot musical intensity that fits the lyrical theme about her struggle to move on from love. "Spent a year in an igloo trying to forget youÂ…it's safe at this pole, " she begins one verse. "And I heard from friends that you took a trip, south, south, south of the equator/Well when you're out of my reach, that's when I'm out of danger. "
Each Tartalia song is packed with musical ideas out of which most any other songwriter would have created two or three songs. Tori Amos wouldn't have of course, and she's as clear an inspiration as the others Tartalia is often compared to: Laura Nyro, Ricki Lee Jones, Sophie B. Hawkins. It's occasionally as jarring and alerting as being in the company of someone with violent mood swings — or someone with split personalities. There's rarely a dull moment, and you're always anticipating her next move.