The nation's capital yearns to be orderly. Ever since Pierre Charles L'Enfant's dream for this difficult and confusing city came to life, it seems the people who run the district have sought to impose order on his inaccessible whimsy of circles and angles. Street signs compete with novellas for word-count, inner-city traffic lanes change direction at rush hour, and jaywalkers often find themselves on the business end of a citation. Washington does not welcome anyone stepping out of line.
For every rule, however, there are exceptions. District, meet the Dykes.
Saturday, June 11, is set for the 12th annual D.C. Dyke March. With no permit, no published route, more than a handful of exposed breasts, and likely a few motorcycles and bullhorns, "dykes, lesbians, bisexuals, feminists, queers, genderqueers, transpeople and their supporters of all races, classes, ages, ethnicities and religions" will take to L'Enfant's manicured streets.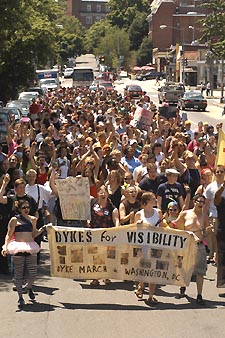 The 2004 Dyke March
(Photo by Ward Morrison)
The Dyke March tradition began on the eve of the 1993 March on Washington, April 24. The night before what was to be the largest march in Washington at the time — attracting about a million people in support of LGBT equality — about 20,000 people stepped off from Dupont Circle in the first Dyke March. They had no permit to march in D.C.'s streets, but they had the will. Today, there are about a dozen marches around North America — and beyond — continuing the tradition annually.
Locally, Al Miner has been running the show since 2002. Miner — whose identity is as a primarily masculine trans and genderqueer person — says the Dyke March provides a needed alternative to more mainstream Capital Pride events. Where Capital Pride depends upon its corporate sponsors, Miner says the march tries to steer clear of corporate donations.
"The closest we've come [to corporate sponsorship] is donations from Sparky's [Expresso] Café and the Leather Rack," he says. "But they're queer-owned businesses that serve the queer community."
Shana McDavis-Conway, a 27-year-old transplant from Sacramento, Calif., has also done her part. While McDavis-Conway is a veteran of San Francisco Dyke Marches, this will be her first in D.C. As one of the core volunteers, she's helped raise funds for the march's two bake sales, turning out shortbread, chocolate-ginger bread, miniature pecan pies and cranberry bread for the cause.
She says she's happy to help raise money for the march, preferring bake sales to ticket sales. "Sometimes you have to pay to get into pride celebrations, which I'm very against on principle," says McDavis-Conway. "[The Dyke March] is popular with a radical, anti-corporate crowd."
Aside from a disdain for corporate cash, Miner says the march also aims to provide an alternative to mainstream LGBT advocacy groups, which he says portray the gay community as a fairly homogenous lot that's not very different from its heterosexual counterparts. This year's D.C. Dyke March statement explains Miner's differing perspective.
Under the theme "Think Outside the Boxes," the march statement reads, in part: "Every day, folks along the queer spectrum are embracing and inventing new ways of describing their identities, including ways of honoring shifting and multiple identities. While assimilationist, mainstream GLBT organizations…continue to try and convince the straight majority that 'we're' just like them, more and more people get left behind. We are not just like the straight majority and are proud of our unique and diverse ways of life and identifying. The time of G, L, B and T being the only choices is over."
The concern for those "left behind" bridges the link between the political and the economic values embodied by the Dyke March, says Miner.
"My politics, and dyke politics in general, are very anti-corporate," he says. "Women, people of color, the trans movement, frequently have people in a low economic bracket. Corporations are not out to make things better for us. They're out to make money. And if it's about buying and selling commodities, we've got nothing to give…. When you go to the Dyke March, what you're getting is pure. There won't be anyone from JetBlue, Showtime or Absolut trying to sell you anything."
Two speakers are scheduled to address marchers before they step off at 1 p.m. Stacey R. Long was the partner of Wanda Alston, Mayor Anthony Williams's special assistant on LGBT affairs and the head of his recently formed Office for LGBT Affairs. Alston was murdered in March. Miner says Long will help to put a local face on the march.
The second speaker, Leslie Feinberg, should help raise the march's profile, adds Miner. Feinberg is the author of Stone Butch Blues, Transgender Warrior and Trans Liberation. Beyond transgender issues, Feinberg has also gained notoriety as a managing editor of the Weekly World newspaper, a publication of the socialist Workers World Party.
While the anti-corporate, anti-mainstream, grassroots theme the D.C. Dyke March promotes might be somewhat off-putting in a city as conventional as Washington, Miner insists that everyone is welcome, no matter his or her politics.
"This isn't just for someone who identifies as a dyke or as a lesbian, but family, friends, gay men. It's a good opportunity to coalition build," says Miner, who was initiated into Dyke Marches in New York, adding that he's learned to temper his politics slightly for a D.C. audience.
"In New York, there is a very radical and liberal spirit. Coming to D.C., it means occasionally biting my tongue, holding back. [But] I'm not going to let the nature or the spirit of the D.C. Dyke March be taken away. It's anti-establishment, anti-mainstream…. [But] I want everyone to know I want them there. Maybe you are a Republican, but after the Dyke March you may have a better understanding about what those wacky liberals think. I would hope the Dyke March would be welcoming to everyone. If you have an opinion that's different from mine, that's good. Diversity sometimes means that your politics and mine don't match. We don't always get along, but we don't have to to get the rights we deserve."
Nor does the D.C. Dyke March need a permit to get the protection it deserves, says Sgt. Brett Parson, head of the D.C. Metropolitan Police Department's Gay and Lesbian Liaison Unit.
"Whether or not they get a permit is irrelevant to me. It's not a question I ask. I'm not there as emergency management," says Parson, explaining that march organizers contact the GLLU with a date and time for the march, though not the planned route. "We appreciate that courtesy. We would find out at the last minute, and we'd still be there…. The Metropolitan Police Department has a tremendous relationship with the LGBT community. We work with the community and ensure their safety."
Parson adds that although the D.C. Dyke March disregards official protocols for the event, he's unaware of any complaints, injuries or traffic obstructions stemming from the march.
"One of the things that makes the D.C. Dyke March so good, is we have the GLLU," Miner confirms. "In New York, the cops were the bad guys. New York residents and New York cops don't get along. The GLLU, and Brett in particular, are amazing. We have a great situation. We have this little understanding. I inform Brett of the date and time of the march about a couple months in advance. We don't give them specifics till the last minute. And they know that. It's part of the deal. We kind of respect each other. I take any advice he gives. He says, 'We'll show up and protect you, no questions asked."'
Conway, who says she experienced a hostile police presence during a 1998 gay-rights march in Johannesburg, South Africa, says she's relieved by the long-standing relationship between the D.C. Dyke March and the GLLU.
"I think it's great that there is this relationship here. It's nice to have a cordial relationship with the police, definitely," says McDavis-Conway, adding with a laugh that the no-permit policy is a labor-saving relief. "I actually feel like, because we're such a low-key, pseudo-anarchistic event, it's actually a lot less work. Not having to get a permit makes things easier! Not having to charge people for tables is less work! It's still a lot of grassroots effort. We don't take out ads in papers, but rely on volunteers to spread the word. It relies heavily on a core group of people. But it's really fun, in general."
As for this year's anticipated crowd, Miner say's he's hoping to equal the D.C. Dyke March's record of 2004.
"There was an optimism last year. People were really pumped up. Attendance was about 550 people — the highest it's been since I'd been organizing," Miner recalls. "But with this election going sour, it was a time to say we can lose, that conservatives are growing more and more. But we don't want to go backward. I think there's definitely a feeling of, 'Oh, my gosh, we can't back down. I'm hoping the march will say this isn't the time to throw in the towel."
For more information about the D.C. Dyke March, visit www.geocities.com/DCdykemarch