This Sunday's Capital Pride Main Stage and its headliners down on Pennsylvania Avenue may get all the attention, but for the past five years Pride diehards know where the party's at.
Two blocks over, to be exact, at the Arts Corner Stage.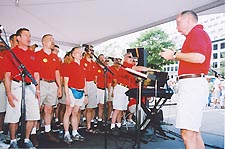 The Gay Men's Chorus performs at the Capital Pride Arts Stage in 2002
(Photo by Randy Shulman)
That's where you'll find Pauline Anson-Dross. The guitarist-singer performs as a member of two of D.C.'s most popular women's rock bands, Wicked Jezebel and Outskirts of Town. Outskirts has repeatedly performed on the Main Stage, but Anson-Dross says it prefers the Arts Corner, which it headlines this year. Only at the Arts Corner can the band get up close and personal.
"We like to move around and play right up to people with our cordless mikes and guitars," says Anson-Dross.
"Outskirts of Town has been the anchor to our stage for three years running," says Jill Strachan, the Arts Corner spokesperson as well as its stage manager. "They get people to dance in front of the stage, on the hot asphalt.
"It's a lot of fun," she adds with a laugh.
Capital Pride organizers and a start-up grant from Brother Help Thyself (BHT) helped the GLBT Arts Consortium establish the Arts Corner in 2000. The consortium is a network of 15 D.C.-based arts organizations.
"The consortium wanted to provide a space more conducive to performances by smaller groups than the Main Stage. It's a more intimate environment, and more conducive to singing," says Strachan, who sings soprano with the Lesbian & Gay Chorus of Washington (LGCW). LGCW and the Bread & Roses Feminist Singers are two founding members of the consortium that have performed every year at the Arts Corner. Both had previously performed on the Main Stage.
"The best part of the Arts Corner Stage is that it is a much more intimate performing experience," says Carol Wheeler of Bread & Roses, a chorus comprising soprano and alto singers performing women-oriented music, some of it original. "It's really performing for an audience rather than at one, which can be the feeling on the Main Stage.
"The Arts Corner also allows us to share the consortium booth and promote the chorus in a venue we could not otherwise afford," she adds. The consortium booth near the stage allows performing groups to offer information about joining or attending events. It also allows non-performance art organizations, such as the Triangle Artists Group (TAG), to display their art or to give short classes in art practices such as finger-painting.
"The idea for the consortium grew out of some long-range planning that [LGCW] did six or seven years ago," Strachan says. "We have a lot of things we share in common as performance groups and as artists, not the least being trying to get our message out there and having limited budgets to do that."
Though Capital Pride provides the stage and the power generator, the consortium has to pay for the stage's sound equipment and technical support. To raise funds, Strachan says they always pass around the crowd a tithing bucket. Last year they collected about $500. And every year the consortium stages a summer production with the Capitol Hill Arts Workshop. This year's production in late July will be an altered version of Gilbert & Sullivan's HMS Pinafore. "We're calling it DHS Pinafore, after the Department of Homeland Security," Strachan says.
But the consortium also has received two grants this year to defray the stage's costs, one from the D.C. Commission on the Arts and Humanities/National Endowment for the Arts and another from BHT.
Since it's run completely by volunteers, planning for the Arts Corner rotates every year among members of the consortium. This year the three main choruses — LGCW, Bread & Roses and the Gay Men's Chorus of Washington — were most active in organizing, with additional help from the Lambda Squares and D.C. Swing, an offshoot of D.C. Different Drummers that will kick off the stage at 11:45 a.m.
Strachan reveals that the LGCW will perform an a cappella set of songs by local composer Ysaye Maria Barnwell of Sweet Honey in the Rock. For its part, Wheeler says Bread & Roses will sing a set drawn from its May concert, plus more Gilbert & Sullivan, this time a piece the group adapted for a member's wedding reception, "Bride and Her Bride."
But it's what Strachan calls the "wildly popular" women's bands that seem to be the chief draw to the stage. Outskirts of Town plays as much with words — see their moniker pun — as with music. "It's where Carlos Santana might run into Keith Richards. Or Melissa Etheridge might morph into Donna Summer by way of the Fine Young Cannibals and the Supremes," reads their official band bio.
Anson-Dross says both Outskirts and Wicked Jezebel aim to make you have fun.
"They're both kick-ass party bands that will keep the party and Pride spirit alive."
The Capital Pride Arts Corner Stage runs from 11:45 a.m. to 5 p.m. this Sunday at 6th Street and Pennsylvania Avenue NW. For a complete list of performers and more information pick up a copy of the Official Guide to the 2005 Capital Pride Festival at venues all across town (or outside of Lambda Rising Bookstore on Connecticut Avenue), or visit www.dcglbtarts.org.