The way Deacon Maccubbin tells it, establishing an annual Gay Pride celebration may have had as much to do with civic pride and community pride as with trading in the shame of internalized homophobia for taking pride in gaiety.
"I'd been to the New York Prides, starting, I believe, in 1972," he recalls. "At that time, there were a lot of people who would travel there…. One night, we were sitting around a party thinking, 'Why do we have to go to New York?"'
If New York — and Los Angeles, San Francisco and a few other cities — could have Gay Pride celebrations, why not the Nation's Capital? And thus, in 1975, Maccubbin threw the financial backing of his fledgling Lambda Rising bookstore behind a local event. The Rainbow History Project, a local organization dedicated to recording and celebrating the local LGBT community's history has logged this event as the first D.C. Gay Pride officially recognized by the D.C. City Council. The first of 30 annual celebrations to date.
Maccubbin says that initial Pride party, held on 20th Street NW, between R and S streets, attracted about 2,000 people. "A huge success," says Maccubbin. After all, while 1975 might have been freewheeling in some social respects, the closet was full of gay people.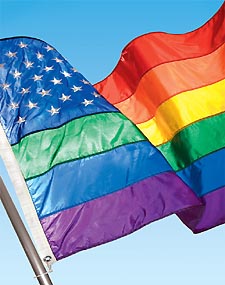 The Rainbow Flag is now an international symbol of gay pride
"This wasn't a smoky bar. It was outside in the sunshine," continues Maccubbin, explaining that pride-goers had to be willing to lose some of the anonymity that comes with socializing in the shadows. That's not to say that organizers didn't try to be accommodating.
"The first couple years, we'd make an announcement from the stage that TV cameras would be filming the east side of street," Maccubbin explains. "If you didn't want to be filmed, you stayed on the west side. There were an awful lot of closeted people who didn't want to be seen. But they had the courage to come."
Local drag diva Ella Fitzgerald, on the other hand, has never shied away from a spotlight. Fitzgerald, a.k.a. Donnell Robinson, says she's been to all the D.C. pride celebrations since 1975, always having a great time. She didn't take the stage, however, until 1979, the year Donna Summer released her Bad Girls album.
"I did 'Bad Girls' and 'Hot Stuff'," she says, adding that she's performed at every pride event since.
Fitzgerald has likely secured herself in the memories of thousands of D.C. pride attendees. Certainly, she's in Jay Chalmers's memories.
"I had a great time," he says, pointing to Fitzgerald's 1979 debut as his first pride event. "I remember Ella Fitzgerald and others leading the entire group in 'We Are Family' at the end of the afternoon. I remember having a wonderful time."
A few years later, in 1986, Chalmers found himself organizing the event, which had added a parade and moved to Francis Field at 24th and N Streets NW. Between 1979 and 1986, the gay community had taken a beating. The heaviest attack wasn't political — it was viral.
"Everybody was losing friends left and right," Chalmers says of 1986. He shepherded the event through 1990, a four-year journey during some of the darkest days of AIDS. "We always tried to keep the celebration upbeat," he recalls. "We needed a day to celebrate the good things. [By 1990] there were still a lot of people dying."
Aside from the viral onslaught, the event Chalmers signed on to was also suffering a fiscal crisis.
"After the '85 event, basically the event was broke," he says. "There was actually talk of shutting it down. Some of the people involved wanted to see it continue. We decided it was important enough to the community to keep it going. The community deserved a day to feel good about itself, considering everything it was facing."
To keep the event alive, Chalmers says organizers went around town negotiating on behalf of the event's debts, and making new deals for the future.
"Back in those days, we also had — and a lot of people didn't like it — an admission fee," he says. "It was not very popular, but it was the only way to pay the bills."
Had D.C. Pride not made it to 1986, Fitzgerald would've missed out one of her favorite Pride memories.
"In 1986, I met [then-Mayor] Marion Barry," Fitzgerald says with a bit of a giggle. "He came back into the [backstage] tent to see if it was too hot. I made him buy us hot dogs."
Del. Adam Ebbin, the sole openly gay member of the Virginia General Assembly, was only 27 when he coordinated the D.C. Pride event in 1991. Ebbin shared coordinating duties with Garret Haylett, according to Rainbow History, and inherited an event that had climbed from debt to about $30,000 in the bank.
"It was the most involved I'd been in the gay community to that point," says Ebbin, then a sales rep for Washington City Paper. "It seemed like there were a relatively small number of people putting on a pretty big event. The people who worked on it worked really hard, but I don't think they had the same resources as today. It had a little bit of a homemade feel. Everything wasn't as polished [as now]. It was grassroots. It had a different feel, like a school carnival."
Robert York, as the director of Capital Pride, is responsible for the feel of the event today. An Oklahoma native, York's first Gay Pride event was in Okalahoma City in 1993. He first saw what D.C. had to offer in 1997. "There was a huge difference," he says. "I remember going, 'Wow,' just over the mass of people. Everyone was celebrating, holding hands. If felt like a positive reinforcement. In Oklahoma in '93, you were with thousands of people, but you were still very cautious."
With coordinating responsibilities for the past five pride events under his belt, there are few people with more D.C. Pride experience. Still, York knows that his job is that much easier for all the groundwork that came before him.
"It's just amazing where it all started, with Deacon Maccubbin making things happen," says York. "We should all be grateful to the pioneers. They had the courage to make it happen the first time, and build upon that. We owe them a huge debt of gratitude. It's always important to remember where we came from."
It's also important to know where you're going. As for York, he has some thoughts about D.C. Pride 2035. "Maybe it we be hosted by the White House by then. You can only hope for the best."