Finally, Father really does know best. It takes a piece of theater all the way from Down Under to at last depict a healthy, loving relationship between a heterosexual father and his homosexual son, and Melbourne's David Stevens is the magician who conjures up two parallel lives under close inspection. The Sum of Us, a wistful reference to children born out of heterosexual relationships, doesn't always add up neat little equations or offer symmetrical proofs of happy families, but it does solve the problem of family politics that are evident among even the most functional families.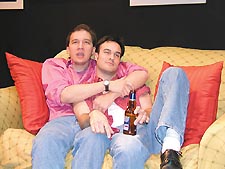 Widower Harry Mitchell loves and accepts his only son, who happens to be gay (Grandma Mitchell was a "dyke" for 40 years after the death of her husband, so it must run in the family). The two bachelors live together and Dad often encourages 24-year-old Jeffrey to go out and meet Mr. Right instead of Mr. Right Now. He's just the kind of dad who buys his son gay porn magazines and leaves them lying around the house ("So he'd know what to do," he eagerly explains). Between dinners of fish and frozen lasagna, the two men get on with their lives in a fairly peaceful, supremely serene arrangement.
It's nice to see such a warm, symbiotic relationship between a father and son, particularly when the son brings home other men. But all of these niceties don't make for particularly compelling theater — there's no drama when everyone gets along. So Stevens introduces a slight air of conflict by way of Jeff's love interest, a randy hot thing named Greg he picked up from the local pub. Before things begin to heat up between the two, Dad serves as a cold shower, halting any momentum between Jeff and his new suitor. The second act parallels the first, with Dad courting his potential partner, a witty divorcée who isn't quite as accepting of Jeff's sexual orientation. And Stevens caps off the evening with a twist of an epilogue that throws the audience a cool and quiet boomerang.
Stevens penned The Sum of Us in 1990, and later wrote the screenplay featuring a younger Russell Crowe as Jeff. His script begins with everyday folks who find themselves running rings around each other, but his dialogue is soon plumped up with too many hard-boiled monologues delivered directly to the audience and a barrage of overcooked plot mechanics that are as transparent as his romanticized family life.
The Sum of Us
To June 18
Trumpet Vine Theatre
$20
703-912-1649

Still, The Sum of Us volunteers an unsolicited examination of Aussie temperament and humor. It's a comedy, we're constantly being reminded, and the laughs ricochet between bawdy and bright ("Life would be pretty shitty without plumbers I can tell you," muses Jeff), while Stevens also manages a few poignant observations about the differences between gay and straight society. When Dad suggests that Jeff move away to San Francisco to start a new life, the reply is a firm no: "I don't want to live in a world that begins and ends with being gay."
Charles Boyington's lazy production idles in one gear during the first act, later picking up steam once Dad brings home his lady love. Several of the scenes are purely static, plodding along without any clever pacing or creative staging. Most of the actors struggle to define a dialect from the Outback.
Despite his rugged and refined exterior, Scott Sophos offers a tender and energetic turn as the meddling father, and David Maga makes fine work of an eager young bloke still living at home. Vincent Worthington's distinctive scenic design also deserves mention with warm colors for interior accents inside an imaginative black frame setting.
Trumpet Vine Theatre Company has built a strong foundation on presenting works that highlight GLBT themes, and The Sum of Us champions the idea that parents really can learn to live with children who are homosexual. After all, it's true that whether you're gay or straight, one is the loneliest number that you'll ever know.
---
One of the most unbalanced plays ever produced by the Theater Alliance, Headsman's Holiday marks the return of director Aaron Posner to the Washington area with Hungarian dramatist Kornel Hamvai's philosophical tale depicting the horrors of the guillotine during the French Revolution with all of the comic gusto of a poor man's Monty Python.
Hamvai's 1794 Paris comes bustling to life in a dreadfully depressing odyssey for a married executioner who travels from his provincial village to a cold, cruel Paris. He may be a hero in his hometown, but here he is but a guppy in the ocean, swimming among sharks. The entirely brisk affair is well-choreographed by Posner, who insisted on escorting Headsman's Holiday to its American premiere. Yet his finished product is ultimately blanched by a gruesomely burlesque adaptation from David Robert Evans.
Headsman's Holiday
To June 26
Theatre Alliance
$25
800-494-8497

Evans could not properly funnel Hamvai's wicked sense of humor through an English script, and the result is a hollow, tacky translation filled with horribly misplaced humor colliding with a tawdry, contemporary vernacular ("Do you swallow?" The reply: "Only if you haven't had asparagus"). Sure, some of the lines are funny, but most are downright groaners, and this is definitely not recognizable as France at the end of the eighteenth century.
While the Theater Alliance continues its vanguard traditions by introducing American audiences to their first new Hungarian drama in nearly thirty years, they also remain among the top echelons for producing some of the best talent in Washington. Sherri Edelen is a bright spot as a Parisian hotelier, while Jesse Terrill presents several quirky character interpretations. The entire cast of thirteen works hard with such wacky material, and Washington newcomer Brian Osborne shines in his lead role as Jean-Piere Roch, the unfortunate headsman on "holiday." Perhaps the most shocking aspect of Evans' translation is that he missed the opportunity for rather obvious wordplay with Hamvai's title. It's just that kind of play.