There are similarities, sure. But suggesting that Nikka Costa is Joss Stone sassed up with Anastacia attitude does none of the three any favors. Fans of Stone will be misled thinking Costa is another mostly slow-tempo R&B singer. Fans of Anastacia will find Costa's brand of pop-rock too raw, too real.
And the mere comparison to Stone and Anastacia — and occasionally Macy Gray — might lead some to dismiss Costa altogether. That would be a mistake for anyone who favors rock informed by soul and the blues. And anyone who appreciates a supple alto singer who doesn't get carried away, drunk with her own vocal prowess.
Costa's refreshing Can'tneverdidnothin' is not another exercise in American Idol-esque melismatic hell — even if Idol judge Randy Jackson is her manager — where a singer is so needy that all she can think to do is draw attention to herself and her vocal ability, not paying attention to what, exactly, she's singing.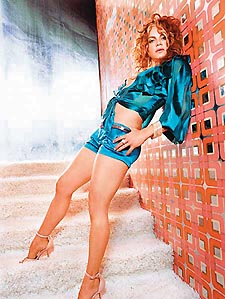 Funked up: Costa
Like Tina Turner before her, Costa sings every word as though she means it. This is true whether she's singing about staying strong, taking risks, or the reliable themes of love and sex. Vocally she displays a lot of emotion, but never too much that the sentiments seem false. On the title track she creatively explains her southern-raised mother's popular expression by breathing life into the anti-action verbs: "Can't never did nothin', and neither did couldn't/never did nobody no good. Ain't nothin' doing while nothin's done."
Few beyond the savviest of musical consumers paid much attention to Costa when she released her confident debut Everybody Got Their Something in 2001. Four years later, most people are still asking the question she posed on that album, "Nikka Who?"
She wastes no time answering the question on Can't, even as she sings of her patience waiting for you to catch up to her. First track and first single "Till I Get to You" is a boisterous romp through her boyfriend alphabet, from A to T. "My lover A was absolutely alright, but my lover B would bump my tunes in his ride," she begins the mostly alliterative recitation. "It's just a matter of time till I get to you," she sings, and by song's end, she's done it: U have been had.
She keeps the tunes funky and flowing all the way through, with an assist every now and again from Lenny Kravitz on drums and bass. She takes obvious inspiration from the late, great Nina Simone, adequately tackling two Simone staples, "Funkier Than A Mosquito's Tweeter" and, hidden at the end, "Sugar In My Bowl." On "Funkier," she employs a full rhythm section, led by tablas, congas and bongos, to beat out a fascinating response to the lyrics. They drip with disgust: "Same old thing, same old game/You never change, always rappin' bout the same old thing." On "Sugar," Costa sings as gently and girly as one could when the song is ultimately a plea for sex. She caps her request with a voiced "trumpet solo" that is as cute as it is crude.
Even her weakest track keeps you hooked, since it's also her sweetest. "Fatherless Child" is a tribute to her dad, a rock and soul producer a half-century ago who died when the thirty-something singer was ten. "And I'll try to make you proud," she sings to her dad, "Cause you're the break in every cloud/And I'm convinced that's why, the sun shines on me."
A proud papa he should be.