If you've ever worn a "Porn Star" t-shirt, then you've probably imagined the life of an adult film star: glamorous parties, easy riches and endless sex with muscled beefcake. Dreaming of a super-hot model with a million dollar contract, you might just say, "If only…"
But like every sexual fantasy, it's all about the illusion, says Tag Adams, D.C.'s very own West Hollywood porn star. "It's not like everywhere you go is a party and you lay around all day lubed up," he laughs.
Porn is tough work.
Adams should know. Crowned this spring as GayVN's Performer of the Year, Adams has appeared in more than 40 adult productions. Originally cast as a smooth, blond twink in his first film for Falcon ten years ago, Adams now plays a bit rougher, exploring the wilder side with porn impresario Chi Chi LaRue.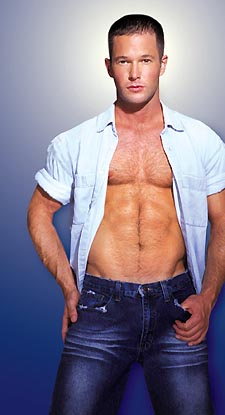 Tag Adams
Adams claims that porn is very nonsexual. A typical scene takes nine hours to shoot, and privacy is a fantasy. With the cast, crew and technicians, scores of people can be swarming on the set. Shove a pole with lights between someone's legs and it can suck the excitement right out of everything.
Best known for his performances in Carny and Bolt, Adams has attracted a worldwide following. Fan e-mail pours in from Topeka to Tokyo. Shunning the hypersexual atmosphere of the gay porn industry in Los Angeles, Adams moved to Washington about a year ago. Closer to his parents (they live in Pennsylvania) and supportive of his partner's career (he works in town), Adams prefers it here.
"I didn't want to get caught up in the business," he says. "I've seen so many people living that lifestyle twenty four-seven. They play hard, work hard and burn themselves out."
Washington is without the perpetual lure of club appearances, promotional parties and other moonlighting opportunities available to gay porn's elite. Here, Adams finds his escape, his "off button," as he puts it.
So how does a boy from Hanover, Pa., end up in the porn biz? Dumb luck really. In 1993, Adams's then-boyfriend suggested they audition for Falcon, the famed adult production house. Uninterested, Adams begged off. Then he changed his mind, producing his own audition tape. Two weeks later, just days after his 21st birthday, he was on a plane to California to shoot his first picture.
After one film, Adams (who went by Chet Roberts back then) left the business for a more sedate life. Following his studies at the Savannah College of Art and Design, where he majored in interior design, he worked in retail on the East Coast. He met his partner of eight years in a bar in Hagerstown, Md. The two eventually moved to Winchester, Va.
When he turned 30, Adams got back into porn at the suggestion of his current boyfriend. At more than $2,000 a scene, he's making more money now than ever before. "It's provided me with a lifestyle that I never thought I'd have: money, free time, travel." Since 2002, Adams has shot more than 40 films. Virtually every other week, it seems, he's in L.A. doing a video.
Back home in D.C., he enjoys a quieter, more domestic life that includes spending time with his partner, taking care of their home on Logan Circle and walking his dog.
It's actually not so atypical for most porn stars. Most of the guys he works with are smart, well-educated and have lives outside of porn. It's not all sex, drugs and prostitution. "It's like a family," he says. "Everyone watches out for each other."
Having performed at various gay pride festivities across the country from Minneapolis to Phoenix, Adams this year wanted to participate in his hometown event. He'll appear with LaRue and fellow porn star Colton Ford in Saturday's parade as well as on the Mainstage at Sunday's festival.
Adams is also appearing in 10 Naked Men at the Warehouse Theater through June 19, in which he plays an unmotivated West Point grad-turned-West Hollywood hustler skating by on his good looks. Adams plans to donate his earnings from the production to PETS-D.C., which helps care for pets belonging to people too sick with HIV/AIDS to attend to them. "Pets mean the world to me," says Adams. "They never care how you look."
As for the future, Adams is uncertain where his post-porn life will carry him. He'd like to get into screenwriting, and he still wonders about moving back to the country (D.C. is his first big city). "The more I travel, the more I realize that I'm the small town boy I tried to run from."
For those of you still clinging to your porn star dreams, Adams recommends sending your pictures to the various production houses. If you're selected for a screen test, leave the attitude at home. Says Adams: "There's always somebody right there behind you just dying to take your place."
Tag Adams will appear with Chi Chi LaRue and Colton Ford at the Capital Parade on Saturday evening, June 11 and on the Mainstage at the Capital Pride Festival on June 12.