For the record, it really doesn't matter if you don't speak Portuguese — you'll still understand the gist of Matilde's jokes in The Clean House, an exotically domestic comedy filled with unfamiliar comforts of another world.
Cosmically set in "a metaphysical Connecticut," The Clean House is home to Lane and Charles, two successful (read: busy), married doctors living in a house as sterile as the hospitals in which they work. Their antiseptic living room (as designed by Narelle Sissons) is a vision of slate blue and white, indicating pure, unspoiled hygiene and unruffled discipline in décor. With all of these polished lives and neat, gleaming furniture to look after, it's too bad their live-in maid doesn't like to clean.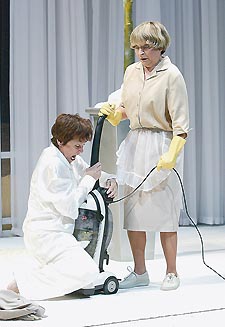 Spic \'n span: Jacobson and Marshall
(Photo by Stan Barouh)
Matilde recently moved to the States from Brazil after both of her parents died. "My parents were the funniest people in Brazil," she intimates. No, really. Her mother died from laughing at one of her father's jokes. Then her father committed suicide. After that, there was no one left to laugh at Matilde's jokes, so off she flew to clean houses in America while trying to think of the perfect joke. Then there's Lane's sister, Virginia, a housewife obsessed with cleaning as a means of emotional therapy. "If you do not clean," she says, "how do you know if you've made any progress in life?" The solution is simple: Virginia will secretly clean her sister's abode while Matilde thinks of her joke. It's a relatively perfect arrangement until an "impossibly charismatic" stranger waltzes in and knocks each woman off of her own tightrope.
Sarah Ruhl doesn't know it, but she's written a classic Woolly Mammoth play, brimming with quirky characters, lively dialogue, and deft insight. No one else could produce such a sparkling comedy and lace it with heart-pricking drama the way Woolly has. Sometimes absurd, sometimes surreal, but always touching, The Clean House is a rich and unexpectedly regal play brushed with a marvelous sense of magic.
The Clean House
To August 14
Woolly Mammoth
641 D St. NW
$30-$48
202-393-3939
woollymammoth.net

It's also a recent Pulitzer Prize finalist, and Ruhl's script is a cerebral playground of memories and indecipherable Portuguese jokes that bubble up from a barely-tapped spring of humor and poetry. There are stage directions — and other internal notes — projected in surtitles above the stage, such as "Virginia has a deep impulse to order the universe" or "Lane makes a house call to her husband's soul mate." These small asides serve up a perfect irony of realism scattered throughout The Clean House, reminding us that reality and dreams of reality sometimes intertwine to fantastic results.
With spotless direction from Rebecca Bayla Taichman and a perfectly appointed cast plucked from the heavens, The Clean House features a round of honest, intelligent performances from an ensemble of five first-rate actors. Guenia Lemos is a charming "Machilgee," who informs us that "a perfect joke is somewhere between an angel and a fart," while Naomi Jacobson gives an exceptionally taut interpretation of Lane. Whether scorning her sister or attacking a vacuum cleaner, Jacobson is a frozen solid ice cube that ends up melting under the warmth of compassion and humanity from Franca Barchiesi's rapturous Ana. Barchiesi gives a delicious performance as the Argentinean sprite taken with Mitchell Hébert's Charles, a childlike surgeon who has at last found his apple-picking bashert.
But it is Sarah Marshall's wide-eyed, high-strung Virginia who packs the most punch with her relentless neuroses. Marshall is a sheer delight to watch unravel as she fondles her brother-in-law's briefs or makes an "operatic mess" of things in her sister's house. All five don smart, immaculate costumes by Anne Kennedy, and Sissons' whimsical set is lit with startling precision by Colin K. Bills.
A brilliant examination of loyalty and the individual entitlement to happiness, Ruhl's seriocomedy is a perfectly stunning and poetic reminder that life isn't always beautifully orchestrated — it's a messy, perpendicular series of losses and gains. And after visiting The Clean House, you'll imagine the possibility that perhaps life somehow finds a way of making everything that's dirty clean again.