Missy Elliott isn't a chef, but she plays one on her new CD. Comparing music to food is one of the more overused clichés around and Elliott, one of pop music's most influential forces, uses it in characteristically creative fashion. On The Cookbook, Elliott uses the food metaphor as an organizing framework, and as a sly send-up of both race and gender stereotypes. Sprinkled throughout the CD booklet are black-and-white images from a lived-in Southern home where Elliott seemingly cooks and cleans and strikes a pose in her role as "Mommy," by which she explains in the song of that name she means "not a chick with kids" but a female boss, a provider.
Elliott certainly is the boss here, more so than on previous albums. And The Cookbook showcases Elliott's ability to provide a first-rate feast, finding the artist altering her signature recipes. She sings more and raps less. She chills out and gets romantic a bit more. When she does lets loose and parties, she parties harder. The most obvious alteration: She only incorporates "a tablespoon" of work from fellow Virginia Beach-based Tim "Timbaland" Mosley, her longstanding production partner who has handled pretty much every track on every previous Elliott album.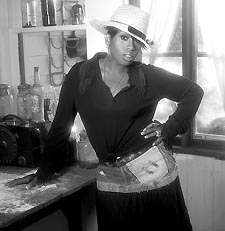 Good cooking: Elliott
Timbaland was responsible for just two tracks, the album starters. But once past those, Elliott's own production, the sizzling, dancefloor-primed single "Lose Control," kicks in. As it continues on through a list of main courses, a longer list of desserts and then three "liquid refreshers," The Cookbook finds Elliott working with a slew of new producers, rappers and artists. Several times these star ingredients — from Mary J. Blige to Fantasia — are wasted on menu items that are either undercooked or already perfectly seasoned.
That's not true of her overdue debut work with fellow Virginians, The Neptunes. From the sounds of it, she almost waited too long to work with the hip-hop production duo, whose Pharell Williams sings the title to "On & On" as if on the verge of orgasm. And it's not true of her production work with either Rich Harrison or Warren Campbell, two producers who give the album its best tracks, lined up back-to-back. The horn-crazy Harrison's "Can't Stop" is as festive and irresistible as was his "Crazy In Love" for Beyonce. And Campbell's "Teary Eyed," slated to be the album's next single, is a masterfully strident ballad. Elliott gives a tour-de-force vocal performance, such that you just might get teary-eyed at both the full feeling of her expressed pain and the beauty of the song's old-school R&B, full of tinkling piano, swooping strings and drippy horns.
That one song — and The Cookbook as a whole — more than proves that Elliott no longer needs Timbaland's help. It's her strongest, most savory album in years. A fan of clichés might even say, "bon appetit."
Keyshia Cole's The Way It Is traffics in sassy, turbulent, mostly love-less songs, the kind that, in spite of themselves, make you fall in love with singer-songwriters like the Oakland, California-reared Cole. She may have gotten an inauspicious start as a pre-teen backup singer for M.C. Hammer, but the Cole, 21, shows she's in league with Alicia Keys on this debut, churning out good, old-fashioned R&B that neither overreaches nor panders. The Way It Is doesn't suffer from songs that are overproduced or overstuffed with ideas. And it isn't padded out with songs that are too slow or overwrought with feckless emotion.
Each cut bristles with passion and pain, sparkles with savvy lyricism, and throbs with rich orchestration and crisp melodies (and almost as often, crisp beats). The strong chorus, insistent rhythm and Cole's warm, slightly gritty voice make lead track "(I Just Want It) To Be Over" an undeniable treasure. But the addition of violin, cello, harp and harmonica only add to its charm. For the most part Cole carries on like this throughout the rest of the album, whether or not she's getting help from Kanye West, Eve or Jadakiss. Like many other fresh-faced, neo-soul singers, Cole may have lined up some all-star assist on her debut. But you never once doubt that it is her album they've helped her make. Or that she herself is an all-star-in-waiting.