The Fantastic Four ain't.
Bet you saw that train coming a mile away.
But this train wreck of a superhero movie is very much a fantastic flop. Not financially, mind you, as the popcorn chomper made a fantastic $56 million its first fantastic weekend out, causing Hollywood to rejoice fantastically and proclaim a three-month-long box-office slump finally at a fantastic end.
But the movie's success continues to send a bad message to the Tinseltown chieftains: As long as you put a ton of marketing muscle behind something, you'll make back your investment over the first weekend. After that, who cares, it's off to play on the beaches in Baja.
It's mildly discouraging that Marvel Comics — which, since entering the movie business, has had hits (Spider-Man, X-Men) and misses (Daredevil, The Hulk) — would let its crown jewel, the franchise that first put Marvel on the map — to be so badly tarnished. While Fantastic Four isn't meant to be high art, it didn't need to be so inexpertly crafted, so sloppily tossed together. It's virtually transition-free; the movie's various sequences pile up on top of each other like a major freeway collision. To call Fantastic Four worthy of TV seems like a compliment, since these days much of what's on TV is better than what's finding its way into the multiplexes. Fantastic Four is more like a rejected television pilot. From the '70s.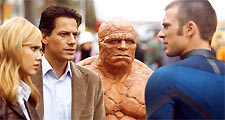 Director Tim Story, who made the enjoyable (and essentially narrative-free) Barbershop, but also the sputtering Jimmy Fallon vehicle Taxi, proves once and for all that he's a resolutely average director, with no imagination or style to speak of. His Fantastic Four doesn't just lack narrative grace, it pretty much lacks a narrative altogether. And it's overwhelmed by a gooey cheesiness that gums up whatever few entertaining moments do exist.
The movie pretty much sticks to the basic tenets created by Stan Lee and Jack Kirby back in 1961. The genetically altered quartet don't have secret identities, they're beloved by ordinary people (unlike the X-Men, who are reviled because they're different), and they constantly engage in a playful, dysfunctional familial banter. So much banter that it's a wonder they get any crime-fighting done. Actually, they don't get any crime-fighting done — at least not in this film (there are two more planned, so we can hold out hope for a worthy megalomaniacal villain to emerge). The Fantastic Four harbor no angst or guilt and don't brood in between meals. They're just super-endowed folk, each with his or her own extra special abilities. They're a testament to teamwork. Everybody shake your big blue pom-poms and shout "Rah-rah!"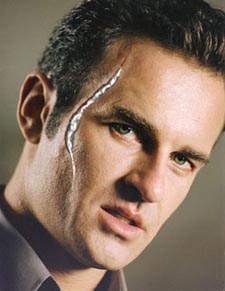 Fantastic Four is essentially about the foursome getting used to and embracing their newfound powers, the sole exception being astronaut Ben Grimm, who's been transformed into a big orange chunk of granite affectionately known as The Thing. Grimm's eventual and inevitable acceptance of his rock-hard body is about as close as the movie gets to having an emotional bridge. And as portrayed by The Shield's Michael Chiklis, who spends most of his screen time concealed in a latex rock-suit, there are moments when we actually feel empathy for the walking Mount Rushmore. Chiklis gives the only decent performance of the four, which includes bland Ioan Gruffudd as Reed Richards, the bendy, stretchy one known as Mr. Fantastic; blander Jessica Alba as Sue Storm, the Invisible Girl; and blandest (but prettiest) Chris Evans as her hotheaded, impetuous brother Johnny, the Human Torch. In case I forgot to mention it before, they get their special powers after being pelted by cosmic radiation during a mission in space.
Also on board that fateful mission, Dr. Victor Von Doom, a smug billionaire who was a former classmate of Richards' and has the hottie-hots for Sue (who once dated Richards). Doom turns into a human magnet with the power to fire bolts of electricity from his fingertips, creating big, gaping holes in the chests of anyone who gets in his mildly demented way. A mainstay in the comics, Dr. Doom's metal mask and hooded cloak are donned by Nip/Tuck's Julian McMahon, who underplays the bad doctor with what can only be called a chronic disinterest.
The Incredibles, a CGI superhero satire that bore a notably strong resemblance to the Fantastic Four, is a better example of how to combine playful antics with thrilling bouts of action. True, you can get away with bigger, better, more dazzling set pieces in an animated film. But in these days of special effects, it doesn't take too much to make a similar leap to live-action. The biggest set piece Tim Story and writers Michael France and Mark Frost conjure is a traffic pileup on a bridge involving a precariously teetering firetruck and a Dalmatian in peril.
By the time the movie's climactic battle between the Fantastic Four and Dr. Doom rolls around, you find yourself wondering, how did we get here? Nothing — and I mean absolutely nothing — has occurred in the interim. The only story you'll find in Fantastic Four is the one attached to the last name of its director.