Erin McKeown and Leslie Feist don't share a voice, though you'd be forgiven for thinking so while listening to their latest albums. Both singer-songwriters have sultry vocals and an often halting or leisurely cadence that, coupled with the jazzy, percussive alt-pop of their best tracks, evoke a Brazilian chanteuse. And both independently, but taken together, have created the double-feature soundtrack for a leisurely summer brunch.
McKeown, originally from Fredericksburg, Va., recorded her latest, We Are Like Birds, in New Orleans. Her aim was to capture that city's "unique quality of being both a hugely sad and an ultimately joyful place," she says in press notes for the album. And she succeeded, nowhere better than on "We Are More," a bluesy stomper, with Mardi Gras overtones, destined to become an anthem for anyone in need of a lift. "You hate the words of war, but baby, face it, that's what it's been for us," she sings in the chorus, as she, and the floating notes from a Wurlitzer, then turn to the bright side of things. "We were never good fighters or very good soldiers, but through this, we are more."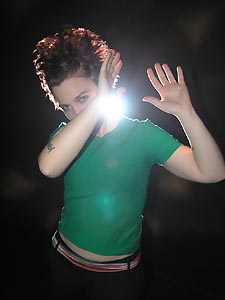 Upbeat touch: McKeown
(Photo by Marcelo Krasilcic)
Several songs on Birds don't quite soar as high as "We Are More" or her first single, "To The Stars," an ever-rising bubble of a pop gem. "Aspera," for example, is a bit too humid-rock in sound to cause much of a stir, and "Delicate December," for another, is a little too languorous-folk, stuck in the darkest recess of the porch, too relaxed to move. But Birds will nonetheless dazzle you with its kinder, gentler pop than you're used to.
It's one lyrically upbeat tune after the next with McKeown, who makes abundant — but not overdone — use of exclamation points in her lyric sheet. The practice peaks at "White City," an appealingly exclamatory track in the mold of the Magnetic Fields and the Polyphonic Spree. At one point on the song she verges on shouting (and she's no shouter) "Show us the beauty!" And then she proceeds to do it through a pretty, nursery-rhyme chorus.
As similar as her voice may be to McKeown's, Leslie Feist uses her instrument in ways that are ultimately more stunning. Feist just may have the prettiest voice in all of today's pop music, matching up better than McKeown to Sinead O'Connor or Joni Mitchell. Originally from Calgary but now a resident of Paris, Feist is an ambitious singer-songwriter. From Let It Die you would never know Feist is a former punk rocker, as well as a backup rapper with the vulgar electro-pop singer Peaches, her former roommate. She's only punk here in two ways: by only recording using her last name, and by fearlessly switching between genres to recreate the divergent wealth of sound — from boogie-woogie to big-band swing to pop standards — coming out of New York during World War II. "That music is all about feeling good when you're terrified of going to war," she recently told one interviewer.
Let It Die is startlingly amazing, full of elegant, refined songs. Feist aims to make little pieces of pop perfection with each song, even those that are not her own. She ends the album with five covers, making each distinct from the other, straddling the soft-pop universe, from quiet to moderately loud, from Cole Porter and Burt Bacarach to Fleetwood Mac and The Bee Gees. Yes, the Bee Gees. She covers their "Inside and Out," playing up the full-disco perkiness but not without accentuating the sad lyrics, and not without incorporating, in the bridge, what is essentially Dolly Parton's "9 to 5" synthesizer line.
Like the album itself, "Inside and Out" makes you smile, it makes you laugh, it makes you swoon. And then it makes you want to share it with everyone you know.