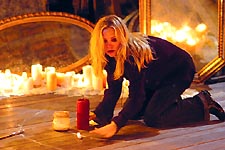 Children shouldn\'t play with dead things: Hudson
In The Skeleton Key, Kate Hudson plays hospice worker Caroline Ellis, a spunky, care-filled young woman whose curiosity kicks in at all the wrong times. Like countless damsels in distress before her, she thinks nothing of exploring dark, musty attics, padding around a shadowy, spooky bayou mansion in her ultra-sheer nightie, and tampering with forces — in this case, the primal, primitive dark magic known as "hoodoo" — best left to those who instinctively understand the power a line of brick dust imparts. Caroline's one of those folks whose response to a locked, rattling door — the only door that won't accept a skeleton key provided her by the matron of the mansion — is to wonder "Gee, I really need to get in that room and see what's making all that fuss."
What turns out to be on the other side of that door isn't half as alarming as what Caroline learns while caring for Ben Devereaux (John Hurt), the victim of a stroke whose final days are nigh. As Caroline assists Ben's wife, Violet (Gena Rowlands), she unravels a mystery that puts her life directly on the path of Great Personal Peril.
Directed by Iain Softley (Hackers), The Skeleton Key is steeped in Southern gothic style. It's a slow simmer movie without, regrettably, any actual jolts. It's more about mood and plot maneuvers. And, admittedly, its ultimate twist is both admirable and startling, making this savory gumbo worth a nibble.
Softley relies a little too heavily on horror conventions in the final, thunderstorm-stricken act, and is sometimes a little too enamored with useless style (sudden shifts from color to black and white and back to color are annoying and pointless), but in Hudson, Rowlands, Hurt and Peter Sarsgaard (as a sugar-sweet estate attorney), he's got a gifted cast who keep even the more leaden moments aloft.
Beneath the obvious horror trappings, screenwriter Ehren Kruger has crafted a surprisingly rich tale about belief systems — or, more specifically, finding the way into a belief system so that it can ultimately do you harm.There isn't much more I can say without giving the fun away. Just go for the ride and the pleasure of watching Rowlands pluck from her esteemed repertoire of characterizations, a ripe, juicy Southern matron who shifts, effortlessly, from cranky to charming to chilling.
---
Imagine a movie with the most foul, most vile language you've ever heard, language concocting unspeakable acts of vulgarity, perversity and depravity. Imagine yourself offended beyond all measure by the unseemly, inappropriate actions described, actions that always include a mother, a father, a couple of kids, sometimes an infant, a grandparent or two, and frequently a family pet.
And then imagine yourself laughing your ass off.
Stop imagining. It's real. And, in case you haven't heard, it's called The Aristocrats.
Produced by Penn Jillette (the garrulous half of Penn & Teller) and Paul Provenza, and directed by Provenza, the movie explores a single legendary uber-obscene joke, allegedly born out of Vaudeville. Rarely told by comedians to audiences, it is instead told amongst comics, late at night, long after The Improv crowd has gone home, in an attempt to outdo one another.
The joke, which in itself is pretty dumb and not very funny, relies on its midsection for its humor — a riff of varying length explaining in elaborate detail an appalling "family act" involving all manner of bodily fluids and inappropriate carnal combinations — as it's pitched to a booking agent. The booking agent, stunned by what he's just heard (or, in some versions, seen), asks the name of the act. "The Aristocrats," comes the reply.
Jillette and Provenza amass an astonishing group of comics to fire off their versions, cutting it all together in rapid fire clips. This sometimes works to the joke's detriment, but you get the idea of how depraved the thing can get. Problem is, The Aristocrats is about 20 minutes too long — the redundancy numbs. Moreover, the deconstruction of humor isn't all that interesting a topic. Humor is best when it's left unexplained.
Still, The Aristocrats is notable for its parade of veteran comics — including Tim Conway (stay through the end credits for his whimsical contribution), Phyllis Diller, David Steinberg, Shelley Berman, and David Brenner, and relatively newer additions to the comic scene, including Hank Azaria, Drew Carey and Mario Cantone. Everyone in the film is terrific, and all perform exuberantly, but standouts include George Carlin, Gregg Rogell (who tells the joke to what appears to be a slightly stunned homeless person), The Smothers Brothers, Jason Alexander, Paul Reiser, Chuck McCaan, Andy Dick, Taylor Negron, Kevin Pollack, Whoopi Goldberg, and Sarah Silverman, who in the course of her interview playfully takes on New York talk show legend Joe Franklin.
The most alarming version is told by Bob Saget, wholesome he of Full House and America's Funniest Home Videos. Saget turns out to have the kind of potty mouth that doesn't just require soap, it requires extra-strength bleach. Gilbert Gottfried, meanwhile, tells a live version at a televised roast that eloquently displays the art of perfect timing. And the hands-down funniest version? Acted out by a street mime.
Given Jillette's history as a prankster, it's entirely possible The Aristocrats is a goof on us, that the joke never really "historically" existed. But who cares? The joke's here now. And it's here to stay. It's not just a joke for the john, it's a joke for an entire sewage system. Enjoy wallowing in it. I did.