Nobody spins better, or with more superheroic grace, than Lynda Carter.
Indeed, for her latest role in Sky High, Carter — forever revered as the Amazonian goddess of good, Wonder Woman — plays Principal Powers, the headmaster of a school for superteens. She makes her entrance with a glorious hyper-spin.
The movie, now playing at area theaters, is an entertaining and clever coming-of-age fable about adjusting to the rigors of high school.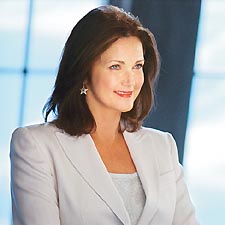 Lynda Carter
"[Sky High] was like my high school," says Carter. "I wasn't part of the 'in group' and that was so painful. It's a difficult time of life. I wouldn't go back for anything."
Carter, who has called Washington home for over 20 years and who has two teenagers of her own, has reemerged recently, not only in Sky High, but also in The Dukes of Hazzard, in which she plays the girlfriend of Uncle Jesse (Willie Nelson). Her reported kissing scene with Nelson never made it to film but she confesses, "We had to practice in his trailer for the longest time."
Carter will be heard as one of the lead female voices on the forthcoming video game Oblivion. "The producers give me a series of reactions to do — 'Aaah! Eeee!' — and then they have a series of lines they want me to say if the character does this or that. After that, I can just throw in kind of whatever I feel like — girlie things like 'Oh, my God, I just hate my thighs,' or 'Does my ass look big in this?"'
As for Wonder Woman, the role for which she's most beloved, Carter marvels, "I can't even begin to fathom how much it has impacted my life. I have always embraced Wonder Woman. I even read the comic books as a kid."
She feels that gay men in particular identified with Wonder Woman because of "the combination of a woman being a woman but also having a masculine side. She could be strong and beautiful like they can be strong and beautiful.
"I think there's such a strong archetype there for gay people," she continues, "that secret self. It's that hidden self that's not about being defined by secrets or by sexuality, but being defined by your heart. So many of us have to hide our lives in order to make other people comfortable. And when you stop hiding your life to make other people comfortable, you begin to love yourself."