Jess Goldstein must have a thing for leather. His stylized visions of Iago and Othello as two Italian studs bedecked in long, shiny leather jackets with stiff, jacked-up collars are more reminiscent of Isaac Hayes and Shaft than of Shakespeare's tragic Moor, and yet his is the only design that smacks of modernity in Michael Kahn's reverent new production of Othello.
It's a story so ripe for adaptation that it practically bleeds red, white, and blue, but Kahn resists any urge to update the Bard's tempestuous tale, a searing study of human nature long-steeped in rich cultural history and matters of racial and religious inequity. Instead, Kahn relies on a sturdy, traditional retelling, re-enlisting Avery Brooks to once again chart the wild waters of General Othello, and Patrick Page (last season's Macbeth) to skillfully render his cold-blooded ensign, Iago.
It only takes a tiny seed of doubt planted in the most fertile of minds to weaken the resolve of great men and their great marriages. Suspicious of his own wife's affinity for Othello, Iago nimbly breeds a blazing hybrid of jealous wrath and vengeful fury within his trusting general. Snubbed by Othello for his high-ranking position of lieutenant, Iago suggests that Othello's new bride, the lovely young Desdemona (Colleen Delany), has been unfaithful with his newly-appointed lieutenant, Cassio (Gregory Wooddell).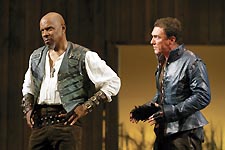 Sowing doubt: Brooks and Page
(Photo by Carol Rosegg)
Left to his own licentious schematics, "honest Iago" infiltrates the ranks with serpentine acts and vicious lies. Othello's Achilles' heel is nearly proven defective until Iago can at last summon infallible proof of the bride's compromised virtues, and an embroidered handkerchief ushers the fall of one of literature's most confounding couples.
Perhaps the most cunning and cruel of all Shakespeare's treacherous villains, Iago's name has become synonymous with "trouble," and here Page lends credence to the malice of that "low, inhuman dog." His loathsome knave is a decisively youthful wretch, one marked by an eerie sense of eroticism and a painful inability to connect with the lives around him. Page's savory Iago is met by Brooks' pirate Othello, one bad-ass warrior with a grin as wide and as sly as a Cheshire cat.
With a thick golden hoop dangling from his left lobe, Brooks demonstrates a controlled, nervous restraint that is interrupted only by obligatory declarations of "Zooms!" and a round of epileptic seizures. Since performing the role here fifteen years ago, Brooks has evolved into a slightly more debonair Othello, a world-wise and mature fellow whose optimism springs from that lusty affair with his wealthy Venetian love. And Delany's Desdemona is as pure and sweet as the morning dew, a cherubic portrait of innocence and devotion marred by the sins of her dubious husband.
Kahn's is a meaty, self-contained production that plods along, heavy and calculating, until Othello's fatal unraveling collapses in one fell swoop. There are protracted exchanges that seem to fail their urgency in the text, and quick, blinking swordplay choreographed with fine nuance. James Noone's set lacks the kind of exquisite imagination expected from his expert drawing board, and Charlie Morrison's austere lighting doesn't offer much by way of mood or tone.
Ultimately, Kahn's Othello proves a serviceable account, ably delivering its intense tribunal of love and loyalty, murder and madness — but still longing for his savvy, signature touch.
---
You won't see the one person who most needs to sit through Sean Huze's The Sand Storm: Stories from the Front attending a performance at MetroStage in Alexandria — our Commander in Chief has more urgent matters to occupy his time since trimming his month-long vacation short last week. But make no mistake about it, Huze's horror stories from his service as a Marine in Iraq are just the kind of hardcore, harrowing anecdotes one George Walker Bush should be exposed to each and every day we remain at war. But make no mistake, Huze's horror stories from his service as a Marine in Iraq are just the kind of hardcore, harrowing anecdotes one George Walker Bush should be exposed to each and every day we remain at war.
"The only thing that has changed is weapons and geography," insists one soldier at the beginning of Huze's play, a grim collection of ten monologues that depict life and death in the parched combat zones of the Iraqi desert. Huze enlisted in the Marine Corps after the attacks of September 11, 2001, and his battalion "shredded through" the towns of Nasirya, Al Kut, Baghdad, and Tikrit during Operation Iraqi Freedom. After returning home to Camp Lejeune in 2003, Huze attempted to cope with the painful memories of war the best way he knew how: he wrote them down.
Realistic, honest, tragic, and heart-wrenching, Huze's characters crop up from all over America to detail their horrific experiences serving in our military. With only one bottle of water to drink and one meal to eat per day, these are weary warriors fighting in a very different kind of theater of war. From the frontlines, their stories are sobering reminders of the cost of war. "No explanations, no apologies – it's where you were," Huze writes, and under the astute direction of Brett Smock, no explanations or apologies seem necessary.
Stories from the Front
To Sept. 25
MetroStage
1201 North Royal St.
Alexandria, Va.
800-494-8497
www.metrostage.org

Some of the soldiers' recollections are moving tributes to the fallen, while some are unintentionally sanitized by the uneven cast of actors relaying them. Jonas Grey's "Doc" and Michael Kevin Darnall's Cpl. Rodriguez both share intimate and haunting memories, while Darius A. Suziedelis' Marine provides the narrative thread to string the scenes together. But it is John Slone's sure-footed Lt. Shane Smith that offers the most riveting account of sheer terror under fire.
They're not easy stories to sit through, but they are necessary to bear. Huze's sad, gruesome truths of war do not paint our military personnel in a bright and blinding light, nor do they spit in the face of our democracy and those who serve to protect it. Instead, they are straightforward, earnest reports that beg to be told in this exact place at this exact time.