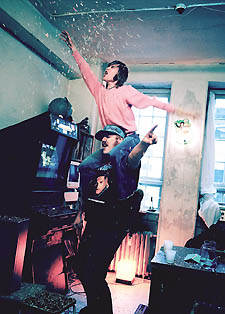 Junior Senior
D-D-D-DON'T STOP DAFFY DANES… It's official: Those daffy Danes Junior Senior have a new album in the works. And actually it's already for sale in the duo's native Denmark. Pitchforkmedia.com reports that skinny straight Jesper "Junior" Mortensen and chunky gay Jeppe "Senior" Laursen are currently shopping their follow-up to 2003's D-D-D-Don't Stop the Beat to interested American labels, with plans to release it by early next year. So that means Atlantic Records obviously wasn't pleased enough with the first set to keep them on, but at least it also means the boys won't be pressured to alter their zany sound. And all signs suggest the duo is as out there as ever. The new set's title, Hey Hey My My Yo Yo, is even crazier than the first, and for it they've worked with Kate Pierson and Cindy Wilson from their American forebears The B-52's as well as their American kindred spirits Le Tigre. A tempting taste of the songs to come: "Hip Hop a Lula," "Can I Get Get Get," "Itch U Can't Skratch," and "We R the Handclaps." An American tour is expected to follow the album's release — and Junior Senior is a band to see live if ever one existed….
ABBA ON FILM… Speaking of Scandinavian dance-pop, while the original Scandinavian dance-pop band may be long gone, ABBA is still much loved. And finally, you can add something new to your surely extensive collection of ABBA treasures. Maybe you've already seen it: repeatedly, on INHD, or if don't have an high-definition television maybe you saw it years ago at FilmFest DC, Washington's independent film festival. Or maybe you saw it decades ago when it first came out. But ABBA — The Movie will finally — finally! — be released on DVD in the U.S. next month. (It was just released in Europe.) A documentary film based on the Swedish supertroopers' tour of Australia, ABBA — The Movie focuses on a fictitious DJ who frantically seeks to interview the band as they make tour stop after tour stop throughout the land down under. Written and directed by celebrated filmmaker Lasse Hallstrom, who also directed all but the band's final two video clips, the film includes rare concert footage and was one of the first films to ever utilize "surround" sound. Two years ago it was extensively restored with money from the Swedish government. Billboard reports it will be released as a single-disc DVD as well as a limited edition two-DVD package, the latter including a new 40-minute interview with Hallstrom and ABBA members Benny Andersson and Bjorn Ulvaeus….
A EUROPHILIA'S GUIDE TO HOUSE… David Guetta and Mylo dominate the nominees in the second annual House Music Awards, with six nominations each. If you've heard them – or for that matter Martin Solveig, with five nominations – chances are you're either a clubhead with a serious case of Europhilia, or at least a European citizen. A London-based event, the House Music Awards are very European-focused, so you've probably never heard of a significant portion of the nominees. Still, plenty of American-popular artists, from DC-based Deep Dish to Armand Van Helden to Blaze, all racked up multiple nods. And as long as you hurry, even you can vote for the nominees you know in the awards' 27 categories — in fact, you could have voted for the nominees to begin with earlier in the year. Voting closes this Saturday, Oct. 1, at www.housemusicawards.com.
Last year's big winner was Italian DJ/producer Junior Jack, who won for artist and album of the year. The track, or song, of the year went to "Lola's Theme," by the Shapeshifters, or Shape:UK as they're known in the States. Shape:UK also racked up multiple nods this year too, though unfortunately its latest song, "Back to Basics," didn't make the grade as a Track of the Year contender. Let's hope its dizzying video picks up the Best Video honor, a new category in 2005. And lead singer Cookie has a clear chance at winning the Outstanding Vocal nod. Though to do that, she'll have to beat Inaya Day's gritty cover of "Nasty Girl," to say nothing of Barbara Tucker and "Most Precious Love"….
PRECIOUS LOVE, BOMP, BOMP BA-DOM… And "Most Precious Love" is truly this year's track to beat. That song racked up the most nominations this year, or eight, including Track of the Year and Most Innovative Producer for Blaze, the New York-based collaborative of Kevin Hedge and Josh Milan. It also earned nods for Breakthrough Producer and Outstanding Remix, both in recognition of Dennis Ferrer's fascinating, and award-deserving work in transforming the song. The original appeared on Keep Hope Alive, the AIDS-benefit CD featuring a collective of "Underground Dance Artists United for Life." Blaze produced a slow-burning soulful house jam, with a lilting Latin flair, to which Barbara Tucker then added her churchy, God-centered vocals. Nice, sweet, but mostly unremarkable. For his remix though, Ferrer turned the track upside down — or should we say, took it higher. He started by adding a booming, fast-clip beat, and then built the remix from his own creation, an unmistakable see-sawing, staccato chord line. First violins, then — best yet — a male choir echoes that chord line ("Bomp-bot-ta bomp bomp ba-dom/bomp bomp bomp bomp"). Futuristic swooshes and swirling synths float atop it all at song's peak, and by then the dance floor is enraptured in the greater love it has found….