Toni Braxton explains in the liner notes that she was nervous and full of doubt as she made her new album Libra, her first since leaving her original recording home at a BMG subsidiary. Now she's at a subsidiary of Universal Records. A move from one major label to another: It sounds less stressful than it was, apparently. She also makes her years at BMG sound less torturous than they were, apparently. She makes no mention of her legal, financial, commercial or artistic struggles for the better part of the last decade, except by looking to the positive.
"I finally feel liberated and unafraid to be an artist," she writes. But how does she sound on this, her sixth album in 12 years? As good as ever. She's obviously happier now, and she sings mostly about how good love and life are. Regardless of what she's singing about though, Braxton's music is always in a good mood, most often expressed with an upbeat, mid-tempo sauntering groove and bright instrumentation. It suits her better than her past several sets of edgy and somber demeanor, with boring ballads and caustic hip-hop stylings that grew tiring.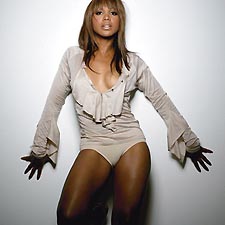 Toni Braxton
Mind you, she's not always singing about the good things. "Midnite," for example, is a sweetly sung warning that even the best men can't always be trusted. But then neither can the best women, as Braxton tells us with the preceding song. "Take This Ring" is a party band jam, featuring festive live percussion. But it earns distinction as the album's wildest track even more because of its lyrics. Braxton sings about her plans to be free from a night of matrimonial responsibilities. "Tonight I'm gonna/I'mma take this ring off/Take this ring off my, my finger," she seductively, without hesitation, stutters to the beat. "Don't tell nobody," she sings later, repeatedly.
But her husband already knows, and even plays along. He's one of four executive producers besides Braxton on Libra, and just one of a whole stable of people she worked with here, including Kenny "Babyface" Edmonds, the man in charge of her former subsidiary label home. Obviously, she let bygones be bygones, even if you wish maybe she hadn't. Babyface's co-production, "I Wanna Be (Your Baby)," after all, is the album's blandest track, a by-the-numbers R&B ballad.
Braxton's "Take This Ring" is notable not just because it's so subversive and wild, or even because it's so delicious. It's notable because it's the latest salvo from R&B production wiz Rich Harrison. Though he hasn't yet had another hit quite as big his "Crazy in Love" for Beyonce, he did give us this year's delectable "1 Thing" from D.C.-native Amerie, and he contributed the best track, "Can't Stop," to Missy Elliott's recent album.
And he just keeps coming. Besides Braxton, he was hired by the Pussycat Dolls to factor into the sextet's debut, PCD, which could have been titled Now That's What I Call Hot Production, Vol. 1. Harrison joins Timbaland, the Black Eyed Peas' Will.I.Am, Cee-Lo Green and album executive producers Ron Fair and Jimmy Iovine in a big-budget production that proves the theory that money can't buy quality. But it does come close, especially if quality to you equals listening happiness.
So yes, it's true: there's nothing really original about the Dolls. In fact, every track on PCD sounds modeled after hit tracks from other artists — Destiny's Child, Aaliyah, Destiny's Child again, Janet Jackson, Christina Aguilera. And did we mention Destiny's Child?
But it's also true that every track could be a hit in its own right, and none of them are so predictable or uninspired to be embarrassing. That's not to say you won't cringe the first time you hear the Dolls' covers of Soft Cell's "Tainted Love/Where Did Our Love Go" or Nina Simone's "Feelin' Good." Because you will, though with repeated listens you just may come to appreciate them.
Did we already mention how much the Pussycat Dolls will remind you of Destiny's Child? The Dolls' lead singer, Nicole Scherzinger, is being positioned here as the group's future breakout star a la Beyonce. The PCD liner notes lead off by informing you, in all caps and oversized, bold type: "All lead and background vocals by Nicole Scherzinger." Her supporting cast of cats are then identified in smaller-sized all-caps as providing either additional background and lead vocals, or just additional background vocals. Only time will tell if a catfight erupts as the other Dolls seek greater recognition, or if Scherzinger will strike out on her own first.
But time should be on the Dolls' side. There are other songs on PCD in the same spirit as first hit "Don't Cha." "Buttons" features Arabic strings and Scherzinger begging her man to stop teasing her and "come on loosen up my buttons, babe." "Bite The Dust" is an Xtina-styled song calling on another girl to back off Scherzinger's man.
And then there's Rich Harrison's production, "I Don't Need A Man." It's the album's standout, with a driving beat and horns trumpeting the Dolls as they sing an anthem to women's independence.