It has all of the gilded trappings of classic musical theater comedy. There's the handsome, zany twosome stuck in the middle of their own harebrained scheme, lusting after a sweet and innocent ingénue (think Sarah Brown or Hope Harcourt) and her clueless character counterpart (Miss Adelaide or Reno Sweeney). There's the host of meddling, slapstick-yet-somehow-sagacious supporting characters and the hapless, "he's just misunderstood" villain out to take over the world (or just the family's inheritance). It even showcases colorful, jovial costumes on a big, musical-ready, revolving set. But this time, Ken Ludwig's outrageously fickle storyline doesn't serve as mere exposition to fill in the blanks between musical numbers.
That's because Leading Ladies has no musical numbers.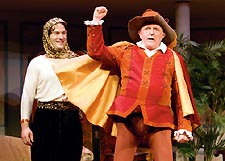 Not breaking into song: Kahn and Astin
(Photo by T. Charles Erickson)
And that's really a shame, considering that Ludwig's latest contribution not only traffics in the kind of happy-go-lucky humor and larger-than-life scenarios that are the heart and soul of musical comedy, but also because the play, as produced by the folks at Ford's Theatre, employs one of Broadway's own leading ladies, the terrific and tangible Karen Ziemba. Once Ziemba enters, gliding down a grand staircase as though floating on air, you can't help but wish this were a musical, and that her sheepish goodie-girl Meg will break out into a toothy tap number at any minute.
But alas, Ludwig's script follows the straight and narrow formula of Comedy 101, blending together good old-fashioned romance with a new old-fashioned drag show, borrowing plotlines from Shakespeare's Twelfth Night to the community theater staple Charley's Aunt and even Billy Wilder's Some Like It Hot.
Perhaps Ludwig is concerned that entire generations are now missing out on gender-bending comedies and it's up to him to keep the torch ablaze. If that's the case, he's forgetting the successes of other recent genderscopic works, including Harvey Fierstein's Tony Award for his portrayal of Edna Turnblad in Hairspray, Robin Williams in 1993's Mrs. Doubtfire, and Dustin Hoffman's Tootsie. And for a young woman's take on masculinity, lest we forget Joyce Hyser's triumphant turn as "Terry" in the 1985 teen flick Just One of the Guys.
So it appears that Ludwig, the lauded author of Lend Me a Tenor, Moon Over Buffalo and the book for the Gershwin musical gem Crazy For You, has forged on with his simpleton story about two British actor-types playing the Moose Lodge circuit in 1958 rural Pennsylvania. Leo Clark (Ian Kahn) begs his best buddy Jack Gable (JD Cullum) to join him in posing as the long lost nieces of a dying dowager. Neither bachelor is prepared to fall in love in the midst of their tried-and-true gimmick, and when the greedy fiancée cleric (a delightfully tense Patrick Kerr) suspects foul play, our leading "ladies" must think on their tippy toes. Of course all of these carefully-threaded plot mechanics are fabricated to culminate in one final quick-change feat by Kahn, a predictable, riotous gag that is still genuinely funny.
And that's how most of Leading Ladies pans out — there are laughs aplenty, especially when John Astin (Gomez from TV's Addams Family) and Charlotte Rae (the babbling Mrs. Garrett from The Facts of Life) take the stage together. Ziemba is magnetic throughout as the hometown girl with a heart of gold and a passion for the theater (anyone remember her showstopping dreamer in "I Want to be a Rockette" from Kicks?), while Kahn and Cullum mine every possible laugh buried in Ludwig's farce, particularly during a hand-to-mouth sign language bit.
The miracle that any of this branded, dated comedy works is largely due to the work of director Mark Rucker, who sparks as much fire as he possibly can with a soaking wet script that never strays from the shallow end of the pool. There are some hysterical moments of comic relief coming from such innocuous comedy, but Leading Ladies also keeps you wondering whether or not the laughs would still roll with lesser actors or a more literal director. After all, this is a work destined for community stages and schools, played out by scores of thespians whose delivery can't possibly match the expert winking by Kahn and company — or the glamour of John Coyne's mammoth set and the quaint period costumes from Judith Dolan that sing with imagination.
Still, once in a while it's good to sit back and laugh at some ridiculous, screwball antics set up by a fine group of actors. As long as you check your expectations for intellectual wit at the door, Rucker's idyllic cast delivers all that you could possibly want by way of hearty laughs and dizzy cross-dressing fun. The only things that remain missing from Leading Ladies are the songs.