Death Cab for Cutie may or may not be the "it" alt-rock band of the moment — and there are at least a dozen vying for the designation — but it's certainly one of the most popular. The Seattle-based quartet just charted big with its major-label debut album and has sold out many nights on its promotional tour, which hits D.C. in late October.
Death Cab for Cutie, however, is not our pick as the "it" alt-rock band of the moment. The band's new album Plans is no match for Twin Cinema, the new album from another Pacific Northwest band, The New Pornographers, who hail from just across the border in Vancouver.
A songwriting collective of nine members, several of whom are popular on their own (alt-country star Neko Case) or factor in other indie bands, The New Pornographers make music so jubilant, so melodious and so addictive, there's no question how they selected their name. They make the pop music equivalent of porn, though here it's intended not just for a mature audience, but for a sophisticated one as well. The music is built for speed, strongly echoing sweeping and sprawling psychedelic rock of the '60s, from The Beatles to The Mamas and the Papas, from David Bowie to Brian Eno, from the Moody Blues to Squeeze. Its anthemic sound is always catchy but never predictable, with key and tempo changes in places you least expect.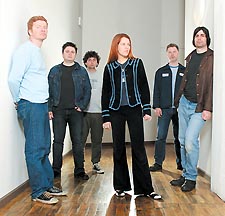 Not for adults only: The New Pornographers
Lead songwriter A.C. Newman doesn't worry about creating fully-formed plots. He's a master at tossing off one-liners just vague enough to be about any number of things, or nothing at all. "Two sips from the cup of human kindness and I'm shit-faced, just laid to waste," he sings on the piano-charged garage-rock gem "Use It." Is it a paean to substance use? Probably, though it could be about a sexually charged meeting with a stranger.
"There's a shame with the shock, and a gift horse with them," he sings on the ridiculously catchy "Star Bodies" — ridiculous because it doesn't seem to mean anything, and ridiculous because apparently it's based on a previous Pornographers song, only this time performed backwards. "The hourglass spills its sand, if only to punish you/For listening too long to one song," Newman sings, with backing harmony from his bandmates, on the dazzling, asymmetrically structured though not techno-based "Sing Me Spanish Techno." But listening too long to one or any song on Twin Cinema is not possible, and it's certainly not punishment.
The New Pornographers's quirky songwriting, in an advance-lit style that is somehow unpretentious, is not too far removed from the kind Death Cab for Cutie made its stock in trade. Death Cab has gained most of its fame because of Fox's The O.C., the show wildly popular among angst-ridden teens and the adults who love them. The band's music — and the band itself, last season — have been repeatedly featured on the show and on the soundtracks drawn from it. Lead singer Ben Gibbard has a Paul Simon-esque pleading tenor, and the band has a penchant for grand and tuneful pop songs, just original enough that comparisons to Coldplay don't stick. Unlike Gibbard's even-more popular electronica side project The Postal Service, Death Cab is quieter, more rock-based and more serious, and its name captures its sound: cute but creepy, funereal yet festive, with pristine melodies pre-washed in slightly ragged production.
But with its fifth album Plans, Death Cab has lost much of its quirkiness, or at least its quirks have turned several shades darker, fading out the fun. By focusing chiefly on the meaning behind the first word in its name, the band is not only less alive than ever, it's lost much of what made it cute. Gone are playful lyrics and bright melodies, such as those from 2003's phenomenal Transatlanticism, about how a car's glove compartment is inaccurately named "and everybody knows it" ("Title and Registration") or how much nicer the old days were when the world was flat ("The New Year").
In their place are still-eccentric but emotionally fraught lyrics, encased in dour ballads, about finding love in the far-off someday and especially about lovers dying together. "Love is watching someone die," Gibbard sings on the weak and deranged "What Sarah Said," which closes with Gibbard asking repeatedly, "So who's going to watch you die?"
It's certainly something to think about — death does become us all, eventually. But it seems a little morbid to sing along to the thought, much less listen to it repeatedly. Everyone needs to plan for death, yes. But I certainly wouldn't want to die listening to Plans.