The Gay Men's Chorus of Washington is meeting history head-on with a journey through nearly 50 years of Broadway composer and lyricist Stephen Sondheim's work. Appropriately, the chorus will travel through time in the Tivoli Theatre, a historic landmark that just recently reopened its doors for the first time in more than a quarter century.
With only four performances, the GMCW's cast of 16 presents Everything's Coming Up Sondheim! – A Cabaret with full awareness of the surrounding.
"It's a 260-seat theater," explains John Moran, the show's stage director. "It's a small, intimate space. It's beautifully decorated…. I'm really excited about going in there. It's so important to the fabric of the community."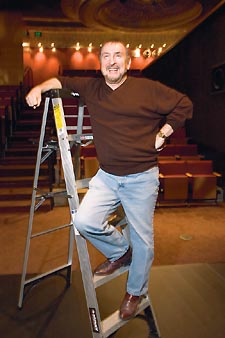 Moran
(Photo by Todd Franson)
Moran should have a unique appreciation for history, having been part of so many powerful events during his career. He was the stage director for the Millennium March rally on the National Mall and he's been involved with productions that have included dignitaries from all corners of the world, from the Dalai Lama to Queen Noor.
"They've made a huge impression," says Moran. "You can't be involved with the great minds of the day without coming away with something from each. What I have generally encountered is their deep ability to care, and their deep frustration at their inability to make things better. I run into very little cynicism."
Moran reserves his greatest excitement, however, for the here and now — and Sondheim. "We're doing a piece from each show that he wrote, but in reverse order — from 2005 to 1957," Moran explains, pointing to Sondheim classics such as West Side Story and Gypsy.
"The man is just a genius. Sondheim has always been considered the most literate of lyricists. He's frequently perceived as kind of ponderous. We're finding the funny in him."
Benefit performance Fri., Oct. 28. Tickets are $75. Regular performances Oct. 29 and 30, Nov. 4 and 5. Tickets are $25. At GALA Hispanic Theatre-Tivoli, 3333 14th St. NW. Tickets are available at www.gmcw.org or at Lambda Rising Bookstore or at the door. For more info, call 202-293-1548.