UPDATED JAN. 5 — The City Council on Jan. 4 voted 11 to 1 in favor of a bill to ban smoking in all enclosed district workplaces, including bars, nightclubs and restaurants. Councilmember Carol Schwartz (R-At Large) voted against the legislation. Councilmember Sharon Ambrose (D-Ward 6) has supported the measure, but was not present for Wednesday's vote.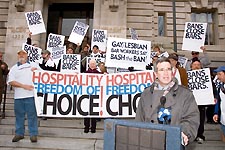 Andrew J. Kline, counsel for the Restaurant Association of Metropolitan Washington, addresses the crowd outside the Wilson Building
(Photo by Todd Franson)
Though Mayor Anthony Williams has said he opposes the legislation, supporters say they are confident the Council could override a veto. Should that be the case, and assuming Congressional review provides no interference, the Department of Health Functions Clarification Amendment Act of 2005 will take effect in enclosed bars, nightclubs and restaurants on Jan. 1, 2007. The act also allows an exemption for businesses reporting that tobacco accounts for more than 10 percent of over-the-counter sales — such as cigar bars or hookah cafés. Further, businesses demonstrating significant economic impact under the ban could apply for economic-hardship waivers.
A day before the vote, on Jan. 3, under the banner "Hospitality Freedom of Choice," about 50 people braved chilly, gray weather, rallying to maintain the status quo. The group gathered at Franklin Square downtown before marching along 14th Street to the Wilson Building, home to the City Council. The march, accompanied by a police escort of five motorcycles and three cruisers, drew the attention of more than a few motorists and passerby with chants like "Bans Close Bars" and signage that included "Gay/Lesbian Bar Workers Say Bash the Ban!" John Anderson, an owner of W. Curtis Draper Tobacconist, stopped his work to flash thumbs up through his storefront window.
Mark Lee, nightlife advocate and promoter of the ongoing Sunday night gay event Lizard Lounge, helped to organize the march and rally, which culminated with some marchers hoping to lobby City Council members prior to Wednesday's second vote on the measure to prohibit smoking in all enclosed D.C. workplaces.
Bob Summersgill, longtime gay D.C. activist and a member of SmokefreeDC's steering committee, said the action was not a threat to the legislation.
"I think it's too little too late," he said on the eve of the vote. "The first vote was 12 to 1. It's unlikely that they're going to swing anyone away from that. We're very upbeat. We've been working for a very long time to get this passed."
The City Council vote on the Department of Health Functions Clarification Amendment Act of 2005 was scheduled for Wednesday, Jan. 4, after Metro Weekly dead line. Therefore, this story ran in the Jan. 5 issue without news of the Jan. 4 vote. That information was added to this Web version Jan. 5.