Last year's Six Feet Under swan song was poignant and unforgettable not just for what you saw but for what you heard: "Breathe Me," Sia Furler's ethereal blush of a song, provided the haunting yet soothing soundtrack to the show's final scene. Months after Six Feet Under's death comes the American birth of this Australia-reared, U.K.-based singer's album, Colour The Small One.
Was it worth the anticipation and hype? At first it doesn't appear so. The album, released in the U.K. two years ago, takes its precious time to have any effect on you at all. It's unusually quiet and it sounds incomplete. It's as if Sia — yes, she's now mononymous — took inspiration from Six Feet Under's creator Alan Ball and decided to hold back to better stand out. On "Natale's Song," Sia sings about a woman who "momentarily brings peace to me," and who "barely speaks, but I hear her breathing."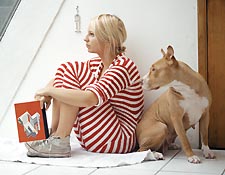 Haunted by human nature: Sia
(Photo by Kasia Werstak)
Well, Sia sings in a breathy voice that on many occasions seems barely there, subsumed by the music, with words barely decipherable as she chews on her syllables a la Tori Amos. And while she has an appealing, natural voice, Sia sings in ways that always remind you of one of her contemporaries, be it Amos, Dido, Nelly Furtado or Alanis Morissette. She never creates her own vocal identity.
What eventually attracts you to the album and justifies most of the hype is its musical austerity, its intentional incompleteness. Making minimal use of maximum instrumentation, Sia creates subtle shifts among genres, from folk to alt-rock, pop to alt-country. Many songs follow the path of "Breathe Me," which starts off quiet with a short, bittersweet piano chord progression and then slowly builds to incorporate soothing guitar, modest but driving percussion and elegant but restrained strings from the London Session Orchestra. And then Sia factors in unexpected instruments to add color — here a marimba, there a Glockenspiel. Because they occur in either slight songs or during slight moments in songs, you can't help but notice and appreciate the effect.
Sia's carefully constructed music is deeply haunted by human nature. On the richly orchestrated, slow-burning rocker "Numb," she sings about the need to move on from what most troubles you: "It has to end, living in your head, without anything to numb you. It has to end to begin."
Years ago, Sia added her lustral voice to several tracks from the British down-tempo or chillout band Zero 7. But she is just one of several vocalists who have contributed to Zero 7, which is why Colour The Small One is one of two new albums touted as coming from "the voice of Zero 7." The other, So Still, which will be released stateside in a week, comes from Mozez.
Mozez is a Jamaica-raised but U.K.-based singer with a voice similar to that of Seal and, even more so, Roland Gift of the Fine Young Cannibals — though he's missing their appealing rough edges. Mozez makes overdone music to match his smooth voice, the end result being that you either swoon, or, more likely, sleep.
Mozez drew clear influence from his work with Zero 7 as he sat down to create his own music. It's soothing, R&B-centered music that at its best makes you smile ever so slightly. And the best comes about halfway through, on the track "Somehow Now," a pleasant song about feeling good despite living in a "time when nothing satisfies."
But more often, it makes you drift off in thought, only occasionally drawing you back in to notice what he's saying or doing. You didn't miss anything — he usually just sings one positive-thinking platitude after another. On "Somehow Now," he channels Mister Rogers in the chorus: "It's a wonderful world in your neighborhood." He's lyrically (and musically) lazy right from the get-go, as when he mimics Bobby McFerrin in the embarrassingly juvenile chorus to "Feel Free" — "Feel free, be young, be happy, live long. Just be what you wanna be."
"Feel Free" was one of two tracks produced by the celebrated pop producer Guy Sigsworth, who fails to stir up any excitement. And Mozez is too busy living his laid-back life to care.