No matter what your taste in stage fare, there were plenty of options to choose from in the 2005 theater buffet. Whether you fancy sophisticated musical comedy, absurd cerebral romps, complex emotional dramas, traditional slapstick, psychological thrillers, cutting edge surrealism, witty improvisational antics or politically charged docudrama, D.C. thespians did not disappoint and Washington audiences were indulged with an eclectic array of performances.
Here's a look back at the flames and the fizzles of 2005, starting with the best of the best.
10. Central Park West/Riverside Drive, Theater J — Best pure comedy of the year, courtesy one Allen Stewart Konigsberg. No matter what you think of him, Woody Allen still has it.
9. Bohemians, Synetic Theatre — The sheer artistry of husband-and-wife duo Paata and Irina Tsikurishvili was illuminated in Synetic's production, an athletic fusion of dance and physical history that explored themes of faith and fury. (review)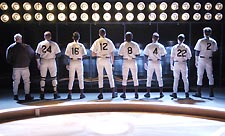 Home run: The cast of 'Take Me Out'
(Photo by Scott Suchman)
8. Passion Play: A Cycle, Arena Stage — An extraordinary production of an extraordinary piece of theater, thanks to the courage and commitment of Molly Smith and playwright Sarah Ruhl.
7. Take Me Out, Studio Theatre — Richard Greenberg's brilliant script met a superb ensemble for an extended run. (review)
6. Urinetown, Signature Theatre — Washington is hardly the place for knee-slapping, self-deprecating musical merriment. Yet Joe Calarco and company pulled out all the stops. A beefy Will Gartshore didn't hurt matters. (review)
5. columbinus, Round House Theatre — Karl Miller. Karl Miller. Karl Miller. Was there a more terrifying performance on stage all year? No. Karl Miller. (review)
4. The Clean House, Woolly Mammoth — Sarah Ruhl deserved the Pulitzer Prize for her magical, poetic tale of life and love, compassion and forgiveness. And nobody could have done it better than Woolly. (review)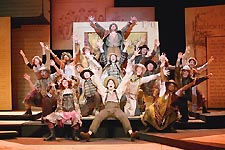 Signing on: 'Big River'
3. Once on This Island, Round House Theatre — Perfection, packaged as the colorful, Caribbean-inspired musical version of The Little Mermaid. (review)
2. Black Milk, Studio Theatre — Vassily Sigarev's gritty sucker-punch of a play found new life in Serge Seiden's stark production, featuring Matthew Montelongo and an avaricious Holly Twyford. (review)
1. Big River, Ford's Theatre (co-production with Deaf West Theatre) — Michael McElroy and a talented troupe of students from Gallaudet University provided the backbone for this sing-and-sign triumph, a profound convergence of humanity and artistry that moved audiences to a river of tears. (review)
And now, the worst of the worst.
5. Nine, Landless Theatre Company — There will come a time when Andrew Lloyd Baughman and his fearless Landless liaisons will produce amazing feats of theater on a shoestring budget. For now, however, his plucky little troupe is high on ambition and low on artistic merit. (review)
4. Afterplay, Studio Theatre — In the hands of Brian Friel, Chekhov never seemed more regretfully remote. Not even local favorites Edward Gero and Nancy Robinette could save this awkward snoozefest.
3. Big Death & Little Death, Woolly Mammoth Theatre Company — Artistic director Howard Shalwitz chose this terribly grave and morose piece to christen Woolly's new downtown digs. I'm still wondering what he had in mind with Mickey Birnbaum's nightmare of a play.
2. Cuttin' Up, Arena Stage — No story? No problem! Arena's shameless cash cow of a show represents everything that is cozy and commercial about contemporary theater. (review)
1. The Persians, Scena Theatre — After sitting through this grueling Greek drama with acting culled straight from the daily soaps, I was jonesing for some Erica Kane antics fresh from Pine Valley. (review)