For most, January is an obvious time to stop and reflect on the passage of time as we say good-bye to one year and welcome another. But for some, this reflection is a year-round endeavor based far less on sentiment than on posterity. They would be the members of the Rainbow History Project.
Formed in November 2000 by Mark Meinke and a core group who answered an ad he placed looking for others interested in preserving D.C.'s GLBT history, Rainbow History has been slowly building its collection and reputation. And it's about time, says Meinke.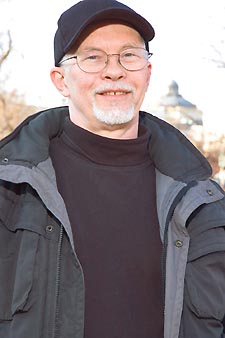 Meinke
(Photo by Todd Franson)
"We're a late starter. D.C. is probably the last major gay urban area to have a historical archive group," says Meinke, whose background includes a bachelor's degree in history and extensive research in the Middle East, including years spent with a Bedouin tribe. "I had been starting on a book about gay history in D.C., particularly drag. I discovered there weren't any archives. I was also a little disturbed when I learned that no one had been collecting oral histories. We had 30 years of history that had not been collected."
With four people, including Meinke, Rainbow History got underway immediately assessing the existence of any grassroots gay archives in the area.
"One of the first things I did was make a survey form for community organizations," says Meinke, "asking if they had an archive. [We got] a very limited response.
"I started a listing of all the gay clubs and all the gay-friendly clubs — a listing of where we went, where we hung out. That gives you a good sense of the geography of where people could go to be themselves. That took about six months to put together. Then I started working on a timeline."
Through all the projects Rainbow History members have launched, Meinke and others seem to value the collection of oral histories as the most important part of their work. Among those who have told their stories to RHP, helping to illustrate the city's collective gay history one point of view at a time, are Wanda Alston, the first to head the Mayor's Office of LGBT Affairs, who was murdered in March 2005; Earline Budd, of Transgender Health Empowerment; Deacon Maccubbin, owner of Lambda Rising and initial organizer of the district's annual pride celebration; and Cheryl Spector, of Lesbian Avengers and several other groups, as well as a Rainbow History board member.
"The oral history project is meant to give as complete a picture as possible of what it meant to be us in this area," says Meinke. "I've also made it a point to get people who are just part of our community. Being part of the community is just as important as being a leader."
John Olinger, who took over as Rainbow History's chair last April, says collecting a single oral history takes about three hours, divided into multiple sessions. He adds that finding people to speak about their history, arranging the recording sessions, as well as transcribing, makes for a fairly labor-intensive operation. Touting the value of these histories, he adds that it's an area that could use some more funding.
"We're somewhat surprised by how far we've come in five years. There is the problem in making the transition to the next step, to a more secure funding base," says Olinger. "The core thing is collecting the stories of members of our community. We can preserve them, but getting them in usable form means transcribing. It's hard to find people who want to do it, but once you get started, you get pretty interested. We want people to come forward and say, 'I've got a story to tell.' I believe everyone has a story to tell, whether you're gay or straight."
Currently, RHP runs on an annual budget of about $5,000 to $6,000. That money comes from member dues, an annual benefit performance by the Washington Academy, and donations from Brother, Help Thyself. But with a mission to promote history as well as to collect and preserve it, extra funds would certainly be helpful. That's not to say that RHP hasn't found cost-effective ways to educate the district's gay community about its past.
"Through the support of Sumner School, we began doing topical presentations," says Meinke. "The first was in April 2001. It was celebrating the creation of the Mattachine Society and the Gay & Lesbian Activists Alliance. Since then, we've probably done 30 panel discussions. By doing these sorts of discussions, we raise awareness that buys into the community preserving its own history."
Rainbow History has also practiced a measure of vigilance on behalf of the city's GLBT community, working with groups like Cultural Tourism D.C. to ensure that gay aspects of D.C. history are recognized. Noting that angle of the group's work, it's easy to see that those who have no interest in history still have an interest in seeing that gay history is not swept under the rug.
"It's important for the community to be conscious of their own history, and to shape the view of what has happened in their history," Olinger insists. "To understand all the transitions helps us to understand what sort of a community we are, to see our strengths — and maybe some of our weaknesses."
Rainbow History Project and One in Ten present "Pride: Party or Protest?" an exhibit running from Jan. 12 through June 6 at the Charles Sumner School Museum. For more information, visit www.museumproject.org. For more information about RHP, including a virtual archive, walking tours and more, visit www.rainbowhistory.org.