Reading one of the area's Spanish-language newspapers can offer a sort of cultural departure from mainstream America. Readers will likely find more soccer coverage in the Washington Hispanic than in the Washington Examiner, for example.
Out of Manassas, the two-year-old El Comercio goes a step further with its "Mamacita de Samana" cheesecake photos. But it seems the paper went a step too far when it published a recent column.
The Jan. 27 edition of the weekly, distributed throughout the metro area, included a column by an independent writer, Rhadames Avila, under a Spanish penname translating to "Stickman." One section of Avila's column presented "symptoms" associated with being a gay man. Some symptoms include owning a cat, drinking coffee with milk, or gesturing with one's hands. The column, in slightly different form than printed in El Comercio, is available in Avila's online archive at www.palobonito.com/palobonito/palitos07.html.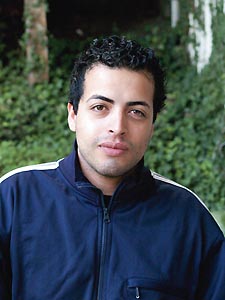 GLAAD's Carlos Macias
(Photo by Katina Parker)
The column may have flown under the radar, had Avila not chosen to use pejoratives for gay men, like "maricon." Also alarming was reference apparently made about a January knife assault at the gay nightclub, Club Chaos: "Be careful, you fruits. Rumor has it that in a local nightclub for 'tuti-frutis' in Dupont Circle, they stab each other — sweet!" [Translation]
Altogether, it was enough to merit attention from the Gay & Lesbian Alliance Against Defamation (GLAAD).
"I talked to the newspaper's publisher and president, Ronald Virto, who assured GLAAD that his newspaper does not endorse Avila's comments or opinion about the LGBT community," said GLAAD's Carlos Macias, who monitors Spanish-language media as part of the organization's People of Color Media Program. "He explained that Alvarez pays for the column [to be printed] and that the paper will make sure it runs a disclaimer…. Mr. Virto says his paper respects all communities and is open to offering a space to talk about LGBT issues in a more fair, accurate and inclusive way."
Macias says GLAAD also supplied Virto with a glossary of inoffensive terms to use when writing about the GLBT community.
Avila's response to GLAAD went further.
"I wanted to say that not with one bone in my body had I any intentions to offend or hurt anyone," Avila wrote to GLAAD, in a response shared with Metro Weekly. "[I]t was not my intention to make you feel bad,…and I ask for your forgiveness now and in the future. I promise not to write anything about your community that would be insulting or offensive." [Translation]
Macias says that GLAAD is pleased with the timeliness and tone of the responses. "The publisher apologized and Mr. Avila apologized himself. He was sorry for any hurt," he concludes. "We're really satisfied by the way the newspaper and the writer responded to our concerns. [Virto] says in no way is his newspaper homophobic."
Macias adds that what may appear as homophobia on the surface, may sometimes just be a case of cultural ignorance.
"We're trying to reach out to as many newspapers as possible, but those newspapers that have low circulation, they're running without people always paying attention to what's being written," he says. "It's not that they're always homophobic. Sometimes they just don't have the information."
With its four-year-old Person of Color Media Program, GLAAD is trying to get that information — guidelines on how to present the GLBT community in a fair way — to three communities: African American, Asian/Pacific Islander and Latino.
"It's very important," says Macias. "We see growth in, say, the Hispanic community. It's the right time to start working with this community. We want to see that Spanish-language media is going in the right direction."
Translations in this article provided by Fernando Garcia. For more information about GLAAD, visit www.glaad.org. El Comercio is available online at www.elcomercionewspaper.com.