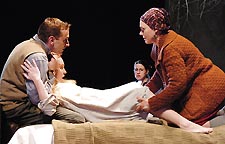 Painful memory: the cast of Midwives
(Photo by Stan Barouh)
At a home in Northeast Kingdom, Vt., in the early 1980s, a ferocious winter storm howls. Meanwhile, in a remote bedroom, a young preacher's wife is overwhelmed by the pains of a hard labor. The telephone is dead, time is running out. What's a midwife to do?
Based on the 1997 best-selling novel by Chris Bohjalian, Midwives is a harrowing account of that fateful New England night. And while Bohjalian's fiction became a huge commercial success (what Oprah-endorsed book doesn't?), playwright Dana Yeaton's austere adaptation doesn't quite evoke the same kind of mass reaction. Midwives delivers the same story of a lay midwife who uses a kitchen knife to perform a cesarean section, but Yeaton employs a score of different theatrical devices to bring the action center stage.
Sybil Danforth is the experienced midwife confronted with difficult decisions during Charlotte Bedford's tragic labor. In saving the baby's life, Sybil may have also ended the life of the mother. "It was like damp pastry dough," recalls Sybil, describing how she split open the uterus. Ostracized from the medical community and forced into early retirement, Sybil is the prime suspect in a courtroom battle to establish the "facts" surrounding the delivery. Problem is, no one knows what really happened in the birthing room — not even Sybil.
The play opens 11 years later with Sybil (Alma Cuervo) undergoing chemotherapy treatments in a hospital room. During an impromptu visit from precocious daughter Connie (Stephanie Burden), she confronts her past in a series of scenes that keeps the audience at arm's length from the truth. With equal elements mystery and courtroom suspense, Yeaton shifts the narrator's perspective from the daughter to a story of group memory. Yeaton's language occasionally slips into a slightly pretentious and annoying vernacular, with repeated references to "catching babies" and stiff, improbable dialogue. But Mark Ramont's calculated direction is not for the faint of heart, and the pain and physical anguish of childbirth is almost too realistic.
A fine ensemble of actors gives Midwives a stable regional premiere, including John Lescault as a concerned defense attorney and Paul Morella as the pesky prosecutor (another salacious character to add to his ongoing résumé of slime). Ultimately the evening rests upon Cuervo's shoulders, and she is warm and affecting as the midwife living with her guilt and trying to survive chemotherapy.
Round House's grand production features another stunning shadowbox set designed by the prolific James Kronzer, and although Yeaton's script doesn't match the hype or the celebrity-status of Bohjalian's original, it is still a substantial and engaging evening of theater.
---
Meanwhile, over at Catalyst Theater Company, Christopher Janson directs a solid revisiting of Eleemosynary, Lee Blessing's mild meditation on mothers and daughters. Three generations of Westbrook women are resurrected by Lindsay Haynes, Ellen Young and a terrifically piquant Kathleen Coons in a serene lullaby of a production.
"One of the notable eccentrics of her time," Dorothea Westbrook raises daughter Artemis under the most unconventional circumstances. When Artie finally has a daughter of her own, she leaves Dorothea to raise her while she pursues a career in science. As granddaughter Echo learns to recite words and their definitions as a way of gaining access to her mother, the three connect only after she enters a spelling bee championship, and later when Dorothea suffers a stroke. Eleemosynary examines the strained, conflicted relationships within this trio of smart women who have no idea how to be good daughters or mothers.
It's difficult to maintain a balance between stillness and movement in Blessing's sobering study, and Janson's direction is both static and a bit restless. Coons relieves that tension through Artie's sardonic wit and world-weary pain in a performance that burns small cigarette stains into the fabric of the play. Though it's certainly not groundbreaking or earth-shattering material, Eleemosynary is delivered by three capable actresses who never indulge in melodrama, relaying an elegant story in very modest terms.