Two big steps were made over the weekend toward the transformation of the area of Southeast D.C. that is home to a number of long-time gay nightclubs and strip bars but seems destined to be the site of the Washington Nationals' baseball stadium.
The first step was a signed lease between Mayor Anthony Williams and Major League Baseball. The City Council approved the deal late Tuesday in a 9-4 vote. The second step was an eviction.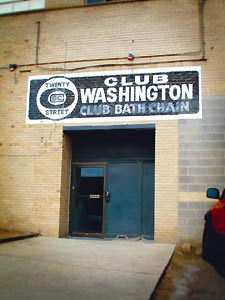 Club Washington bathhouse on O Street, SE
"We got an eviction notice Feb. 28," said Mark, an employee of Club Washington, the bathhouse located at 20 O St. SE. Mark declined to give his last name for publication. Speaking on Friday, March 3, Mark said he was confused by the eviction notice, which cited non-payment of rent. The rent, he said, was overdue perhaps only by a day or two.
The property management firm that collects the rent payments refused to comment on the matter.
"The marshal went through the building," Mark said. "He said he needed to find out how long it was going to take to get the stuff out. He said he'd need about 25 guys and it would take all day…. We've been waiting the whole morning. We thought he'd come in here and start cleaning out…. Right now we're still open, but Sunday might be a different story. I'm so confused — just totally confused. I can't order supplies, because I don't know if I'm going to be here a week from now."
By midday Monday, it did not look like the marshal had returned to the bathhouse. None of the business' accoutrements lined the street outside the venue. But the door was locked. The bathhouse's run — 35 years, said Mark — had come to an end. On the club's door, a handwritten sign thanked patrons for their support, and offered hope that Club Washington would find a home elsewhere in the city.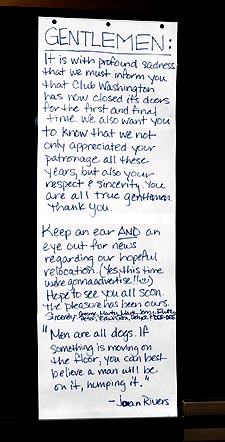 A notice to customers posted at Club Washington
"It is with profound sadness that we must inform you that Club Washington has closed its doors for the first and final time," the sign read, in part. "Keep an ear and an eye out for news regarding our hopeful relocation."
While the eviction notice is not directly related to the district's eminent domain claim to properties in this area of Southeast, Mark suggested that there may be at least some connection.
"I'm sure the city is going to get what they want," he said, referring to the reluctance of gay, adult-oriented businesses to vacate the neighborhood, and the difficulty they may have in relocating.
A statement Monday from the mayor's office confirmed the city would be moving forward.
"The signed lease is the green light we needed to turn this dream into a reality," Williams said in the statement. "I want to thank the majority of the Council members for working to make this happen. It's a decision that will benefit district residents for generations, and history will look kindly on the lawmakers with the vision to make this bold plan a reality."
The reality of seizing the remaining Southeast properties, which includes Glorious Health and Amusements, The Follies Theatre, Heat, Secrets and Ziegfeld's, depends upon D.C Superior Court Judge Joan Zeldon. Granting the city permission to exercise its eminent domain rights awaits her signature, which she said Feb. 24 was contingent upon a signed stadium lease, the Washington Post reported. As of Metro Weekly deadline Tuesday, she had yet to sign the order.
While bureaucratic delays have made it difficult to realize an exact timeline for the end of this decades-old area of gay, adult-oriented businesses, these recent developments seem to make it clear that the lights are dimming rapidly.
Still, Allen Carroll, co-owner of the Ziegfeld's/Secrets nightclub complex, home to drag performances and male strippers, insisted Tuesday that the show would go on for at least one more weekend.
"We'll be open this weekend," he said. "We'll be hearing something pretty shortly, but it's not going to happen that fast. None of us has gotten an eviction notice yet. We're good to go."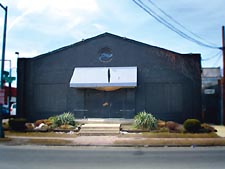 Ziegfeld's nightclub
City Councilmember Jim Graham (D-Ward 1) who has advocated on behalf of the O Street businesses and who voted against the stadium deal Tuesday, said there is still a chance that legislators may find a way to aid the businesses in relocating. "I'm drafting a text amendment to submit to the Zoning Commission to provide greater latitude for these businesses in relocating," Graham said after the vote, emphasizing that his efforts are aimed specifically at allowing those businesses with liquor licenses to relocate to industrial-zoned areas alone, rather than the Central Business District or a residential area. Notably, Graham had to abandon a similar effort in the Council found to surpass that body's jurisdiction.
While this specific effort Graham is making would not include non-liquor-licensed businesses like Club Washington, he explained that businesses that don't serve liquor already have somewhat greater latitude.
Adding that as the stadium makes great strides to being realized in Southeast D.C., his position "feels a little solitary at times," he concluded: "It appears everything is set and the evictions are going to move forward. It is certainly imminent. There is nothing to stop it."
Related Articles:
Last Call on O Street Portraits of the people behind DC's Southeast gay club strip (3/9/06)
Eminent Eviction Gay businesses in Southeast respond to the D.C. government's stadium land-grab filing (11/3/05)
The Last Inning A Whole New Ballgame in Southeast DC (4/14/05)