The newly energized, local chapter of OUTfront — a program of Amnesty International focusing on GLBT human rights — held a community forum Thursday, Feb. 23, to discuss an Amnesty report about police abuse against the GLBT community in America. In the lobby of the Human Rights Campaign building at 1640 Rhode Island Ave. NW, about 40 people, largely a collegiate-looking bunch, noshed on falafel and melon before settling in to hear selected speakers.
Following welcoming remarks from Tony Lee, OUTfront's mid-Atlantic region coordinator, Ariel Herrera, the group's national field organizer, moderated the panel. The forum's three panelists, in order of presentation, were GiGi Thomas of Helping Individual Prostitutes Survive (HIPS); D.C. City Councilmember David Catania (I-At large); and Sgt. Brett Parson, head of the Metropolitan Police Dept.'s Gay & Lesbian Liaison Unit (GLLU).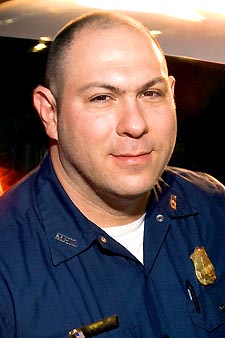 Sgt. Brett Parson
(Photo by Todd Franson)
Herrera pointed out, citing Parson and the GLLU specifically, that D.C. is in a better position than most locales when it comes to police abuse and the GLBT community. The report itself, Stonewalled: Police Abuse and Misconduct Against Lesbian, Gay, Bisexual and Transgender People in the U.S., focused on four cities — Chicago, Los Angeles, New York and San Antonio. Washington is mentioned, however.
D.C. is faulted — along with many other jurisdictions — particularly when it comes to treatment of transgenders, as well as sexual harassment and verbal abuse. While the report does cite specific reports of police abuse against transgender residents of the district, it also holds up the GLLU as an example of how to remedy the problem.
"This report is not a blanket condemnation of law enforcement," Herrera told the audience. Parson confirmed that the report is kind to Washington. That said, Thomas began her remarks painting a picture of a metropolitan police force that is hostile to transgender people — sex workers who are her HIPS clients, in particular.
"We did one [officer training] with Brett Parson, but no one showed up but his unit," she shared. "The GLLU is often friendly to us. We're talking about the other officers…. We're always struggling with police brutality. I feel there should be more transgender women on the police force. I feel like my life is being threatened because of my gender."
Parson, for his part, offered hope and a warning. The good news was that he'd been in Fairfax earlier that day to train officers there about policing in the GLBT community — an indication that more police departments are trying to improve themselves. On the other hand, said Parson, if there is still abuse against the GLBT community in our progressive enclave, imagine how much worse it must be in other parts of the country. Catania echoed that sentiment, saying later, "There is a lot of work to do, but I hope we can act as a sort of role model for the rest of the country as they slide back into the 16th Century…. We are significantly better off here in the district. Should we rest on our laurels? No…. But our elected officials are about as enlightened as you're going to find in the country."
For the most part, Thomas gave examples of police shortcomings, Parson explained how the police work and how the community might better work with them, and Catania looked at the big picture of how discrimination plays a large part in pushing transgender people into the sex trade.
Questions and comments from the audience centered overwhelmingly on issues specific to transgender sex workers. Of particular interest was a notion that the city may try to introduce "prostitution-free zones," much like "drug-free zones." Darby Hickey of Different Avenues, a organization helping youths who live on the street — many of whom are GLBT young people who exchange sex for money, housing or other essentials — brought up the issue.
"It isn't helping people," Hickey said of the proposal.
Thomas reinforced Hickey's view, saying the proposed zones would "move [sex workers] into darker areas, drug-infested areas. We're making it unsafe for them even more."
Thomas also said that simply providing outreach carries its own risks with the police, who have often perceived her as a prostitute. "We've been out here for 13 years, and you don't know what we're doing out here?" she asked, rhetorically. "We've got a big ol' HIPS sign on our van. What else are we supposed to do?"
Parson was sympathetic, saying that while the OUTfront forum was a good start, members of the transgender community, their advocates, sex workers, etc., should be attending meetings of Advisory Neighborhood Councils, so community leaders cannot ignore them.
Catania, similarly, invited attendees to attend the City Council's budget hearings in April. "Brutality comes about when we view people as subhuman," he said, pointing to a cycle of institutionalized discrimination against transgender people, which makes them economically vulnerable. "We're only fooling ourselves unless we attack the root issues."
For more information about Stonewalled, visit www.amnestyusa.org/outfront/stonewalled.