"I gotta get drunk, I just can't stay sober. There's a lot of good people in town, who like to see me holler, see me spend my dollar, and I wouldn't dream of lettin 'em down."
It's not the kind of statement you expect to hear from Norah Jones. Everything about Jones screams sobriety, and so to hear her scream about the opposite… okay, so nothing about Jones screams anything. She doesn't scream, she merely raises her voice on this cutesy cover of a Willie Nelson classic, part of a new side project with four of her musician friends. Together they call themselves The Little Willies, in homage to Nelson and his brand of twangy, swinging acoustic country.
It's also not the kind of music you expect to hear from Norah Jones, even though her solo work is clearly influenced by similar old-school, bluesy country artists such as Patsy Cline. Jones' music to date has always been about modesty — never getting drunk on a quick tempo or a multi-layered sound, never lifting her skirt to pointedly show off her skills on piano and vocals. And she never lets the listener get drunk or naked either. You have to be in a modest mood to listen to Jones.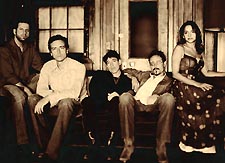 Side project: The Little Willies
(Photo by Bill Phelps)
On the Little Willies' self-titled debut, the music is occasionally modest in the traditional Jones way. It's a bit too tame, especially on original songs written by several of the band members. And like Jones' music, it's perfectly suitable for play at any venue, such as Starbucks, where music isn't the star attraction, or even always audible. The Little Willies never get wild or stray from the tried-and-true path to a traditional honky-tonk song.
But the music is often worth paying attention to. And you can't exactly call this band modest, not with its jokey name, or its somewhat jokey sensibility. The best songs are sprightly, spirited numbers that make you want to throw back your beer, grab a partner and dance. Even Jones' characteristic casual-cool voice is notably immodest at various points, and she gets downright ornery playing the piano at others. Her piano responds rather enthusiastically to her vocal calls to "Love Me" on the Jerry Leiber and Mike Stoller bluesy rock hit popularized by Elvis Pressley.
Throughout this delightful album, Jones lets her voice show more emotion and range than she has previously, and she's at her vocal peak on the original ballad "It's Not You It's Me." Later, Jones lets out an unexpected guttural roar on "Lou Reed," which closes the album in the corniest of fashion. It's a song about seeing the song's namesake "cow-tipping." And it's a little too precious, not the least of reasons because it comes from five urban-dwelling New Yorkers. But you'll be suitably amused all the same.
The Norwegian singer Sondre Lerche has released two albums in the States over the past couple years, but you've probably never heard of him. Lerche's brand of pop music is a complicated style inspired by the Beatles and the Beach Boys and other slightly psychedelic, casual rockers.
A third album of all-original material is expected to be released later this year, and it's also expected to be more aggressively hard rock-oriented. So it may be just a matter of time before you see his name again.
Until then, he's content with obscurity: his third American release is an album of mostly classy jazz pop, from Tin Pan Alley style to the sounds of bossa nova. Duper Sessions is an appealing collection of hits that the Norah Jones crowd — and certainly fans of Jamie Cullum or Madeleine Peyroux — will happily lap up. It's livelier than the music of those contemporaries, and it's all arranged in impeccable style, with just bass, drums, guitar and piano filling out the sound around Lerche's charming voice.
About that voice: Lerche has such a casual delivery that he sometimes sings off-key or strains to avoid that fate. So his music might take you a few listens to warm up to. His concern is more with what he says than how he says it, and the more you listen, the more you appreciate the heartfelt feeling he puts into his love songs. The first time you hear his cover of Cole Porter's "Night and Day," for example, you might be disturbed by his boyish vocals or his slightly spastic pacing. Only later do you see it as a novel realization of the song's obsessively smitten lyrics. It may not be perfect, but it is sweet, appealing and inspired. Much like the rest of the set.