In the middle of March, new members were sworn-in for the Presidential Advisory Council on HIV/AIDS (PACHA). Considering the epidemic's disproportionate infection rate in the gay male community, the council, created in 1995 under the Clinton administration, has included many gay men since its inception. With the new appointees, Troy Benavidez will continue that legacy.
Though a native of Albuquerque, N.M., Benavidez recently moved to Philadelphia for his job as director of national and state alliances for AstraZeneca, the large pharmaceutical firm. He is a also a national board member of the Log Cabin Republicans, the country's foremost organization for gay Republicans. Benavidez's other associations include New Mexico AIDS Services, the Samaritan Counseling Center, the National Hispanic Medical Association and the National Alliance for Hispanic Health. Adding PACHA to his resume, he says, was not a surprise.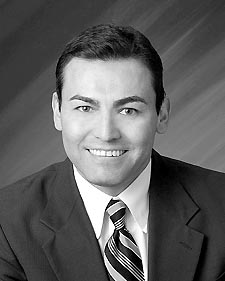 Benavides
"It wasn't a surprise, no. It's been about a two-year process," he says, adding that Abner Mason, a former LCR president, whose term at PACHA recently ended, recommended him for the council to get the ball rolling so many months ago. Mason's years on the council were marked with some controversy regarding his recommendation to limit generic HIV/AIDS medications. And Mason's advice to Benavidez as he joins the council? "Just to keep up the good fight," says Benavidez.
Benavidez met the rest of his team in the "good fight" at the March 16 swearing-in ceremony. A fellow newcomer to the advisory council is Rev. Herbert Lusk. Lusk, a former professional football player with the Philadelphia Eagles and now senior pastor of Philadelphia's Greater Exodus Baptist Church, probably has more notoriety in the GLBT community than Benavidez — though not good. His church hosted Justice Sunday III, a January event with the likes of James Dobson of the American Family Association and Sen. Rick Santorum (R-Penn.) that included loud opposition to same-sex marriage in the agenda.
"I'm not too familiar with [Lusk]," says Benavidez. "I don't want to pre-judge, as I would hope they would not pre-judge me. We sat next to each other at the swearing-in. He was very pleasant. We'll be serving together on the same sub-committee — treatment and care."
While Benavidez is reserving judgment on Lusk, Frank Oldham Jr., executive director of the National Association of People with AIDS (NAPWA), has some opinion about the council as a whole, saying that HIV-positive people are underrepresented on the council. Benavidez is HIV-negative.
"I'm delighted that an openly gay man has been appointed," says Oldham. "The disease has been a total holocaust for the gay community…. Gay men should have full representation on the president's council.
"I think there should be a gay man who is HIV-positive [on the council]. I think absolutely there should be gay men who are HIV-positive from all colors — white, African American, Latino. And there should also be women who are positive — white, black, Latino."
While Benavidez may not bring HIV-positive status to the advisory council, he can claim insight into the Latino community, the pharmaceutical industry and the gay community.
"I have my political experience as well," he adds. "When it comes to reauthorizing Ryan White, when we address policy issues, that could be helpful. I worked in the [U.S.] Capitol for eight years."
Maggie Smith, director of resources at New Mexico AIDS Services, got to know Benavidez through his work on the organization's board. She confirms that Benavidez knows his way around halls of power.
"He was a champion for HIV/AIDS issues in Albuquerque. I think [his appointment] is an excellent fit," says Smith. "We worked closely with him in the legislative sessions. I spent time with him up at the 'Roundhouse' [State Capitol] in Santa Fe. He's really nice, very intelligent. He looks at the big picture and thinks things through. And he'll do whatever needs to be done, whether it's selling tables for a benefit fundraiser or going up to talk to the governor. I enjoyed working with Troy. He's soft-spoken, but he gets a lot done with his actions."
Benavidez's actions with the council, he says, will likely concentrate on minority populations. "As an overall strategy, I think we need to attack HIV/AIDS from any angle we can," he says. "I'm particularly interested in how AIDS is affecting the Hispanic and African-American communities. The rates are just alarming.
"I think the president has done a great job [on HIV/AIDS]," he adds. "We need to remain focused and fight. We need to focus a little more on the domestic battle. He's shown great leadership internationally, but I'd like to focus a little more on the domestic."