Harry Potter has nothing on Haroun Khalifa. Even though the scholarly little wizard sets off on epic adventures soaring with myth and illusion, Salman Rushdie's Haroun and the Sea of Stories could give the popular Hogwarts magician a run for his money any day.
A grand fable of ethical and literary expanse, Haroun was written for Rushdie's son in an attempt to explain the controversy surrounding the publication of his novel The Satanic Verses in 1988. A year later, Iran's Ayatollah Khomeini condemned Rushdie to death for blasphemy and Rushdie went into hiding until 1998. The same year that Rushdie re-emerged, Tim Supple and David Tushingham brought Rushdie's high-energy expedition to the stage at the Royal National Theatre. Now, in a dizzying spectacle of non-stop narration and sparkling physicality, the Theater Alliance introduces Haroun to a city parched for this kind of enchanted, inventive work.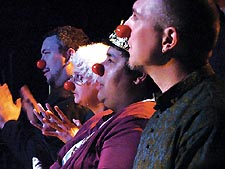 Clowning around: McCormick, Gottesman, Perez and LeValley
(Photo by Colin Hovde)
Swimming in a cycle of bite-sized stories that congeal as one really big, really complex Story (deserving of the capital "S"), Haroun weaves a fantastic and outlandish tale stuffed with ridiculously ornate plotlines and relayed by a sea of narrators in all shapes and sizes.
When young Haroun's mother leaves his father for a man with no imagination, Haroun's father, a gifted storyteller, loses his ability to tell stories. Determined to help his father reclaim his title of the "Shah of Blah, with oceans of notions and the Gift of the Gab," Haroun embarks on a whimsical journey to save his father and the endangered Sea of Stories. With the help of a bus driver named Butt, a "floating gardener," and a pair of rhyming fish, Haroun travels from the city of Gup to the land of Chup to decide, "What's the use of stories that aren't even true?"
Combining the absurd sensibilities of The Princess Bride with the majestic sweep of The NeverEnding Story, Rushdie's fable is as intricate and as masterful as any Shakespearean tale — and just as entertaining. For those with lazy creative brains who might otherwise consider it a trifle of a play or merely children's theater, Haroun provides a powerful workout for the imagination with convoluted twists and turns and bizarre, politically-bent characters. It's exciting to watch adult actors use the stage as their playground, embracing a story with childlike glee and babbling on about "P2C2E" (processes too complicated to explain).
Choreographed and directed by Kelly Parsley with supple lyrical language, Haroun delivers a tall order of visually-rich movement by the hardest-working ensemble in town. There is a loose fluidity in staging achieved by a dozen actors grooving under an eclectic soundtrack from Mark K. Anduss.
The evening officially begins with the entrance of Maggie Glauber's water genie, Iff. Glauber is a sheer delight as a hick plumber of sorts, working to improve the quality of the polluted "story water." Carlos Bustamante turns in a terrific, trippy performance as a magical hoopoe bird. And both Deb Gottesman and Alex Perez shine in smaller roles, while Mikal Evans ends the first act with a lovely acoustic guitar solo.
Haroun and the Sea of Stories
To 4/9
Theater Alliance
H Street Playhouse
1365 H St. NE
$25
800-494-8497
theateralliance.com

The evening ultimately belongs to Haroun and his father, and here Parsley has cast Haroun as a daughter instead of a son. Anu Yadav brings a youthful and calm presence to her wise heroine, and Ian LeValley is authentic and articulate as her yarn-spinning father, Rashid. With an immediately accessible reserve of expressions and emotion, LeValley gracefully alternates between moments of comic relief and profound sadness. From a lively exchange of improvised sign language with Scott McCormick in the second act to a tender moment with his estranged wife, LeValley infuses Haroun with subtle realism.
Rushdie's Sea of Stories may have originally been intended for children, but its message of the dangers of no imagination and authoritarian powers resonates with adults. As with most action-adventure plots, with Haroun we know who the heroine is, who her allies are, and who is the real villain. If only life could be so clearly defined.