SONIA BOMBS THE DANCE FLOOR… Even in remixed form, it's not often that you hear a folk song on the dance floor. And it's almost as rare to hear a politically charged song there. But with any luck, you'll soon hear both at once. Baltimore-based lesbian folk singer SONiA has just released remixes of her song "No Bomb Is Smart," a song originally drawn from her third solo record, the same-titled 2004 album that garnered SONiA her first Grammy nomination. The original was a rocking folk gem, with angry beats, mournful strings and SONiA's sunny and sweet voice singing pointed antiwar lyrics. Most obviously, about how oxymoronic it is to call any bomb a smart bomb. Now SONiA has commissioned remixes in an attempt to drum up new attention on the occasion of the third anniversary of the Iraq War's start. It's her first foray into the realm of dance music. "If people can dance together," she says in a press release, "we can live together."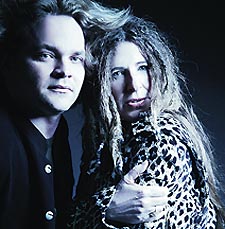 Althen and SONiA
(Photo by Roy Cox)
Available for purchase at her band Disappear Fear's Web site (www.disappearfear.com), all remixes feature rapid-fire military-esque beats, which suit the dance floor and, in a warped way, the song. But the up-and-coming local musician Blake Althen provides the primo remix here, besting the better-known New York-based Twisted Dee. Dee's Tribal Mix is appealing and entirely smart, with its bombs and siren sounds that she keeps from turning into all out war on the listener's ears and nerves. The remix isn't especially captivating, however. You could say it doesn't quite detonate as expected, or with the same force as Althen's Anthem Mix. His version, like the original, is both sweet and moody, and it marches to a bubbling beat. Althen keeps things light, with the focus squarely on SONiA's lyrics….
THE DOLLS' LATEST MEOW… It's not enough that they were ubiquitous on the dance floor last summer with first hit "Don't Cha," or that they may soon be ubiquitous again, with "Beep" or another single from the group's platinum debut album. And shouldn't it be enough that the Pussycat Dolls have sold more than 1 million copies of PCD?
Apparently not. So we can soon expect to see the Dolls in a whole new medium: television. You didn't see that coming, did you? Actually, the Dolls have already been there before, having appeared and performed on "Dancing with the Stars," among other shows. But now the Burlesque-style dancing troupe wants its own show, and an unscripted series is currently being shopped around Hollywood, Billboard reports. It's just a matter of time….
FROM GARBAGE COMES SHIRLEY MANSON… Last fall Garbage requested its fans not throw the group into the pop trash heap just yet. A post to its Web site said that its members merely wanted a second hiatus. While the band's status as a band hasn't changed, its lead singer isn't gonna just sit around and wait. Shirley Manson has begun work on her first solo set. Billboard didn't uncover many details, so it's not clear if Manson will stick to the uptempo rock sound that defined Garbage at its best and gave it several dance hits, including last year's "Bleed Like Me." Manson told the magazine that she's not working from any timetable in producing her own music. So there's no way to know when or if we might hear from her again….
A NORWEGIAN NIGHT OUT… The Norwegian electronica duo Royksopp has been one of those best-kept-secret type of groups, at least stateside. Only hardcore danceheads have even heard of the group, and an even smaller circle actually knows the band's music, which you might describe as disco-pop with an edge. But Torbjørn Brundtland and Svein Berge are so well-regarded among those in the dance music industry, and especially its European branch, that the genre's best remixers clamor to recreate its singles. So you find Jacques Lu Cont, Trentemoller and Vitalic providing remixes for current single "What Else Is There?" And though you expect Lu Cont to do the best work based on his nearly flawless and prodigious track record, actually it's the increasingly prominent Trentemoller who blows away the competition. The German producer provides a minimal but incredibly fierce bouncing remix of the track that responds to the song's lyrics. For example, he creates an explosive beat after guest vocalist Karin Dreijer sings the word "explosion" in her tremulous voice.
Royksopp also apparently has enough of a following to justify the duo's latest release, Royksopp's Night Out, which is a rarity in itself: a live recording from a dance act. Yes, Royksopp sounds nearly as great live as they do in the studio, and no, it's not because they simply pressed play and danced around as their synthesizers did all the work. Instead, this EP finds the duo improvising and adding creative touches not heard on its two studio albums. Recorded live near the duo's hometown, the nine-track Royksopp's Night Out features versions of all of its previous singles as well as a cover of Queen of The Stone Age's "Go with the Flow"….