Alison Goldfrapp has a true-to-life surname that reminds you of a sweet, icy concoction you drink for a jolt of energy. And so does the music she whips up with Will Gregory in her surname-only band. On the British duo's third album, Supernature, out this Tuesday, March 7, Goldfrapp creates sweet-but-icy sounds that compel you to dance, or at least move suggestively.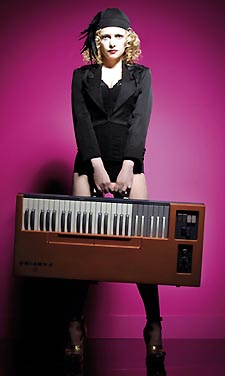 Shaken and Stirred: Goldfrapp
Goldfrapp created a stir across the pond with its 2000 debut, Felt Mountain. The man-made but thoroughly machine-inspired sound has progressed since then, a result of the wider European and American success the duo had with 2003's Black Cherry. While Goldfrapp began making chilly, cerebral, sluggish electronica, its sophomore set gained attention by incorporating savvy, intentionally over-stylized disco-influenced treats, particularly the dance hit "Strict Machine" with its clever referencing of Donna Summer's classic "I Feel Love."
Goldfrapp hasn't completely forsaken chill-out with Supernature. But even more than Black Cherry the album turns your ear on account of its campy-yet-studiously-controlled uptempo electronica. With Supernature, Goldfrapp is still drawing on disco — the album title derives from a track by Goldfrapp influence and trendsetting disco producer Cerrone. Still, the influence is more on the sounds of post-disco, or noisy electro and psychedelic glam-rock in the mode of Prince and David Bowie.
Coming as it does after similar successful moves from Scissor Sisters, Fischerspooner, The Killers and others, that may not sound very original, or like much of a feat. But Goldfrapp manages to sound contemporary in culling from the past, which is more than can be said for many of its actual contemporaries. And the duo continues to have its own distinctive style and sound: sexy, silky, subversive and sophisticated.
Alison Goldfrapp sings current single "Ooh La La" in a glammed-up robotic manner that makes the French phrase sound more menacing than ever before. "Don't want it Baudelaire, just glitter lust," she sings, referencing the 19th Century French poet fascinated by the macabre. And Gregory adds the glitter lust she desires. His pulsing bass, electric guitar and harmonica add a visceral sound that recreates the gloriously sleazy days of Prince & The Revolution.
Much like Kate Bush or Bjork, to whom she is frequently compared, Goldfrapp often contorts her voice to dizzying operatic heights and to achieve effects that reenact or respond to Gregory's synthesized sonics. Gregory exaggerates his slowly climbing synth beats on the bewitching "U Never Know." Goldfrapp plays along for a while, in measured vocal response, before her impatience gets the best of her, and then she swirls her voice up the scale to its upper register.
Supernature is Goldfrapp's strongest set to date, in part because its melodies are its richest and most memorable. This is especially true as the album finishes, from the funky "Slide In" to the seductive and sultry recent dance hit "Number 1," in which Goldfrapp sings about her lead lust object, "I'm like a dog to get you." It's a line worthy of popular usage.
But there are other idiomatic contenders as well. My pick for the best comes during "Satin Chic," a little slice of campy pop perfection, with honky-tonk piano and tick-tock synths, but especially its wordless chorus and Goldfrapp's gleeful vocal performance. She hums more than she vocalizes, and yet Goldfrapp is more expressive here than anywhere. She seems to be trash-talking a rival, singing the taunting "Ne-na-na-na-na-na-na" chorus and sneering the song's principal phrase, "You're so satin chic/Look rich, talking cheap."
Well-crafted, Goldfrapp. Extremely well-crafted.
Billboard magazine included Myles "Mylo" MacInnes in its roundup of 10 Faces to Watch in 2006. The Scotsman's debut album, Destroy Rock & Roll, has been a grassroots smash in the United Kingdom, producing hit after hit, and generating a strong enough response that RCA was encouraged to try to cross it over to the pop charts stateside.
It may well generate heat here, perhaps with pleasant first single "Doctor Pressure," a mash-up between the early Miami Sound Machine track "Doctor Beat" and Mylo's own "Drop the Pressure." And given that his sound is like an upgraded, more humanistic version of the sound Daft Punk charted with nearly a decade ago. If Mylo does crossover to the pop charts stateside, it'd certainly be a welcome development compared to what we usually see: vapid, bimbo-driven dance acts that give the genre a bad name.
There's one minor problem: Mylo's sound is less often than not dance. One track is called "Soft Rock," and really that's what Mylo has created with his deft use of far-reaching pop samples — uptempo soft rock. With a few exceptions, you'd rather relax to his sweet sound than break a sweat. You'll sway and smile along with the album's edgy, electro-tinged title track, for example, in which a sampled voice rattles of a litany of rock stars, and after each name a computerized chorus chants "Destroy." But you won't necessarily bust a move.