The Mexican folk singer Chavela Vargas was Frida Kahlo's extramarital lover for some five years. That fact helped Vargas gain wide recognition and it has clearly helped sustain her fame to this day, nearly 50 years after she first started recording. She received a further boost a few years ago, with the film Frida. Soon after, she made her Carnegie Hall debut, an amazing and riveting tour de force performance, judging by a recording just released in America.
But the captivating Chavela: Live at Carnegie Hall also proves that Vargas, in her mid-eighties, remains an internationally renowned singing legend for reasons far beyond her incidental relationship with Kahlo. Chief among those reasons, of course, is her voice. Elliot Goldenthal, Frida's award-winning composer, says on the film's DVD that Vargas expresses more "humanity, honesty, sexuality, [and] musicality" than any other singer he's ever heard. Vargas herself says on the DVD that her "slightly broken," lived-in voice came to her by birth. She didn't choose it to sound as it does, and it was not a result of any formal training or hard-knock experience.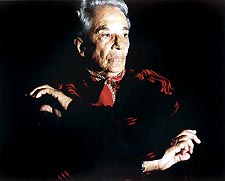 Tour de force: Vargas
Vargas has a raw and gritty, commanding voice that she uses throughout Live at Carnegie Hall to dramatically cover the full range of human emotion. She often wields her voice as an explosive weapon, wildly crying out the sad and sorrowful Spanish lyrics of her Mexican ranchera songs. Just as often, she startlingly and triumphantly shouts that she will persevere through her troubles — she will survive.
Vargas doesn't record her ranchera music in the traditional way, or in the more familiar norteño, or Tex-Mex, style. For starters, Vargas is a woman, singing a man's music — lusty songs about women. She doesn't sing her rancheras with accordion accompaniment that makes it bounce, but with more emotive acoustic guitars that makes it sway. In that way, her music is very much akin to Portuguese fado or Cape Verdean morna, such as that of Césaria Évora. Lyrically, at least, many of her songs could also be considered the Mexican equivalent of Patsy Cline's or Billie Holiday's, full of heartbreak and heartache.
She didn't officially come out as a lesbian until just six years ago, at age 81. But she never hid her love for women, which naturally made her a frequent subject of rumors. She denies she ever kidnapped a woman at gunpoint, as one fantastical rumor has it. But she may very well have developed her slight limp on account of jumping out of a window after a woman disappointed her in love. Even if it's not true, listening to Chavela: Live at Carnegie Hall you can all but see Vargas doing it. You certainly hear her live to tell the tale, a tale of disappointment and pain, but also of a strong will to move on and prosper. And prosper, fortunately, she has.
Just when it seems the chillout genre has run its course, grown stale by its own loungey, sedentary smugness, along comes the Gotan Project. The trio first rekindled chillout four years ago with its debut La Revancha Del Tango. Ingeniously but modestly combining the acoustic sounds of Argentinean tango with the electronic sounds of dub and dance, the Gotan Project brought more of a focus to their approach than their contemporaries, including D.C.'s own Thievery Corporation. Even as Thievery Corporation and the like have made admirable, appealing music, they've faltered at times on account of being too ambitious, trying to cover the whole world, as it were.
Though proudly based in Paris, the Gotan Project trains its lens chiefly on Argentina. Its name draws from Argentinean slang for tango, it includes ex-patriot Argentinean Eduardo Makaroff and it records and performs with other Argentinean musicians. And now, for its sophomore set, it has brought an even sharper focus to its work. On Lunático, which was recorded chiefly in Buenos Aires, the guitar, violin and the bandoneon, a concertina instrument similar to a harmonica, are as prominent as the percussion and synthesized sound effects. The result is fully formed compositions of very exploratory but always tuneful music that even more than La Revancha Del Tango should find favor among fans of both traditional and contemporary music.
But merging traditional and contemporary is still very much a part of Gotan's focus on making timeless tango. The album opens with a haunted rock ballad featuring the eclectic Arizona rock band Calixeco. But the influence of tango, which Gotan's Philippe Cohen Solal describes as "a sad feeling you can dance to," is very much felt here, just as it is on the sprightly "Mi Confesión." The Argentinean rap duo Koxmoz may give the song a modern-day international hip-hop flair. But it's the traditional sounds of tango that makes the song stand out.