When you hear that Morrissey has just released a new album, your first thought is that it will sound just like his old albums — that is, dour and deadly. Then you look at the track list, see one song called "You Have Killed Me" and another is "The Father Who Must Be Killed." That sounds painful, to put it mildly. And, to boot, Morrissey titled the alubm Ringleader of the Tormentors, an apt summation of his polarizing influence and reputation in pop music.
Former lead singer of the British indie-rock darlings The Smiths, Morrissey as a solo artist has developed a stable of dedicated devotees who find solace, maybe even inverted happiness, in his musical circus of lyrical angst and melodic despair. He's too tormented and too gloomy for mainstream taste, and even many adventurous pop music consumers, who find his self-absorbed, curmudgeonly manner off-putting. As another of his new song titles says, "I Just Want to See The Boy Happy."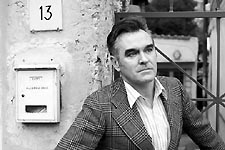 Sad no Morrissey
Well, surprise: Morrissey sounds happier than ever on Ringleader. That's a relative statement — as one of the most pessimistic people living, he's not actually happy here. But the album does feature several moments of modest optimism in which lyrical and melodic contentment tamp down the despair. Supposedly this is in part a result of the formerly celibate and still sexually ambiguous Morrissey having recently fallen in love. The very private Morrissey isn't talking about that specifically, though.
It not only makes for Morrissey's most inviting album yet — it also suggests Morrissey is slowly but surely becoming less troubled by the world's woes. The head tormentor has become less tormented. On "At Last I Am Born," the album's closer and unofficial anthem, Morrissey sings "I once used to chase affection withdrawn/But now I just sit back and yawn, because I am born, born, born."
Ringleader follows Morrissey's 2004 You Are The Quarry, which suffered a bit trying to prove that Morrissey hadn't really changed in his seven-year absence. The album didn't sound as fresh as it should have. By contrast, the new album does. It's not fresh all the way through; Morrissey fails to keep the momentum up and the monotony down throughout its second half. And several songs are still too bleak.
But the album is a mostly quick-paced set of fired-up rock 'n' roll produced by Tony Visconti, a famed rock producer responsible for some of David Bowie's most celebrated work. Working with Visconti, Morrissey employs a strong backing band of rock musicians, including four guitarists, embellished at one point by weepy strings and at another by a children's choir. The anti-war first track, "I Will See You In Far Off Places," is one of the hardest and edgiest songs Morrissey has created, lyrically and musically.
He also gets surprisingly playful. "In The Future When All's Well," features an '80s-esque electric guitar solo, though slightly more restrained, as well as a falling bass guitar riff seemingly drawn from, of all things, Steppenwolf's "Born To Be Wild." It's got Morrissey's motor running into the future.
The Sounds is a five-piece band of punky-pop musicians whose members were barely out of high school for their 2003 U.S. debut, Living In America. Three years later, the band has turned out a set of 10 songs that sound like the work of early 20-year-olds who couldn't be more excited to be making music together. Every song on Dying To Say This To You is catchy and cute, and the emphasis is on creating radio-friendly, fun, fast-paced pop/rock. But most of the songs are a bit too simplistic and repetitive. They wear well the first few times you hear them, and then just as quickly they wear thin.
Still, The Sounds seems to be one of those proverbial bands to watch, showing precocious potential in reviving the sounds of new wave, a sound that had its heyday before any of the bandmates were born. They obviously schooled themselves in the genre and identified the bands they most want to emulate, most obviously Blondie. The Sounds is currently being lumped with the Scissor Sisters in hopes of capitalizing on that half-gay band's success.