When Julia Nixon wails out a note, time stands still. It isn't enough that her Caroline Thibodeaux is able to convey world-weary pain through all of her beautiful musical poetry and mind-melting melisma. It isn't enough that with their original material and a bounty of soulful, scintillating songs, Tony Kushner and Jeanine Tesori have attempted to nick the chain of rehashed generic slop that's been regurgitated on the Broadway stage and spoon-fed to tourists for the past 10 years. None of that stops the clock and moves us to a place that is at once primal and profound.
But in the moments when Nixon stretches out a mere syllable — whether she slides into it or sustains its weight from the bottom of her soul — that's when the world empties itself of the need for hours, minutes and seconds. The first hand and the second hand yield respectfully to the cry of a woman who is able to siphon centuries of grief and loss, confusion and celebration into just one long, lacerating note.
And that's just the beginning.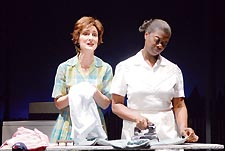 Keep the change: Speros and Nixon
(Photo by Scott Suchman)
From a steamy basement in the Lake Charles, Louisiana home of the Gellman family, we meet an unlikely heroine folding laundry and dreaming of kisses from Nat King Cole. Sad and angry Caroline Thibodeaux, who laments being 39-years-old and still a housemaid, is divorced and depressed, but seldom alone. She is on friendly terms with the washer and dryer (richly personified by Allison Blackwell and Elmore James) and she swoons over the radio, brought to life by a golden trio of Supremes-style doo-wop girls. It's 1963, and just as we settle in for an afternoon spent with Caroline in the basement, down bounds little Noah Gellman (Max Talisman), an eight-year-old with a curious fixation on "President Caroline."
Noah still hasn't recovered from his mother's untimely death and his father's new marriage, and he forges a bond with Caroline that's rooted in his love and respect for her quiet defiance. Caroline is used to supporting her children on a modest income of $30 a week, so when Rose Gellman (Tia Speros) insists that Caroline gets to keep the loose change she finds in Noah's clothes pockets in an effort to teach him the value of money, the relationship between a young Jewish boy and his family's African-American maid is forever altered, blurring the boundaries between love and hate. Seasons change, people change, and after realizing how a little pocket change can affect more than a few lives, the task of forgiveness may force the biggest change of all.
They're enormous themes for a musical dripping with melancholy and a dash of whimsy. The moon waxes and wanes in song (Blackwell again, in lovely coloratura form), the city bus booms with sub-bass vibrato, the grandparents celebrate Chanukah with cheeky chutzpah, all of it recalling a juicy, mature novel told through a childlike lens. Kushner draws upon his own experiences growing up near New Orleans, painting a crisp portrait of racism and domestic politics in the early '60s. Not only does Caroline exemplify the complex relations between southern American Jews and African-Americans on the cusp of the civil rights movement, but his lyrics carry a latter-day poignancy in the wake of Hurricane Katrina. The opening lyrics, "Nothing ever happen under ground in Louisiana/cause they ain't no under ground in Louisiana/there is only under water," recall recent tragedies in a way that is unintentional and unnerving.
Caroline, or Change
To June 25
Studio Theatre
202-332-3300

Tesori matches Kushner's well-constructed story with a lively, operatic score filled with muscular melodies and heartbreaking confessions. Howard Breitbart conducts a small quintet offstage while director Greg Kanakas' skillful cast of 16 relays Tesori's shimmering songs without the use of body mikes or other unnatural amplification devices.
Fitted in bobby socks and cardigans, Kelly J. Rucker is a boastful treat as Dotty, a symbol of the rising class of educated African Americans, while Trisha Jeffrey is Caroline's ambitious daughter Emmie, a representative of those who chose to combat racism with an attitude of non-violence and peaceful protest. Both women are gifts to Studio's sparkling production, but the greatest joy is in discovering the sixth-grade talents of Rockville native Talisman. With an enormous range of vocal talents and technique, the young boy's performance punctures the heart with honest, unspoiled charm. His journey is tender and rhapsodic, and Talisman presents every emotion with an authenticity that ultimately moves Nixon's Caroline toward her resolve.
They're separated by race, religion, class, and even age, but ultimately, we learn how two people, so different from the outside, are bound by human grief and the shared longing to connect and belong in a world that isn't ready to accept or understand them.
---
It's in the dead of winter that we meet Don Scimé's David, host of "Gay Talk," the Buffalo, New York radio show at the center of The David Dance. That seems appropriate since David is as icy as the frozen snow around him after the death of his older sister Katie (Liesyl Franz). Scimé not only portrays his tormented protagonist, but he also wrote the script, an entry in the 2003 New York International Fringe Festival.
The David Dance
To June 10
Trumpet Vine
703-912-1649

Scimé backs into his story with quirky flashbacks and scenes out of chronological order, from the day his sister asks him to help her raise an adopted child to a traumatic childhood experience to a point-counterpoint debate with self-righteous "Christian" talk show host June Handley (Anne Paine West). David is an outspoken advocate for gay adoption, yet he agonizes over whether or not he is fit to start a family of his own. While southern-fried June insists that gay adoptions are not in the best interest of the child, Scimé raises all sorts of relevant questions about where gay men fit into the American Dream. He's different among the different, not interested in the gay social scene and not willing to sacrifice his identity to play it straight. What's a single gay man to do?
Vincent Worthington's production plays out on a cold white blizzard of a set, alternating between surreal moments of regret and sedated scenes marking the present. Scimé is a solid actor but his character's revelations aren't fully fleshed out enough to translate into action on stage. Franz is quite a few years younger than the age indicated in the script, a minor distraction that is heightened by repeated references to her multiple divorces, while West delivers strong character work as the obnoxious June.
Somewhere buried beneath an avalanche of unnecessary exposition and meandering monologues Scimé has a real story to tell. If he can extract his most important themes and define a stronger arc, maybe his David will finally be able to dance.
---
We understand who we are by how we interact with other people, and from people who know us, according to playwright Lee Blessing. When his middle-aged couple wakes up strangers every morning in A Body of Water, Blessing seems to pose the question, "Aren't we all strangers anyway?"
A Body of Water
To June 4
Round House
240-644-1100

Blessing examines the complete solitude of living in a play constructed like one of those miserable dreams that are so affecting you wake up sobbing into a pillow. It has the mechanics of a classic mystery: Who are these two people and how do they relate to each other? And who is this younger woman? Their daughter, a nurse, defense lawyer or a ghost? The possibilities are endless in Round House Silver Spring's brisk, brazen production.
Directed by Rebecca Bayla Taichman, A Body of Water is an existentialist's delight, a cosmic ride over the topography of memory. We learn that Moss and Avis (Jerry Whiddon and Nancy Robinette in fine dramatic form) are a married couple. We learn — and unlearn — their history together and define their relationship based on information rented from Wren (Kate Eastwood Norris), broadcast in brief blurbs at will. It appears the two suffer from an unqualified amnesia, with no recollection of the past. But before we begin to opine where their story is headed, Blessing reminds us of the folly in placing total trust in strangers.