It's likely no surprise that the man in charge of pulling together a week of Pride events culminating in a parade and massive street festival has a long-time knack for organization. All the way back to high school, in fact.
"I was one of those!" says David Mallory of his days as a go-getting, closeted gay student. "I wasn't out, but I was hyper-involved — student government president, class vice-president."
Now 41, Mallory serves as Associate Director of Special Events for Whitman-Walker Clinic, where he takes the lead on two events of particular importance and resonance for the D.C. GLBT community: Capital Pride and AIDS Walk.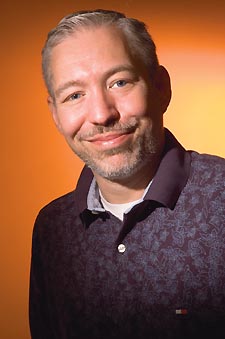 Mallory
Mallory actually spent a number of years working the corporate life before his passion for volunteering led him to discover a new career path, starting with volunteer stage managing for theaters and working with the Arlington Gay and Lesbian Alliance.
"I got real inspiration out of working with folks at AGLA and other community organizations," says Mallory. "That volunteer work actually gave me energy and passion, which was lacking in my corporate jobs. What finally tipped it was when I did the AIDS Ride. That kind of changed my life."
Mallory switched from corporate life to full-time positions with Pallotta TeamWorks, PFLAG and the Gay & Lesbian Victory Fund. He started his current work with Whitman-Walker in 2005. Getting ready for the start of a week of Capital Pride, Mallory talked with the Pride Guide about the importance of volunteering, highlights of this year's Pride celebration, and how there will always be enough Pride to go around for everyone.
PRIDE GUIDE: Do you remember the first Pride event you attended?
DAVID MALLORY: I don't remember the year but I remember the first Pride event I went to. It was on the grounds at Francis Junior High [at 24th and N streets]. I remember watching the parade at 23rd and P from in front of the Fireplace. It's interesting to think back on how it energizes me in the work I do now. I remember walking away from that with such great emotion and what it did for my self-esteem. And so in planning Pride this year, I always think that there are going to be tons of people for whom this is their very first Pride. And to be able to give something like that back is a great responsibility as well as a great honor.
PG: There has been a lot of changes to Pride over the years. Have the larger celebrations lost some of the intimacy of those smaller Pride events near Dupont?
MALLORY: I think the change in Pride mirrors our progress in the bigger world. The growth of it, the folks that turn out, the corporate support — and that's certainly a reflection of growing acceptance and the progress that we've made legally. Is there a certain intimacy lost? Sure, because the crowds were much smaller then. But having over 200,000 people together in one place on one day is an impressive show of community and solidarity and celebration. The physical set-up of the actual event may have changed, but the need for it remains constant.
PG: With this being your first year at the helm of Pride, what's been the biggest challenge to organizing the event?
MALLORY: Personally, the biggest challenge is coming in cold. I've been incredibly blessed to have the volunteer committee that I have. Many of them have done this for many years — I've been fortunate to have those folks remain on board and committed and passionate. Their support and knowledge has made all the difference.
PG: With some of the financial difficulties and reorganization that the Clinic has faced over the past year or so, has there been an impact on Capital Pride?
MALLORY: It really hasn't. Last year it certainly presented challenges, but we're on much stronger footing this year as far as that goes. And whatever direction the Clinic takes, it still remains committed to the LGBT community and Capital Pride is an example of that commitment.
PG: What do you see as Pride's role for the community this year? Is it social, entertainment or activist?
MALLORY: I think it's all those things, and that's apparent in the series of events that we have. Trying to reflect the theme of "Many communities, all proud." We have a great line-up of panelists for our Town Hall, which is going to address building bridges between diverse communities. Thirteen Virginian LGBT organizations fighting the anti-marriage amendment have banded together under one big tent at the Pride Festival, and that's a great opportunity to mobilize for that battle. And of course there is the Main Stage, which provides both entertainment and opportunities to get the message out about [many issues]. Over the course of the week, Capital Pride is many things to many people.
PG: You spent some time at the head of the Arlington Gay and Lesbian Alliance (AGLA). In your experience, is Pride an effective way to encourage community involvement in different organizations?
MALLORY: When I was with AGLA, I saw Pride was a great rallying point and opportunity for visibility. We would have people walk by the booth and say, "I didn't know Arlington had a gay group." So I always found it a great opportunity to get our message out and increase membership.
PG: Are you finding a steady pool of volunteers to help with Pride?
MALLORY: The volunteers for Capital Pride week events are handled by Burgundy Crescent Volunteers, and have been for several years now. They're still coming in — we aren't having an issue getting volunteers. We'll always accept more and would love to have more support. But Jonathan Blumenthal and Burgundy Crescent do a wonderful job in staffing and meeting our volunteer needs.
PG: If people want to get involved in planning Pride for next year, what should they do?
MALLORY: We would certainly love to have more folks on the committee. Anybody who's interested in volunteering can contact me either by e-mail or phone. We'd love to have some new folks. It's an open process and there's no limit on the numbers of folks. It's helpful even if they can only come to a couple of meetings to offer their input, especially early in the year when we're building the events. We welcome new blood throughout the year.
PG: In terms of diversity, is there any particular focus on recruiting participation?
MALLORY: That's an ongoing challenge and something we need to continue to work toward. Certainly, we would like much more diversity on the committee, whether it's women or people of color. I think working toward that end comes back to making connections on a personal basis and actively reaching out throughout the year. Whether it's me offering support to Black Pride or working with some folks at Dyke March, it's about establishing those relationships. From there, you need to build and welcome people in.
PG: There's been a lot of growth in other Pride celebrations, particularly D.C. Black Pride and Youth Pride, as well as some even newer events. Does the ongoing growth in these other celebrations mean that Capital Pride will end up being diluted somewhat, or that there will be too many events to gain support?
MALLORY: I don't think there will ever be a point where it gets to be too much, because I think the events that are popping up are popping up for a reason. They meet the needs of various communities. I hope people look at Capital Pride as a coming together of all communities, as a celebration of every community. There is never too much Pride.
David Mallory can be reached via e-mail at dmallory@wwc.org.