Five of the district's front-running Democratic mayoral hopefuls entered the rainbow arena Monday night for a political forum that included some verbal fireworks, a literal blackout — for about 30 seconds — and capacity crowds spilling into the halls of the Human Rights Campaign's Equality Forum room.
"I still see people coming through the doors. This is going to be an amazing night," said Mario Acosta-Vélez, president of the Gertude Stein Democratic Club, presenters of the May 8 forum, along with the D.C. Coalition, Potomac Executive Network, the Human Rights Campaign, and the National Gay and Lesbian Chamber of Commerce. "We want to send a clear message in that we are ready to elect a mayor who is committed to protecting our rights."
Considering Washington's heavily Democratic demographics, there is near certainty that the Sept. 12 primary election will essentially elect one of the five Democrats appearing at the forum as the district's next mayor. Notably, the five forum participants — Michael Brown, Linda Cropp, Adrian Fenty, Marie Johns and Vincent Orange — are not the only Democratic candidates for D.C. mayor. They are, however, conventional wisdom's favored of the pack in terms of campaign machinery, and the only candidates that contacted the Stein Democrats requesting to be included. That is, except for candidate Artee "RT" Milligan, who made a last-minute request of the club to be heard. While not seated as part of the forum, the gay Democratic club did allow Milligan a three-minute slot near the end of the evening, at which time he joined the camp of candidates in support of full marriage equality for same-sex partners.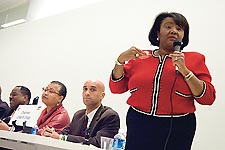 (from left) Vincent Orange, Marie Johns, Adrian Fenty and Linda Cropp
The bulk of the evening, however, went to the five frontrunners, allowed two-minute introductions, followed by a series of questions presented by Washington Post Pulitzer Prize-winning editor and columnist Colbert King. Next came questions submitted by audience members, and one-minute closing statements.
While most questions were provocative, the answers were often indirect, or simply a reiteration of talking points. But with so much information squeezed into just two hours, there was hardly a dull moment.
The candidates' introductions offered few surprises. Speaking first, Cropp, current City Council chairman, touted her work toward balancing the city's budget, her desire to expand the district's economic base, and a pledge to make education her main focus if elected mayor.
Councilmember Fenty distinguished himself by tailoring his introduction to a GLBT audience, committing to expand domestic-partnership rights until same-sex marriage is a reality in D.C. The city, he said, should be "a beacon" of diversity and inclusiveness.
Johns swung even harder than Fenty. "Marie Johns is for full marriage equality — make no mistake." She added, on another topic, "We should be ashamed of ourselves that we have the [HIV/AIDS] statistics that we do."
Orange, also a member of the Council, presented his mayoral platform, "The Three Es" — education, employment and economic development. With an eye to the audience, he added that he's worked with gay councilmember Jim Graham on transgender issues, as well as making the mayor's Office of LGBT Affairs permanent.
Brown, speaking last, cheered on the crowd, asking twice, "Are there any Democrats in the house?" The audience answered with applause. With three of his opponents already on the City Council, he rallied for his outsider status: "Just because you're in a leadership position doesn't mean you know how to lead."
The first question for the candidates cited recent homophobic comments made by African American pastors in D.C. and what they would do as mayor to ease this division. Cropp and Brown, as was the case often that night, gave the most passionate answers. Cropp pointed out that Tom McGuire, co-owner of the planned Be Bar, was in the audience and a Cropp supporter. Bishop C. L. Long, whose Scripture Cathedral sits across from the bar, slated to open in July, has opposed the bar's liquor license. Brown argued that when the Rev. Willie Wilson was making homophobic comments in the lead up to the Millions More Movement commemoration event last year, it was he who called the Nation of Islam to complain, rather than any of the other candidates.
With her position as head of the City Council, Cropp may appear to have an advantage over the other candidates. Part of Brown's strategy could be to aim for the head of the pack. That seemed the case when he answered a question from the audience regarding blame being laid at the feet of the district's African-American gay men for the city's notoriously high HIV-infection rate.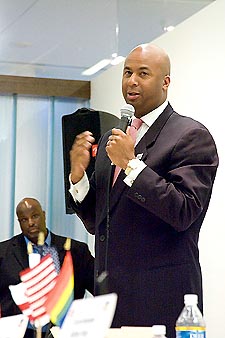 Michael Brown
"We have to get away from scapegoating," said Brown, accusing Cropp of making "very homophobic comments" at another recent mayoral forum. "You blamed 'down-low' brothers for spreading the disease. You should apologize."
Given 30 seconds to respond, Cropp read from a list of her accomplishments on behalf of the gay community, adding "Talk is cheap…. My record stands for itself!" The audience, many of whom were aligned with one particular candidate or another long before Monday, responded with sustained applause.
Speaking Tuesday morning, Brown said he couldn't recall at which one of their past forums Cropp made such a remark, saying they've made about 20 such appearances. He did say, however, "She did not address the issue of whether she said it or not. If you have all this experience, you don't make comments like that. When unproductive comments are made like that, we need to talk about it…. I don't think she said it in an evil-spirited way, but out of a lack of education on the issue."
Ron Eckstein, a spokesman for the Cropp campaign, defended any reference his candidate may have made, insisting, "Mr. Brown took Linda's comments completely out of context so he could score political points." Unable to offer exactly what may have been said, he added, "She certainly wasn't judging anyone's lifestyle. But she wants everyone to keep themselves and their partners safe. To call it homophobic, encouraging these men to have safe sex, is plain irresponsible. No one believes that Linda Cropp is homophobic."
Regardless of what anyone believes, Monday's mayoral forum undoubtedly provided the city's undecided GLBT Democrats an opportunity to learn more about the candidates. The Stein Democrats themselves vote on whom to endorse at the group's June 12 meeting.
For more information on D.C. elections, visit the Board of Elections and Ethics online at www.dcboee.org.
The Gertrude Stein Democrats are online at www.steindemocrats.org.