Since its founding in 2004, the National Black Justice Coalition, the national organization dedicated exclusively to advocating on behalf of the African-American GLBT community, has had a close relationship with the Afro American chain of newspapers, which publishes in Washington and Baltimore. That relationship hit a snag in May when the Baltimore edition refused the third in a series of four NBJC ads targeting religious-based homophobia.
The ad in question included a photo of homophobic protesters, one of whom carries a sign reading, "No Fags in King's Dream." The newspaper refused the ad, ambiguously offering that it might offend their readership, according to Ray Daniels, NBJC communications director. With no specific guidance from the newspaper, NBJC replaced the ad's original photo with an image of similarly minded protesters from the White House Easter Egg Roll. Their "Homosex is Sin" signs offered evidence of the same type of bigotry, though perhaps less provocatively than the original ad. Nevertheless, the revised ad was also rejected.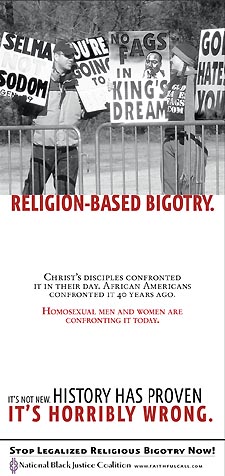 The Baltimore Afro American refused to run this ad decrying religious-based homophobia
"I did not expect the blatant refusals we encountered," says Daniels. "We were more surprised that we couldn't get any specific details about what their readers might find offensive. It was refused without any sort of specific directions."
Daniels added that a version of the ad finally did make it to the pages of the Baltimore Afro American. The ad the paper accepted was one with no photo whatsoever. Though Daniels says the paper's management has been tight-lipped about its rationale, he adds that NBJC Executive Director H. Alexander Robinson has managed to secure a meeting with the paper's advertising manager, Susan Warshaw, following repeated requests for clarification. One such request was a May 18 letter penned by Robinson to John J. Oliver Jr., the paper's publisher. It reads reads, in part:
"We request the opportunity to meet with both you and members of your editorial staff to discuss both our future plans for advertising and the Afro American's ongoing coverage of issues, events and activities that impact your black lesbian, gay, bisexual and transgendered readers and constituents."
Daniels points out that there is, however, some disappointment that the meeting will be with Warshaw alone.
"The frustration is still there in that we're not meeting with the editor," Daniels says. "The statement we received was that this was a collective decision to deny the ad. Then why isn't everyone who had a vested interest going to be at that meeting? Initially, [Warshaw] said it was an editorial decision, then she said it was collaborative."
The meeting, scheduled for June 1, fell after Metro Weekly deadline. Look for additional coverage online at www.metroweekly.com.