An African-American newspaper in Baltimore still won't run a controversial ad depicting anti-gay religious protestors, but the paper's representatives say the concern is about the images, not the pro-gay message.
The rejected ad from the National Black Justice Coalition (NBJC), which included a photo of protesters with a sign reading "No Fags In King's Dream," was designed to bring attention to religion-based bigotry against gay people. As reported last week in Metro Weekly, the Afro American declined to run the ad in its Baltimore edition.
Representatives from NBJC, the only national organization advocating solely for GLBT African Americans, and the Afro American Newspapers company met Wednesday, May 24, to discuss the company's decision.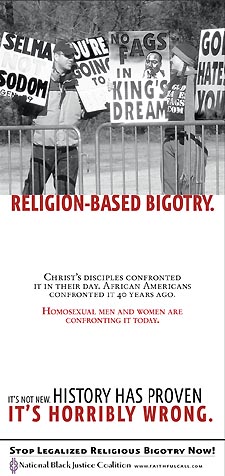 The Baltimore Afro American refused to run this ad decrying religious-based homophobia
"When we got ready to push the envelope, they weren't prepared to do that," says H. Alexander Robinson, CEO and executive director of NBJC, who was at the meeting. "When we got to that level…we saw some push back."
The newspaper did run a version of the ad with text, but no photo.
Susan Warshaw, the advertising manager for the Afro American Baltimore edition, who was also at the meeting, confirms that she and other senior staff within the company did have reservations about running NBJC's ad.
"We had a concern over the picture, that it might be offensive to some readers," she says. "But the message, we've always felt was very important."
Though both sides were able to delve deeper into their firm positions about the advertisement, Robinson says the scope of the meeting went beyond the ad, allowing him to lobby for greater GLBT coverage in the company's papers, in whose pages NBJC has been advertising its message since founding in 2004.
"There was no relenting on the ad," says Robinson. "[But] I would say that they were receptive to our message. I think it was a useful meeting. We talked about the special editions they have coming up — profiling leaders, for example. We want to make sure some of those are gay and lesbian people."
Robinson says that although they remain unhappy with the decision to nix the ad, NBJC considers the Afro American's decision to meet with them a positive one.
"It's still a good relationship," he says.
Says Warshaw, "We simply explained our position, and they explained theirs. Hopefully they understand the concern has never been with them or their message…. Our concern was with the photo, never with the message. The message has always been welcome here."
The rejected ads are posted on the NBJC Web site at www.nbjcoalition.org.