In 2000, the International Lesbian and Gay Association held a Europe-wide conference on GLBT equality in Bucharest, Romania, intentionally challenging homophobia in that country. The government assigned security squads to guard the host hotel, while Orthodox Church leaders led their followers in homophobic protest.
A year later, the Eastern European nation received Michael Guest, who became America's second openly gay ambassador when he accepted the top job in Bucharest. Fast-forward to May 2006, and Romania's delegation to the United Nations sided with the minority in voting to give two GLBT organizations official status at the world body.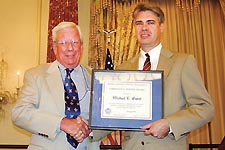 Ambassador Michael Guest
It's hard to say if Guest, who left Bucharest in 2004, had any influence in helping reshape Romanian sensibilities for the 21st century. In fact, he says Romanians accepted him warmly, while hostility to his placement in Bucharest instead came from members of the far right in the United States. Though Guest emphasizes that any progress regarding Romanian views about the GLBT community were likely influenced by the country's desire to join the European Union — which may bar a country's membership for a poor human-rights record — he grants this his time in Bucharest may have helped in some measure.
"Certainly, I do believe that my time as ambassador…contributed to a better understanding of gays, in a country that still has no openly gay models," says Guest. "When I left Romania, there was news commentary on how I'd helped change people's views. There are individuals that are more open minded, more fair minded, because of the time I spent there."
On Thursday, June 22, the American Foreign Service Association (AFSA) credited Guest with having an important influence on American values too, awarding him the Christian A. Herter Award. The annual award honors a "senior Foreign Service officer who has exhibited extraordinary accomplishment involving initiative, integrity, intellectual courage and constructive dissent."
The setting for the June 22 ceremony, the Benjamin Franklin Diplomatic Reception Room atop State Department headquarters at 23rd and C streets NW — with its chandeliers, Corinthian columns and gold accents — may look very "establishment," but the heroes of the day were those brave enough to question that establishment.
"It is not enough to say the rules are what they are," Guest told the audience of about 125 well-dressed attendees. "I've heard that so many times in this building."
A committee of nine AFSA members agreed, voting to recognize Guest for being "patient but insistent in urging the department to revise internal regulations so that partners of State employees are accorded protections, training and benefits now provided only to spouses." Of nine awards given at last week's ceremony, four were specifically given for "creative dissent" within the ranks of the Foreign Service.
Although the State Department gave instructions to its overseas missions in 2000 to recognize the unmarried partners of Foreign Service staff by assisting them with residency permits, travel visas and the like, this "Member of Household" directive fell far short of parity.
"The 'Member of Household' regulations that were put in effect were limited," Guest told Metro Weekly. "The situation of unmarried partners is that they really do not have access to embassy facilities, such as medical facilities. They would not have access to Tamiflu in case of an outbreak of avian flu. They would not be evacuated [in case of civil or environmental threat]…. I suspect an enlightened ambassador would realize there is no excuse for leaving behind an unmarried partner, but it's not a situation any mission chief should have to deal with. There should be regulations in place."
Guest, emphasizing at the award ceremony that he is advocating for both gay and straight unmarried couples, asked the audience to help him in his efforts to change the status quo.
"None of us — in any way, shape or form — are trying to redefine marriage," Guest promised. "This is an issue about family, because my partner is my family…. I say all of this out of great love for my partner. I also have great love for this institution. I'm so proud to be your partner in this place."
Members of Gays and Lesbians in Foreign Affairs Agencies (GLIFAA) in the audience, about 10 people, responded to the close of Guest's remarks with a standing ovation, emphasizing their existence in the ranks to fellow Foreign Service employees in the room, as well as their support for Guest's efforts. About 10 other audience members joined the GLIFAA contingent in this standing ovation.
"I knew there would be a lot of friends and GLIFAA members, but I was taken aback by the standing ovation — and the noise level," says Guest, who now works in the D.C. area as dean of the Leadership and Management School at the National Foreign Affairs Training Center.
Clayton Bond, a GLIFAA board member and Foreign Service officer who was in the June 22 audience, says that this AFSA award is more than just a framed certificate.
"I think it's an important step," says Bond. "The director general of the Foreign Service [Ambassador George M. Staples], who is also the director of human resources, was there. The leadership of AFSA was there…. I think it was very important. I don't think we've ever had a senior officer like Ambassador Guest lay it out in those terms in a public forum."
Though the award may be an important step toward parity for gays in the Foreign Service, it's one of few, says Guest.
"I really haven't seen progress in the last couple of years on any of the issues affecting the gay and lesbian community…. I just hope that the award will serve the purpose of raising awareness that things need to change in the Foreign Service. I'm hoping that it will help."