What's the first thing to comes to mind when you think of "gay music"? Maybe the sound of a gay men's chorus, or the pounding beat of club music. Or perhaps the folkish sounds at a women's music festival.
Whatever it is, it's probably nothing like what J.S. Adams — a.k.a. ArtBear — considers when he thinks of gay music.
Adams is performing at this year's Queering Sound, an annual staging of alternative performance, spoken word and sound art sponsored by the Triangle Artists Group. The sound art is where Adams comes in.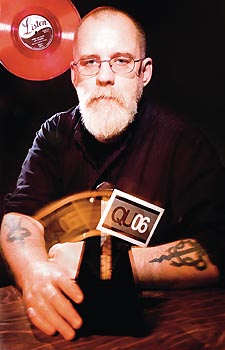 Adams
"Ever since the DIY punk aesthetic of the fluxist art sound movement," he says, "where you get trained musicians and non-musicians playing sound and experimenting with sound, I've been into doing the same." A visual artist by training, Adams brings his visual aesthetic — which he describes as "using heavy shellacs, like old photographs" to "create a veil between the image and the viewer" — to his audio work. He creating a similar effect with everything from radio interference to pops and click from vinyl recordings.
For Adams, the idea behind both Queering Sound and his own work is to push the envelope of what's considered gay music. "As a gay man I was finding that…there was a stereotypical concept of what classical or disco or folk music was within certain communities," he says.
That's something Adams and the other performers at Queering Sound hope to change, or at least challenge, and he hopes listeners will at least come away understanding a couple of things.
"There's a lot of sound out there that isn't necessarily safe, easily categorized or marketable," Adams says. "There's a different way of hearing sound and identifying it as music versus noise, favorable versus unfavorable, or straight versus queer."
Queering Sound 06 [Echo + Decay], this Saturday, June 10, at 7 p.m., at The Warehouse Next Door, 1017 7th Street NW. $5 at the door. For more information visit www.tagdc.org.