Contemporary economics means the death of a terrorist in the wilds of Iraq may translate to a dip in gas prices around the world. Or Federal Reserve Chairman Ben Bernanke may sneeze and send the stock market into a nosedive. And on a disturbingly local level, it means the "Screen on Stead" outdoor film series has become a casualty of the current cooling of the real-estate market.
"Last year, very generous sponsorship from the real-estate market covered most of the costs," reads a June 8 statement from The Center — Home for GLBT in Metro D.C. "With a downward turn in the real-estate market, none of our previous sponsors from the real-estate sector are in a financial position to provide sponsorship this year."
Figures from The Center, which has produced the film event the past two summers in Stead Park at 17th and P streets NW, put the cost of a single screening at roughly $7,500 to $8,000. "This year, the combination of increased costs and decreased sponsorships has resulted in the determination that we need to indefinitely postpone Screen on Stead," the statement continues. The 2005 sponsors included Avenue Title Group – Real Estate Settlement Firms and Dupont Title & Settlements, LLC. Metro Weekly was a media sponsor for both the 2005 and 2006 programs.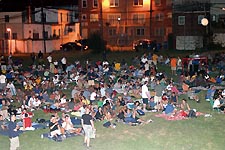 A crowd at one of the 2005 Stead screenings
(Photo by Henry Linser/File Photo)
"In the first year, we had two movies, but no sponsors. But as sponsors came on and we got good response, we expanded to three movies," says Mike Sessa, president of The Center. The 2006 season was slated to begin June 21 with Hairspray.
"It's financially responsible to make sure you're able to support your programs. It's emotionally painful, but financially it's the right choice," says Sessa.
Though the Screen on Stead program is not a fund-raising tool for The Center, it has not incurred losses, either. Rather, it's been a financially neutral component of The Center's mission to build community among the metro area's GLBT residents.
Sessa emphasizes that the board's decision has been suspension, and not cancellation. In fact, with three months of summer still ahead, he seems hopeful that some generous sponsor may be able to step in and pick up the slack.
"We're potentially still in our third year [of Screen on Stead]," he says, "if an appropriate sponsor steps forward."
For more information about The Center, visit them online at www.thedccenter.org.